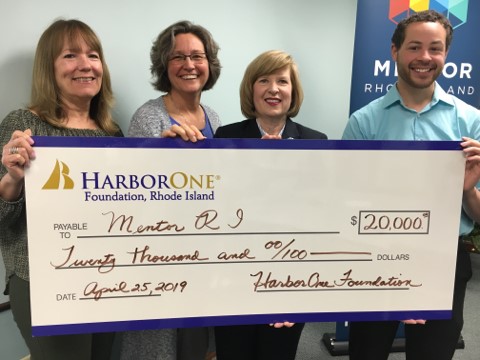 WARWICK – HarborOne Foundation Rhode Island is awarding grants to 10 nonprofits in Rhode Island for their work assisting children and families.
"We are excited to expand to Rhode Island to help these outstanding organizations and people serve the financial needs of local individuals, families, businesses and schools," said James Blake, CEO of HarborOne Bank, which launched the charitable foundation in 2017. "Through these grants, we are pleased to recognize and celebrate the crucial role our nonprofit partners play in helping individuals, families and communities thrive."
The HarborOne Foundation Rhode Island's mission is to strengthen and empower individuals and families by investing in nonprofit organizations that create positive and lasting change across Rhode Island.
The foundation said it focuses support on organizations that provide educational opportunities, create access to safe and affordable housing and deliver basic human services to the most vulnerable citizens.
Grant recipients include:
Rhode Island Community Food Bank, $2,500 for providing food to individuals and families in need each month across the state.
Girls on the Run Rhode Island, $1,000 to help 15 girls at two Title 1 schools in Providence County to attend the Girls on the Run after-school program, where they will learn life skills and core values for an active and healthy life.
Learning Community Charter School, $4,000 to support the Exploratorium, an after-school and summer program that provides approximately 300 students hands-on experiences through science, technology, engineering, arts, and math, or STEAM, programming.
Year Up Rhode Island, $1,000 to support the student bus-pass program that provides public transportation to the downtown training facility and also to internship programs.
Center for Resilience, $4,000 for the Social & Emotional Learning program. The money will go to the third, fourth and fifth grades at the Kevin Coleman Elementary School in Woonsocket.
AS220, $6,000 to support the after-school arts education program for youth between the ages of 14 and 21, many of which are at and beyond risk, or are already in care of the state.
Youthbuild Preparatory Academy, $4,000 to help out-of-school youths between the ages of 16 and 24 gain the skills needed to transition into postsecondary education and the workforce.
Boys & Girls Club of Warwick, $2,500 to support Power Hour, structured time for staff and volunteers to help children understand and complete their homework.
Mentor Rhode Island, $20,000 to support eight direct-service mentoring programs that connect 300 at-risk youths to volunteer mentors.
Meeting Street, $30,000 to help expand the school's capacity to serve children in the areas of early intervention and Early Head Start.