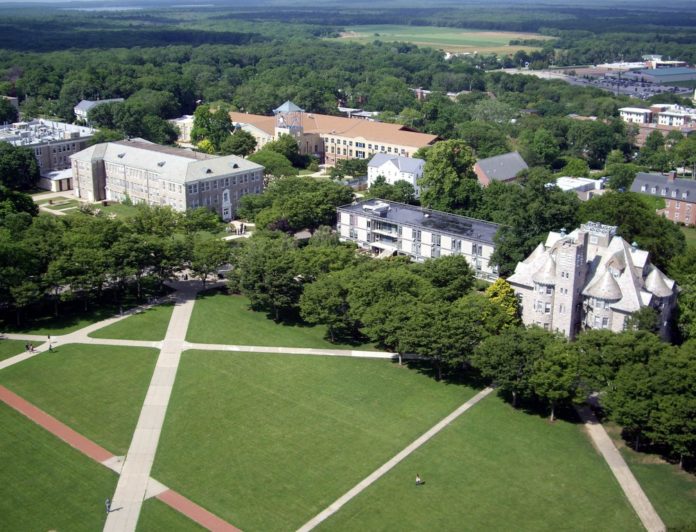 PROVIDENCE – Consortium for Coastal Ecology Assessment, Innovation, and Modeling, or C-AIM, a University of Rhode Island research initiative measuring the ecological health of Narragansett Bay, will receive $19 million from the National Science Foundation according to a joint statement by U.S. Sens. Jack F. Reed and Sheldon Whitehouse on Tuesday.
Available through a grant from the Established Program to Stimulate Competitive Research, or EPSCoR, the monies will fund the coordination of ongoing research, education and workforce development efforts by URI, Rhode Island College, Rhode Island School of Design and Brown University taking place across the state and relating to Narragansett Bay – the largest estuary in New England.
EPSCoR was initially targeted by the Trump administration for a 37 percent funding cut. However,  Reed and Whitehouse – with 12 senate colleagues – penned a letter to the Appropriations Subcommittee on Commerce, Justice, and Science requesting the maximum possible funding for EPSCoR in the FY 2018 Appropriations bill.
While the FY2016 budget saw more than $40 million in funding passed on to Rhode Island universities the FY2018 Senate budget kept all EPSCoR funding programs at current levels, according to the Reed-Whitehouse announcement.
"EPSCoR makes sure that states like Rhode Island can develop the scientific capabilities that will benefit both the state and the country.  Reliable funding allows universities like URI to efficiently budget their work and staff for challenging multi-year projects. We must keep working to prevent unnecessary barriers to needed scientific research and discoveries," said Senator Reed in a statement.
According to the senators' statement, the Ocean State is one of five states – including Alabama, Kansas, South Carolina and Wyoming – which plan to use the latest EPSCoR funding for science and engineering research and education.
Pollution and algae bloom prediction, new sensors for measuring nutrients and pollutants as well as an open platform for sharing real-time physical, chemical and biological data regarding the health of Narragansett Bay will be among developments pursued by URI and its partner universities thanks to the NSF funding.
"Investing in coastal research, education, and workforce development will create jobs and boost Rhode Island's economy in the near-term, and give us the tools to preserve the natural resources of Narragansett Bay for decades to come," said Senator Whitehouse, a member of the Senate Environment and Public Works Committee, in the announcement.
In addition, Rhode Island College's RI STEAM (Science, Technology, Engineering, and Mathematics and Art) Imaging Consortium will also benefit from the opportunity. Undergraduate artists, designers, engineers and scientists can collaborate on analysis of research results found from the data collected by URI scientists. The consortium will be led by Geoffrey D. Bothun, a URI professor and chair of chemical engineering department.
Emily Gowdey-Backus is a staff writer for PBN. You can follow her on Twitter @FlashGowdey or contact her via email, gowdey-backus@pbn.com.