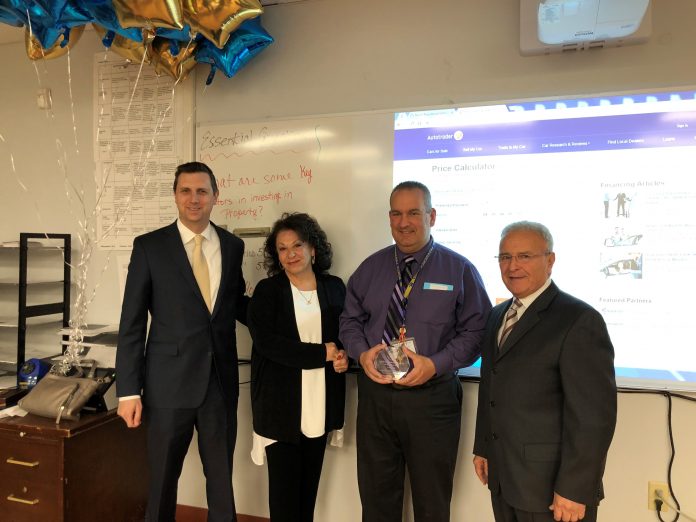 PROVIDENCE – Anthony Avicolli, a teacher at North Providence High School, has been named Rhode Island's 2018 Financial Literacy Educator of the Year.
"Mr. Avicolli's knowledge and expertise is admirable, particularly when he relates his own business experience to students, which gives context to why financial literacy is vital to succeed," said Kathleen M. Lisi, chairperson of the business department at the school and who nominated Avicolli for the award.
"After taking Mr. Avicolli's class last year, I have a better idea of my finances," wrote one student in support of Avicolli's nomination. "I highly recommend his class."
General Treasurer Seth Magaziner paid a surprise visit to the high school in mid-May to announce the award.
"I am grateful that Rhode Island has dedicated teachers [such as] Mr. Avicolli, for whom teaching is more than a job," Magaziner said. "Mr. Avicolli teaches life skills that his students need to succeed, from balancing your checking account to completing a college financial aid form. It is my pleasure to honor him as Financial Literacy Educator of the Year."
The pop-in at Avicolli's classroom included North Providence Mayor Charles A. Lombardi, Principal Joseph B. Goho and Avicolli's wife, Deb Avicolli.
In addition to his role as business teacher, Avicolli operates the Cougar Cage, the high school's store. He also volunteers at sporting events, drama productions and the school's annual open house, working with students on advertising, marketing and other business skills.
The Financial Literacy Educator of the Year award recognizes teachers who excel in and out of the classroom to provide their students with the financial literacy skills they need for adulthood. Previous honorees include East Greenwich High School teacher Patricia Page and Richard Garland, who teaches at North Kingstown High School.
Mary Lhowe is a PBN contributing writer.