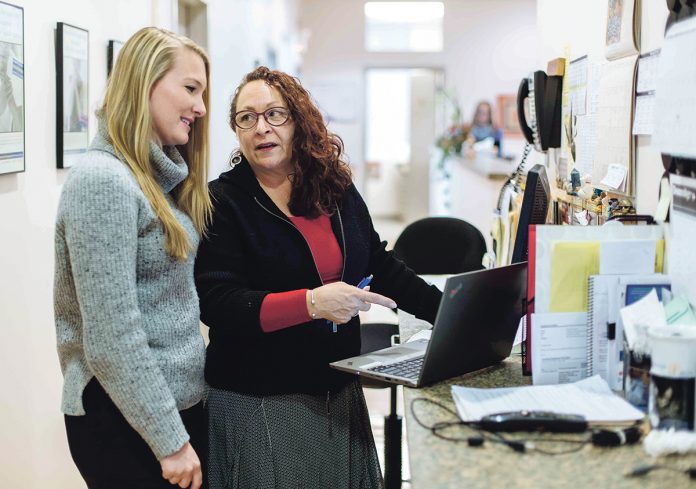 Physicians say electronic health records are stressful, but a survey of Rhode Island doctors and promising strategies suggest compromises between round-the-clock accessibility and reasonable work hours are possible.
Electronic health records are a major source of burnout for Rhode Island physicians, said Dr. Rebekah Gardner, associate professor of medicine at Brown University's Warren Alpert Medical School, one of the principal authors of "Physician stress and burnout: the impact of health information technology."
The paper, published Dec. 5 in the Journal of the American Medical Informatics Association, was based on a study funded by the R.I. Department of Health. The department received $45,000 from Medicaid to develop and conduct the study, said Joseph Wendelken, health department spokesman.
The study surveyed 4,197 practicing physicians in Rhode Island in 2017, with a 43 percent response rate, finding 26 percent of respondents reported burnout. Among electronic health record users, 70 percent of physicians reported technology-related stress.
"In this paper, we show that EHR stress is associated with burnout, even after controlling for a lot of different demographic and practice characteristics," Gardner said.
"No one expects or probably wants to go back to paper records only, but the electronic record has been far less positive than touted and far more negative," said Dr. Peter Hollmann, geriatrician and chief medical officer at Brown Medicine. "They were built around billing, more than patient care."
Hollmann said electronic health records are a great convenience when you need information quick but essentially encourage physicians to work around the clock.
Physicians reporting poor or marginal time for documentation had 2.8 times the odds of burnout compared to those reporting sufficient time, according to the paper. Physicians reporting moderately high/excessive time on EHRs at home had 1.9 times the odds of burnout compared to those with minimal/no EHR use at home, according to the study's summary.
Much of the increased communication provided by EHRs is in a format that is not succinct, Hollmann said.
"I look at the hospital discharge med list, know it is wrong a hefty percent of the time and call the patient at home, regardless of day of week," he said. "The only alternative is to not do this, figuring it was an error at the hospital and the patient actually has correct instructions."
While close to 80 percent agreed that EHRs improve billing, only about 30 percent felt EHRs improved their overall job satisfaction, said Gardner.
"We feel there is a significant need to improve the experience of using EHRs so that more of their benefits can be realized," she said.
Practices should regularly measure stress from health information technology among their physicians and determine the specific issues facing their workforce, Gardner said. From there, she said, solutions can be tailored to those issues.
"These solutions could include expanding the role of the medical assistant to participate in documentation, one-on-one EHR training to improve efficiency, streamlined documentation expectations, building in time slots during the day to complete EHR tasks, or more help with the EHR inbox," Gardner said.
At Coastal Medical Inc., executives have been building some of those solutions into physicians' work routine for some time.
"I think it probably goes back to when we first incorporated electronic health records" in 2006, said Ed McGookin, chief medical officer at Coastal Medical.
McGookin said much of the volume of electronic health records goes directly to the physicians, most of it needlessly.
Coastal took a more recent look at the problem with its own 16-question survey sent to all its physicians to gauge how electronic health records were affecting their workday.
"We realized we had work to do," McGookin said.
Coastal assigned practice nurses to handle most clinical documents and administrative tasks that were previously handled by doctors. The nurses have the clinical expertise necessary to identify the 3-5 percent of messages that need a physician's direct attention and deliver them, filing the remainder for retrieval in the future, McGookin said.
Filtering such messages only requires about 20 seconds apiece, he said, but it's the volume that matters.
"It doesn't seem like 20 seconds per item is a lot of time, but it all adds up," McGookin said, often accounting for two to three hours of a doctor's time.
Gardner said electronic health record-related burnout is a serious challenge to the state's physician ranks and the quality of care they deliver.
"Unfortunately, other research has shown that a physician who is burned out is more likely to either reduce their clinical hours, leave medicine altogether, or retire," she said. "Even if the physician does not make a formal change, burned out physicians are generally less productive when they are at work."
Rob Borkowski is a PBN staff writer. Email him at Borkowski@PBN.com.