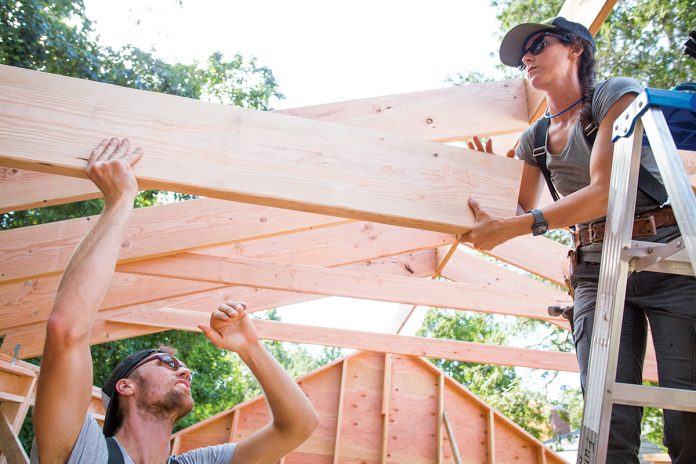 Long before they'd met, Laura and Gordon Moss both had a passion for architecture.
The married co-owners of Providence-based Functional Aesthetic Design±Build LLC pursued their interests via undergraduate architecture programs at Northeastern University and Kent State University, respectively, before meeting while graduate students at the Rhode Island School of Design.
She graduated from RISD in 2012 with a master's degree in architecture.
He terminated his graduate studies before receiving a degree and, while working at a local architecture firm, put the plans in place for Functional Aesthetic.
Gordon, who holds a contractor's license, launched the business in 2011 and by 2015 was able to bring his wife on as a partner. She expects to receive her architect's license within the year.
Working with your husband, "is not for everyone," Laura Moss joked, "but I enjoy it for the most part."
All the responsibilities are split down the middle among the couple and their small but growing staff.
Detailed on their website are past projects that include mostly residential kitchen and bedroom renovations, furniture design and a local playground.
"We also succeed in historic renovations, mostly because we love it and the housing stock in Providence tends to be older," she said.
Moss believes Functional Aesthetic exists outside the local architectural design and construction industry because its employee base has the skill set to provide a complete range of services to clients.
When clients contract them to design and build, "that's where we shine," she said.
For example, while both co-owners have worked on new construction at other firms, Functional Aesthetic's first new-construction project was an East Village carriage house for a graphic designer who wanted a home office. Constructed in the footprint of a garage they demolished, the couple built a two-story structure and were commissioned to design and build custom furniture to fit the space.
Coming from smaller projects, it was a "nice shift in scale for us," she said.
However, with full control of a project comes education and estimation. They have worked in the industry for seven years. However, when they come across a project they haven't encountered previously, they need to estimate the time it will take to complete.
If "we don't know how long it will take," she said, often they "end up eating that time because we're expanding our skill set."
While the firm recently was awarded a DESIGNxRI Providence Design Catalyst award, Moss said they haven't seen much return from the recognition in terms of increased commissions. Nearly all their work, she said, is the result of word-of-mouth recommendations – and it's worked out.
"I would attribute the majority of our success in residential construction to the fact that we're both 31 and our friends are at the stage where they're buying houses and it's hard to find a contractor that you trust," she said.
OWNERS: Laura and Gordon Moss
TYPE OF BUSINESS: Design and build company
LOCATION: 64 Eagle St., Studio 5, Providence
EMPLOYEES: Three
YEAR ESTABLISHED: 2011
ANNUAL SALES: WND

Want to share this story? Click Here to purchase a link that allows anyone to read it on any device whether or not they are a subscriber.