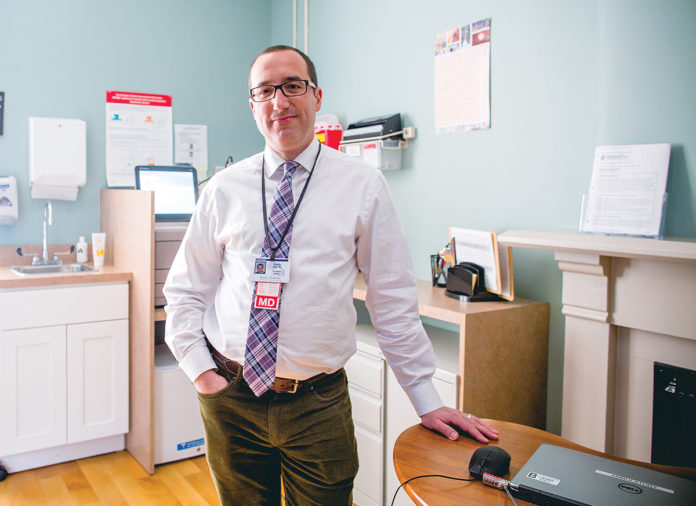 Rhode Island added a fourth center of excellence for opioid-addiction treatment at Providence's Butler Hospital in November, part of a statewide effort to focus opioid treatment on disease management.
The program provides 24/7 access to opioid-addiction treatment and six months or more of interdisciplinary outpatient services for recovery stabilization.
Butler's Dr. Kevin Baill, unit chief of intensive inpatient adult treatment services in the ambulatory detox clinic, said the program, seeded with an initial grant of $242,224, is expected to pay for itself going forward, through medical insurance reimbursements.
Baill, who has been providing behavioral opioid-addiction treatment at his private practice for the last four years, said Butler's new program is part of a statewide effort to move opioid treatment from episodic and reactionary treatment to a more disease-management model.
Baill said he has prescribed buprenorphine, used in the treatment of opioid dependence as a means of mitigating withdrawal symptoms, for 10 years. He has operated a group practice on the Butler campus specializing in buprenorphine treatment for four years.
However, he said, federal law limits the number of people he and other physicians can treat using the drug. The Drug Addiction Treatment Act restricts prescribers to treating only 30 patients with the drug at a time, Baill said.
Prescribers can apply for more patients under their waiver, so long as they meet certain clinical criteria. With the state center of excellence designation, single physicians at Butler can treat up to 275 people with buprenorphine.
"Being part of the COE, we have 24-hour phone coverage, accept insurance and have capacity to refer to case management," Baill said.
Baill said being able to prescribe buprenorphine is a powerful tool in treating addiction, since withdrawal symptoms are so difficult to combat for patients.
Sometimes people have to go through relapses before they realize the gravity of their addiction, Baill said. Some people need buprenorphine, in small doses, for a long time before they can stop altogether.
"It's a journey, not a destination," Baill said.
Baill said the reasoning behind the prescription limit is tied up in a long-standing stigma related to addiction.
"Historically, there's been a lot of apprehension with opioid addicts," Baill said. That has had the unfortunate effect of making it difficult to get the epidemic numbers of people succumbing to addiction into the proper treatment, he said.
The stigma is beginning to fade, said Baill, who has lost an uncle and a friend to overdoses.
His personal experience with the epidemic, which he says has been building since the late 1990s, is part of the reason he joined Gov. Gina M. Raimondo's Overdose Prevention and Intervention Task Force.
Staff at the Butler center are happy to be part of the state's evolving response to the behavioral health epidemic but remain realistic about the challenges of pervasive addiction and lingering stigma.
Gretchen Anderson, clinical director of the COE at Butler, said there's still a good deal of stigma surrounding addiction, despite reports of how easily people from all walks of life can become addicted to opioid prescriptions.
There remains a misconception that addicts are somehow responsible for their condition, she said.
With Care New England's new effort, said Rebecca Boss, director of the R.I. Department of Behavioral Healthcare, Developmental Disabilities and Hospitals, the state will only need one more treatment program, in Westerly, to adequately address the opioid-treatment problem in the state.
With that, "I think we'd be in a good place," Boss said.