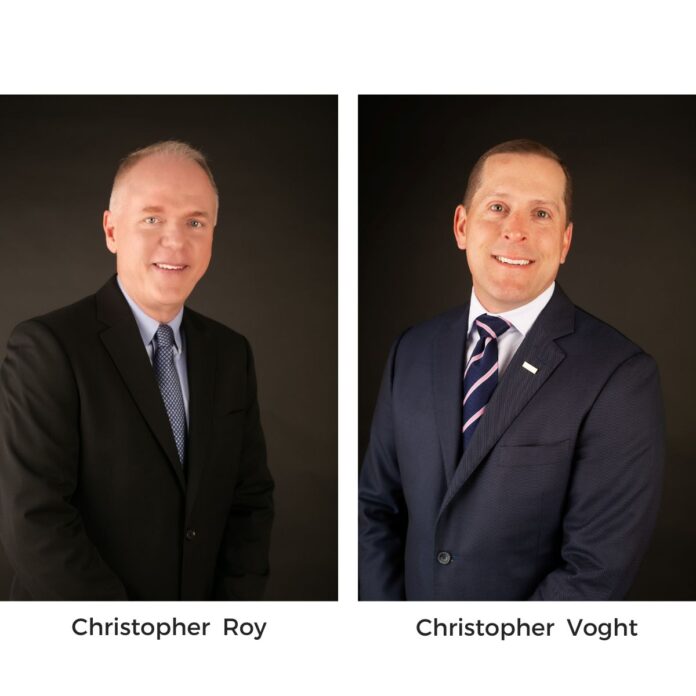 North Kingstown, Rhode Island (August 8, 2023)—Toray Plastics (America), Inc., is pleased to announce that Christopher Roy has been appointed CEO and will continue as President and COO. Roy has been with Toray Plastics (America) for more than 25 years and will assume full P&L responsibility for the company. He replaces Ken Kurokawa, who has been on assignment at Toray in Rhode Island since 2018 and has returned to Japan for a new position as Senior Director and General Manager of the Shiga Plant. Toray also announces that Christopher Voght has been promoted to Vice President and General Manager of the Torayfan® Division. Voght most recently served as General Manager of that division. The changes were effective July 1.
Roy has been President and COO of Toray Plastics (America), Inc., since 2022. He has managed the company's three operating divisions—Torayfan and Lumirror® films and PEF foams. He also oversaw Toray's finance, human resources, environmental health and safety, IS, purchasing, engineering and maintenance, R&D, and marketing support functions. Before that appointment, he was Executive Vice President of the Torayfan and Lumirror divisions. He has also been the Torayfan Division's Senior Vice President, General Manager, and Senior Director of Sales and Marketing. He launched his career at Toray in 1998 as a Director of Sales.
In his new position as Vice President and General Manager of the Torayfan Division, Voght has full P&L responsibility for the division. He joined Toray in 1999 as a Process Engineer and has held several positions with increasing responsibilities in the division, including an assignment at Toray Films Europe in Saint-Maurice-de-Beynost, France, where he supported the startup of its OPP business. Voght was promoted to General Manager of the division in 2020.
Toray Plastics (America), Inc., is a leading manufacturer of polyester, polypropylene, and metallized films and polypropylene and polyethylene foams. The company is committed to environmental, social, and corporate governance. It aims to contribute to society by creating new value with innovative ideas, technologies, and products that help address global issues. R&D is focused on developing fossil fuel-free, compostable, biodegradable, and recyclable materials. The company's sustainability initiative, launched in 2004, includes operating two solar farms and two cogeneration systems, energy and water conservation, recycling, and zero landfill. For more information about Toray Plastics (America)'s products, contact James Ota, Torayfan Product Manager, at james.ota.e7@mail.toray or 401-594-5837.