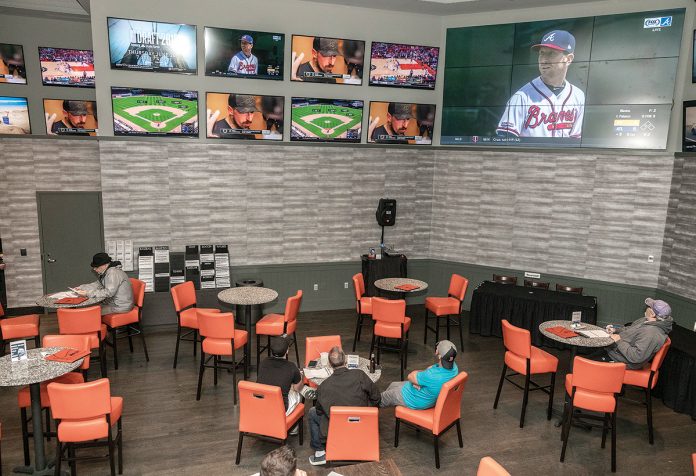 Sports gambling is still projected as a strong revenue source for Rhode Island, but not an annual fix for whatever ails the state budget.
A year ago, state officials anticipated almost $24 million from the activity – then still illegal – in fiscal 2019, which ends June 30. A summer 2018 decision by the U.S. Supreme Court cleared the way for Rhode Island to become one of the first states to expand its gaming to include sports bets.
See related story: Twin River eyes younger bettors
By November, Rhode Island budget estimators were ­revisiting that line item, cutting it in half to $11.5 million, according to a state Senate ­analysis.
The most recent budget estimate in May for fiscal 2019 has the state collecting $2.2 million from the activity.
Through March of this year, nine months into the fiscal year, Rhode Island had collected $623,901 from Twin River Worldwide Holdings Inc.'s two local gambling venues, according to state figures. The money represents about four months of active sports betting.
What went wrong?
On the betting side, negotiations dragged on with technology vendor International Game Technology PLC, delaying the anticipated opening date from Oct. 1 to Nov. 26, 2018, for Twin River Casino Hotel in Lincoln, well into the lucrative NFL season. The sportsbook opened at Tiverton Casino Hotel a week later.
On the revenue-estimation side, state budget planners came up with what proved to be an overly optimistic picture of Rhode Island's first-year take from sports betting. Their figure was based on a report prepared for the American Gaming Association by Oxford Economics that looked at the potential economic impact of legalization on all states.
This year, a different consultant – one commissioned by the R.I. Department of Revenue – advised the state to be conservative when budgeting revenue from sports betting, given its unpredictable nature.
As the state entered the final weeks of fiscal 2020 budget review, the House Committee on Finance's budget included projected revenue of $22.7 million from sports betting, including $3 million from mobile sports gambling, which is expected to begin this fall.
The market is still there, said a state spokesman, but is taking longer to mature than initially anticipated.
"Despite the volatility that comes with sports betting, the sportsbook is proving to be profitable for Rhode Island, as it just recorded its third-straight month of positive results," said Paul Grimaldi, a revenue department spokesman. "The analysis we've seen indicates our estimate for sports betting is achievable, though it will take longer than expected for the market to mature."
The Rhode Island Lottery expects to provide almost $400 million to the state for the current fiscal year, and will be a significant contributor going forward, he added.
The issue with sports betting, which makes it different from other forms of gambling, is it is dependent on events and big games, such as the Super Bowl, the NCAA men's basketball championship tournament (March Madness) and the World Series. The result is an inconsitent revenue stream.
And it's not just about volatility. The gambling venue can lose if enough bettors win, making it difficult to predict in short windows.
In February, the two venues in Rhode Island lost $890,623 collectively as Super Bowl bettors who placed wagers on the New England Patriots took home their winnings.
State revenue from sports betting is expected to be inherently volatile from year to year, due to the nature of the betting, the lack of data from other states and the fact that the state operator may lose money in given payouts, according to Sebastian Sinclair, president of Christiansen Capital Advisors LLC, of New Gloucester, Maine, the consultant for the state.
He advised Rhode Island officials in March to look at numbers across a five-year aggregate, rather than a one-year window.
In the Rhode Island Gaming and State Revenue Forecast, he wrote: "For budgeting purposes, CCA would recommend that the state … prepare for the worst and hope for the best, because revenue derived from sports wagering will be inherently volatile, producing years of feast and famine."
The Rhode Island facilities – which now include a full-service restaurant in Lincoln, and self-service betting kiosks, as well as manned betting windows – are completed.
Mobile betting, which would allow people to place bets on mobile devices, and not require a visit to the casino, is next. State officials want it to be operational by football season.
Of mobile gambling, Sinclair says it's the future of sports betting. Some 80% of the sports-betting revenue in New Jersey – the state that was among the first to start the activity – is coming from mobile bets.
Rhode Island plans to use technology that will require mobile bettors to initially register at one of the casinos, and deposit money into their account. They then could place bets from anywhere within the state using their cellphones.
"That's where the future of this industry is," Sinclair said.
Leonard Lardaro, an economist and professor at the University of Rhode Island, predicted more than a year ago that the state would overestimate its anticipated haul from sports betting.
Interviewed after Gov. Gina M. Raimondo launched her fiscal 2019 budget, Lardaro said the state has a habit of underestimating competition from neighboring states, and overestimating gains.
'[Mobile betting] is … the future of this industry.'
SEBASTIAN SINCLAIR, Christiansen Capital Advisors LLC president
At this point, Rhode Island has a competitive advantage in sports betting, because it is the first in New England to have it. But no one thinks that will last.
In its forecast options, CCA told the state it should anticipate that both remote and in-person sports betting will be available in Connecticut by January 2020, and in Massachusetts by June 2020.
For now, the recent expansion of activities at the two facilities in Rhode Island, including with new hotels and more table games, as well as the sports betting, is helping the Ocean State stave off increased competitive pressure from Massachusetts casinos, the consultant found.
Lardaro predicts that won't last. "Rhode Islanders don't have to do stuff in Rhode Island. That's the key, it's a saturated market. There's over-supply already and more states like us are getting into it."
Mary MacDonald is a PBN staff writer. Contact her at Macdonald@PBN.com.