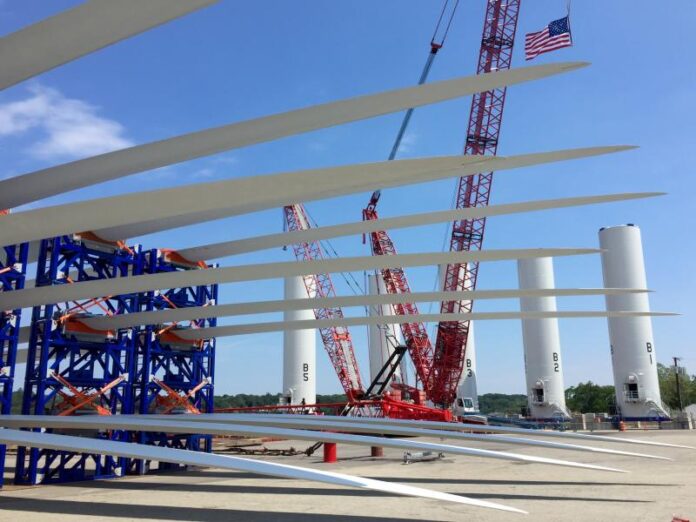 EAST GREENWICH – Arctura, a wind-energy technology company, on Monday said it was awarded a $1.15 million grant from the U.S. Department of Energy.
The grant will fund the company's commercialization of a coating it has been developing that is designed to reduce damage to wind turbine blades caused by lightning strikes.
Arctura CEO Neal Fine said that lightning damage to wind turbines is one of the greatest expenses for wind farm operators, costing an estimated $100 million annually. The problem is expected to worsen in the coming years as wind turbines grow in size and lightning activity increases as a result of climate change, he said.
"This blade coating breakthrough addresses one of the most important pain points felt by wind farm operators," said Fine. "The industry is more than ready for this product to be validated and commercialized." 
The ArcGuide blade coating system is designed to guide a lightning strike's path over the surface of the blade, lessening the chance of damage, said Fine. The coating can be applied to new and existing wind turbines, for arrays situated onshore or offshore.
Arctura will use the grant to pilot the product in two extended field trials aimed at demonstrating that the coating can withstand harsh operating conditions over extended periods of time. One of the two trials will be performed at a wind farm owned and operated by an affiliate of Leeward Renewable Energy, LLC. 
Ron Grife, Leeward's director of engineering, said the company is pleased to participate in Arctura's research efforts. "Lightning damage is a major cause of downtime and repair for wind projects and, if successful, Arctura's product could be an important retrofit solution for the wind industry," he said.
Arctura, formerly Aquanis, Inc., was founded in 2015 by Fine to develop and market technologies that improve sustainability and renewable energy. Fine has more than 25 years of experience in research and development in fluid dynamics and aeronautical systems in support of the defense, marine, aviation and energy industries.
Arctura was originally backed with $550,000 in seed capital from the Slater Technology Fund, and UPC Capital Ventures, LLC, the venture capital division of the UPC Energy Group. The company raised an additional $7 million from federal and state sources to advance its technologies. 
Thorne Sparkman, managing director of the Slater Technology Fund, said, "The proliferation of wind power has been a huge component of our transition to a low carbon future. By leveraging Arctura's innovative coating technology, wind operators can continue to drive costs out of wind power and increase its penetration."
Arctura's grant comes from $127 million in funds DOE distributed as part of its Small Business Innovation Research and Small Business Technology Transfer programs. Grants were awarded to 110 projects in 26 states, in areas ranging from cybersecurity, renewable energy and carbon management, to grid reliability and fusion energy.
Cassius Shuman is a PBN staff writer. Contact him at Shuman@PBN.com. You may also follow him on Twitter @CassiusShuman.

Want to share this story? Click Here to purchase a link that allows anyone to read it on any device whether or not they are a subscriber.