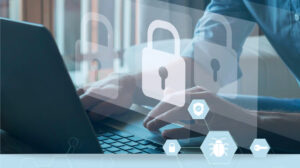 The Convergence of Cybersecurity and AI
The PBN Cybersecurity & Tech Summit is an informative, thought-provoking discussion with experts in cybersecurity and AI from the technology, education, legal, insurance and accounting industries about current trends and issues.
What challenges will AI bring to the cybersecurity industry? How will the relentless pace of AI development affect the ability to navigate new attack surfaces? How can cybersecurity professionals evolve with the AI revolution and use it to their advantage?
Find out more, register today!
Panel 1 –Cybersecurity: Why You Can't Let Your Guard Down
Normand Duquette, Senior Vice President, Starkweather & Shepley  (guest moderator)
Linn F. Freedman, CIPP/US – Chair Data Privacy & Cybersecurity Team, Robinson+Cole
Robby Gulri, Solutions Engineering, RapidScale, a Cox Business Company
Rick Norberg, CEO, Vertikal6
Douglas Tondreau, Assistant Professor, JWU
Panel 2 – The Future of AI in the Ocean State
Chris Parisi, Host, AI Wave Podcast & Founder, Trailblaze Marketing  (guest moderator)
Arnell Millhouse, CEO, Career/Devs Computer Science Institute, Dracodess Software Engineering; Board Member POC Foundation; Entrepreneur in Residence Brown University Nelson Center for Entrepreneurship
Jeffrey Wilhelm, Founder and CEO, Infused Innovations
Sponsors
Presenting Sponsors:


Partner Sponsors: