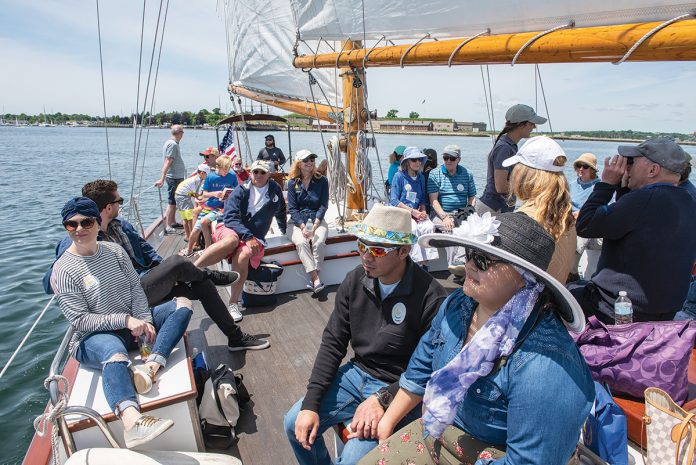 Katelyn McSherry's memories of her mother on the water stretch back to when she was growing up in Portsmouth.
"Growing up, we always had a boat," she said.
When her mother, Beth McSherry Goyette, was diagnosed with lung cancer, she and her daughter found themselves back out on a boat in 2015. This time, though, someone else was doing all the work, allowing Goyette to revel in the experience.
Goyette began going out on the water through the efforts of Sailing Heals, a nonprofit based in Salem, Mass., that pairs people suffering from cancer or other serious illnesses and their caretakers with boat captains and owners.
Goyette went on about seven trips with the group before her death at age 56 in November. The prospect of a sail never failed to energize her, even on days when she was struggling.
"She loved them," McSherry said. "It really took your mind off of everything. You were on the water, even though you were with other sick people … but it was never sad."
Cheryl Thorpe had been sick for a year or two when Sailing Heals invited her and her family out.
Her father, Joe Geisser, had been around boats for decades and immediately grasped the value of the experience.
"It was a truly magical trip for us," Geisser said. "In her situation at the time, which was deep in the fight of cancer – it just came at a perfect time for her."
Sailing became an escape from the crushing reality of Thorpe's disease, and a way for her to enjoy time with her son, who was 7 years old when she was diagnosed with fallopian tube cancer. Thorpe, of Cumberland, died last April, when her son was 15.
The son had spent half of his life with his mother sick, and his mother jumped at any opportunity to create good memories with him, Geisser said.
Thorpe and Goyette were among the nearly 4,000 people who've gone out on the water for free with Sailing Heals, which works with 250 host captains in Rhode Island, Massachusetts and other coastal states. Many of the group's events are held in New England, where it partners with Massachusetts General Hospital's Cancer Center and Boston Children's Hospital and is working to develop a relationship with Lifespan Corp.
Sisters Michele Gallagher Glesinger and Trisha Gallagher Boisvert founded Sailing Heals in 2011, about seven years after their mother was diagnosed with multiple myeloma.
"I think that the contentment and the peace that people find when they're going through a lot of trauma with their health is not only great for [patients], but for the caregivers who see them at peace," Boisvert said.
For Suzanne Johnson, founder and executive director of the nonprofit Healing Winds Vermont, peace and a sense of control are what she aims to help her passengers find. The group recently relocated to Salem, where it uses donated boats to take cancer patients and groups of their choice out on trips of up to three hours.
Johnson, herself a cancer survivor, and the group's other boat captains, cruise out to open water and turn their vessel's engine off.
"We give the controls over to the very person whose life is out of control with chemo and prognosis," Johnson said.
'Having a chance to escape [cancer] for a day gives them a chance to refuel their souls.'
DR. LORI WIRTH, Massachusetts General Hospital medical director for head and neck oncology
Launched in 2014, Healing Winds uses sailboats for a reason – to make the most of the wind.
"Our feeling is that part of the joy is having the wind and the waves and nature [create] magic," Johnson said.
Dr. Lori Wirth, medical director of the head and neck oncology program at Massachusetts General Hospital, remembers one elderly couple who told her their trip on the water was the best time of their lives, save for when they got married. Another couple went out on a boat that had rigging trouble, but said the challenge of trying to help fix the problem was a great experience despite the limit it put on their sailing time.
The distraction that sailing offers from daily life, along with a sense of empowerment from trying something new, is a valuable benefit for cancer patients in particular, said Wirth, who is a founding member of Sailing Heals and chairwoman of its board.
"Being treated for cancer can be all-consuming, but just having a chance to escape from it all for a day gives them a chance to refuel their souls," she said. "That sense of controlling something that is a little bit intimidating, taking that big steering wheel on a boat full of people when it's moving at 6 knots [7 mph], that can be empowering."
Warren's Mike Gerhardt has been volunteering with Sailing Heals for four years, bringing 45 years of experience on the water and his 30-foot sailboat to the organization.
"I sail a fair amount, probably 30 days a year," Gerhardt said. "The opportunity to share the experience with a group of people who really appreciate it really struck a chord with me."
His son is a cancer survivor, and he's seen firsthand what people face as they fight the disease.
Offering them the wheel of his boat is a way for them to grasp momentary restoration, he says.
"When you get behind the wheel of a boat, even if you're a novice, you're in control, and I see the people smile – they just have the best time being in control for a change," Gerhardt said.
Elizabeth Graham is a PBN staff writer. Contact her at Graham@PBN.com.