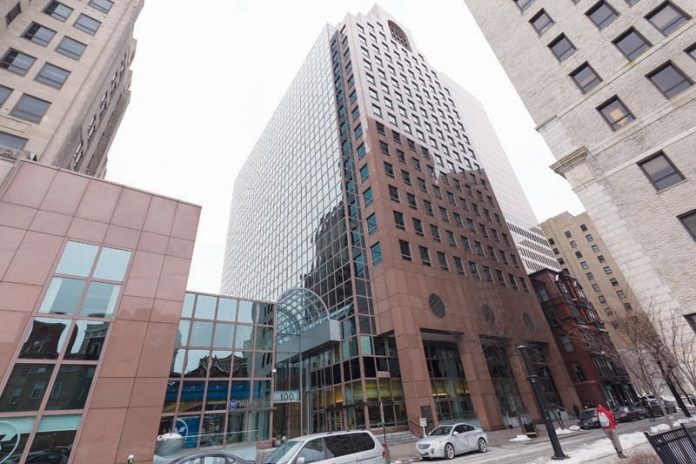 PROVIDENCE – A group of downtown property owners, including former Mayor Joseph R. Paolino Jr., filed a lawsuit against the city and state Monday, seeking to stop work on the proposed Providence transit center.
The 30-page, Superior Court lawsuit accuses the city, the R.I. Department of Transportation and the R.I. Public Transit Authority of violating state and federal law by pursuing a project without following city zoning rules.
The suit also questions whether the $35 million transit bonds to be used for the project, which were approved by voters in 2014, can be used as leverage for a $150 million public-private partnership that would include development not related to transit.
The plaintiff is Concerned Citizens of Capital Center LLC, a newly formed nonprofit that includes 12 to 15 commercial and residential owners at Waterplace, as well as partnerships that own three prominent buildings downtown – 100 Westminster Partners LLC, 30 Kennedy Partners LLC and Exchange Street Hotel LLC.
They are represented by Providence attorney John Mancini.
A representative for Mayor Jorge O. Elorza said the city was aware of the lawsuit but would not comment. Elorza was sworn into office for a second term on the day the case was filed. Mancini said that was coincidental timing.
According to Mancini, the various state and city projects, which would consolidate bus and transit options in a hub near Providence Station, and redesign traffic and uses around Kennedy Plaza, have not followed city zoning law, which requires major land-development projects to follow a process that would include public hearings, environmental reviews and notification of nearby property owners.
The filing identifies the location of the transit hub as being a portion of the Statehouse lawn. A spokesman for the state transportation department said Monday the agency remains in discussion with the entity that responded to its request for proposals for the transit hub project but that a location has not been finalized.
The lawsuit seeks an injunction that would stop work on the project and require the city to treat it as a major land development, specifically including an environmental review.
The suit also seeks punitive and compensatory damages.
Property owners contend the transit project could damage their property values and enjoyment of their holdings. The residents all have property interests within 200 feet of Kennedy Plaza or Providence Station and are most concerned that the project would create a dedicated bus lane in front of Waterplace, at 200 Exchange St., according to the lawsuit.
The rerouting of bus routes, alteration of bus stops and alteration of traffic patterns on Fulton and Washington streets also were cited.
Mary MacDonald is a staff writer for the PBN. Contact her at macdonald@pbn.com.