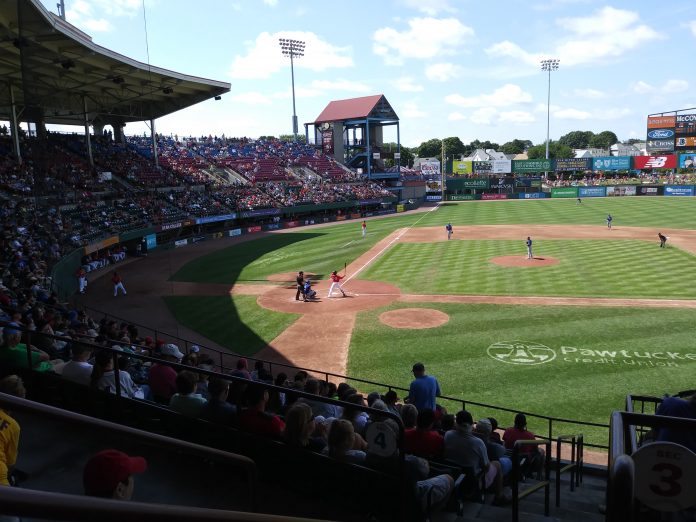 PAWTUCKET – Pawtucket will pursue the redevelopment of the downtown Apex site, and to find a new use for McCoy Stadium, Mayor Donald R. Grebien asserted Wednesday, a few days after the Pawtucket Red Sox announced they would leave the city.
In a press conference at the historic Slater Mill with Gov. Gina M. Raimondo and attended by mayors of several municipalities as well as state elected officials, Grebien said Pawtucket will move forward and continue to search for an economic resurgence.
Grebien admitted he was still mourning the impending loss, but said the time for blame was over.
"Let's be honest, we are still shocked and disappointed. Many in our community and throughout the state of Rhode Island are struggling with the news of the loss of this treasured piece of our fabric, that many of us took for granted. The city lost a very rare opportunity to reinvent itself."
He later told reporters he had received a phone call from the team's ownership but had not yet spoken to anyone with the organization.
The Apex site, which is privately owned, will need to be redeveloped, Grebien said. He said he has had several conversations with the owner and hoped the city would be able to secure a purchase through negotiation, rather than an eminent domain action.
The state has agreed, he said, to expedite a review of proposals that have already been submitted for the repurposing of McCoy Stadium.
"We cannot and will not lose faith," he said. "We are going to continue the redevelopment of our downtown area. We will acquire the Apex site, which is a gateway to our city and is truly important."
Raimondo, who spoke briefly, said the state would back the city and "double-down" on efforts to spur private economic investment in the community. She said the state would assist the city in chasing down options for McCoy, which involve both non-athletic and athletic pursuits.
"The first thing we're going to do is let's chase down every one of those options and make sure the stadium continues to be full," Raimondo said.
The state also will work with Grebien on re-purposing the Apex site, she said.
In place-based improvements, she announced that the state would provide $300,000 in Main Street restoration grant funds to Pawtucket, for the beautification of the area immediately around the new Pawtucket-Central Falls train station.
The commuter rail station is expected to open in 2021.
And Raimondo also revealed that Collette is planning a substantial expansion of its employment, adding 100 positions over the next several years.
The guided and experiential travel company now has about 500 employees in Rhode Island, said CFO Bob Colucci, in a brief interview after the press conference.
Mary MacDonald is a staff writer for the PBN. Contact her at macdonald@pbn.com.