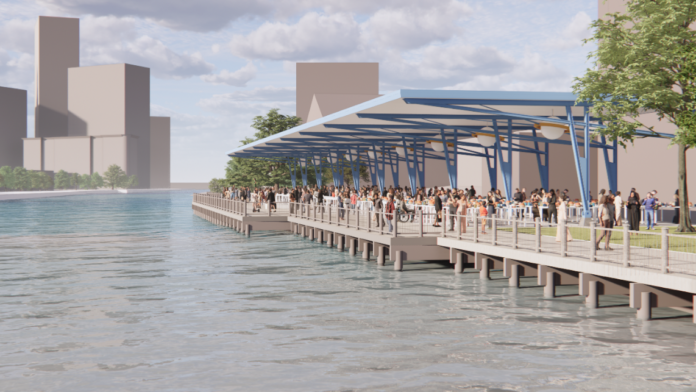 PROVIDENCE – The I-195 Redevelopment District Commission on Wednesday heard four proposals for "parcel 1A," the property directly adjacent to the Providence River that is now used as a park and the location of the Providence Flea LLC and summer festivals.
The meeting was only to receive the presentations and to take public comment. No votes were taken by the commission.
While seven acres will be retained for open space, commission staff reiterated that reserve does not include "parcel 1A." I-195 Redevelopment District Commission Executive Director Caroline Skuncik reminded the audience that the site is slated for development through statute and that projects must "advance the economic mission" of the I-195 land.
"It has always been a development site," she said.
The commission has limited maximum building height to six stories on the 0.28-acre parcel. The last proposal in 2017 for a boutique hotel failed after the developer failed to obtain the required waiver from the R.I. Coastal Resources Management Council. Developments on the 0.23-acre site require a CRMC waiver because the Urban Coastal Greenway dictates a 25-foot construction setback from the seawall.
The commission released a new Request for Proposals in June, with a minimum price tag to purchase the property of $350,000. Proposals were due in October.
Just north of the pedestrian bridge, any construction on the parcel would be the only building west of South Water Street between Crawford Street and Point Street Bridges, according to the Providence Preservation Society, which once listed the site among its most endangered in the city.
Online documents show Riverside Partners LLC is proposing a mixed-use six story building with more than 9,000 square feet of public space and 2,400 square feet of retail. Another pitch from Riverwalk JV is for a three story building with a restaurant, outdoor space and top-floor housing. Province Architecture and Building Co. has submitted plans for a mixed-use project and plans to relocate its offices.
Among the four, the only that wouldn't add a mixed-use building is from the Providence Flea LLC, which currently leases the space, is proposing the "Providence Open Marketplace," an open-air pavilion and event venue that in addition to the flea, would permanently host "a variety of community, cultural and private events." 
Like a majority of attendees that gave public comment, Providence resident Doug Victor said he supports the proposal by Providence Flea LLC. He is a member of a neighborhood association and said he still hears from residents who think the parcel is a public park.
"People still think it's public land," he said. "[This proposal] would be a preservation of something that is really sacred to people."
The preservation society in public statements has advocated for development at this site "to be reconsidered in deference to environmental resiliency and its current status as a public amenity." 
Former PPS executive director, Brent Runyon, posted a message on LinkedIn decrying the  previous proposal for "a poorly designed hotel." 
"The riverfront is too important to give over to bad design," he wrote. 
Olin Thompson, an officer in the Jewelry District Association, said he appreciated the support for keeping the land as open as feasible, but the commission has to balance its finances with the public will.
"You have a huge debt to pay," he said. "And the only way you can do that is to sell off the blocks."
(UPDATE: Corrects proposals being presented for "parcel 1A," Corrects Providence Flea LLC in fifth paragraph)
(UPDATE: Story recast with details, comment from meeting)
Christopher Allen is a PBN staff writer. You may contact him at Allen@PBN.com 

Want to share this story? Click Here to purchase a link that allows anyone to read it on any device whether or not they are a subscriber.