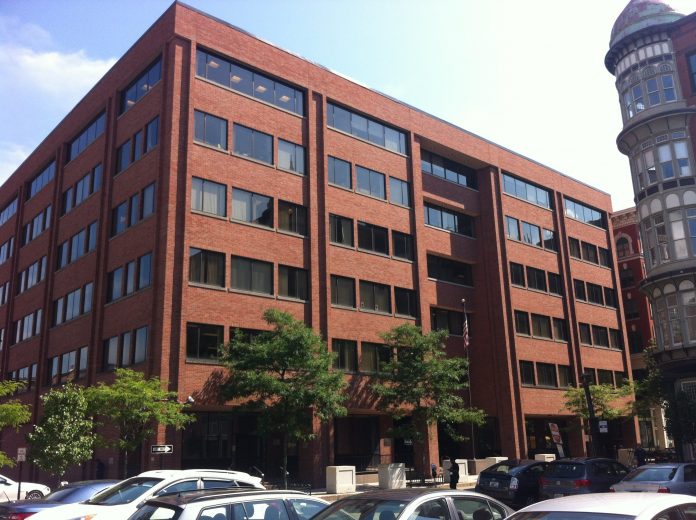 PROVIDENCE – Paolino Properties through an affiliate hopes to purchase a six-story office building at 380 Westminster St. and has submitted a $15.3 million offer.
The purchase and sale agreement is expected to be reviewed in a hearing at Providence Superior Court on Aug. 16. At that time, other entities that submit a better offer may also be reviewed, according to a published notice.
The 380 Westminster building is often referred to as the federal building in Providence, because it houses offices for multiple federal agencies. But they are tenants and since its construction in 1983 the building has been privately owned.
Now owned by an Arlington, Texas-based corporation, 380 Westminster Street LLC, the property has been in state court mastership proceedings since May 2016, according to court documents.
The special master is William Howell, of HAI Advisors LLC, who has been overseeing the property operations since 2016. His representative for the Providence property is attorney Richard L. Gemma.
The property was one of nine in the country which were used as collateral for debt that in the aggregate exceeded $140 million, and held by the U.S. Bank National Association, according to the court filing. Of those properties, four have been sold since 2016.
Paolino Properties, according to the documents, wants to purchase the 160,000-square-foot building and invest in renovations of all six floors through a affiliated company named 380 Westminster Realty LLC. The $15.3 million amount cited in its purchase and sale agreement includes $9.5 million as a purchase price and $5.8 million in building improvements.
The tenants, represented by the U.S. General Services Administration, also are expected to receive almost $975,000 in additional improvements. The leases would be assumed by the new buyer, under the agreement.
The nature of the planned improvements was not clear from the court filings.
Joseph R. Paolino Jr., the managing principal of Paolino Properties, said until the sale process was completed he did not want to elaborate. "It's in the middle of a judicial process," he said. "There is going to be, I'm sure, some other interest from people."
Proceeds from the sale will be put to the first mortgage claim, unpaid taxes and municipal assessments, as well as payment of fees to the special master and attorneys.
The current owner, 380 Westminster Street LLC, purchased the federal building in December 2008 for $22 million. According to the Providence land records, the building has a municipal lien. Of the $718,321.76 owed in 2016 taxes, $359,160.88 was paid, according to the online records.
Mary MacDonald is a staff writer for the PBN. Contact her at macdonald@pbn.com.