Medical innovation saves and improves otherwise desperate lives and lends prestige to the hospitals nurturing it, while attracting new patients, funding, and top researchers and practitioners that can make the difference in an institution's success.
But while the results of technological and procedural innovation yield better outcomes for patients, they can present a double-edged sword for many health care facilities and exact a significant price from those unable to adapt.
Memorial Hospital of Rhode Island's demise, blamed in part to a low daily patient census, underscores the power of innovation to both buoy a hospital's fortunes and lay them low.
In October, Care New England's board of directors terminated negotiations with Prime Healthcare Foundation to sell Memorial. CNE said that the 294-bed hospital has averaged a daily inpatient census of just 15 to 20, resulting in an operating loss in the past fiscal year of $23 million, which ultimately proved an insurmountable burden for its parent company. As a result, Care New England began the process of closing the hospital.
Al Charbonneau, executive director for the Rhode Island Business Group on Health, noted that innovation doesn't just drive competition for the hospitals to find patients to fill hospital beds – it's also diminishing the number of patients who need those beds.
Charbonneau noted the adoption of accountable care organizations, for instance, as well as improved access to care through the Affordable Care Act, are preventing hospitalizations through earlier intervention of medical problems before they become chronic. That element of innovation, Charbonneau said, is decreasing the need for hospital beds.
In 2013, the R.I. Executive Office of Health and Human Services and the R.I. Department of Health hired The Lewin Group to assess the state's health care system. The group estimated a maximum 338-bed surplus in hospital capacity in the state. Closing Memorial still leaves the state with a 44-bed surplus hospital capacity.
In the report, health care industry members interviewed said the evolution of reimbursement models, such as the Patient-Centered Medical Home program, appears to have reduced inpatient utilization. Other provisions of health reform that may impact utilization are the Medicare readmission reduction program, and incentives for providers to form accountable care organizations.
"Hospitals in Rhode Island have been implementing innovative care-delivery models to address the health care needs of our state while bringing efficiencies to the system," said M. Teresa Paiva Weed, president of the Hospital Association of Rhode Island. "This has included collaboration with providers, government and stakeholders. These programs have helped to improve the health and well-being of Rhode Islanders while increasing the value of care provided."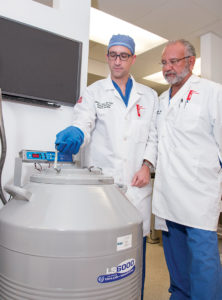 'FAR-REACHING CHANGE'
At Providence's Roger Williams Medical Center, Dr. Steven Katz, surgical oncologist, has been working on the leading edge of immunotherapy cancer treatments since 2009. Katz's work focuses on an engineered type of T-cell – antibodies that tackle and destroy invading viruses and bacteria – called Chimeric Antigen Receptor T-cells, or CAR-T cells.
The therapy harvests normal T-cells from a patient's blood, then genetically re-engineers them in a lab so that they recognize an antigen on the patient's tumor cells. The new cells, now CAR-T cells, are then allowed to multiply in the lab before being infused into the patient, where they zero in on the cancer cells.
The therapy turns the tables on cancer cells, Katz said, since the disease spreads by operating under the radar of a person's normal immune system.
"What cancer typically does to our immune system is shut it down," Katz said.
Roger Williams has opened three Phase 1 clinical trials for the treatment of liver tumors with CAR-T cells, Katz said.
"We are hoping to move into Phase 2 clinical testing in 2018, which will be a critical step in pursuing FDA [U.S Food and Drug Administration] approval for our CAR-T therapies for use outside of clinical trials," Katz said. "We are also planning on clinical trials for pancreas cancer, peritoneal or abdominal cavity cancer, and certain bloodborne malignancies."
The program has put Roger Williams on the map internationally, Katz said, attracting inquiries from China, India, Utah, Florida and Massachusetts. So far, they've treated 14 patients using the therapy, and received inquiries from 50 potential patients.
Innovative approaches to treatment have "attracted people from out of state who otherwise wouldn't have pursued our care here," Katz said.
"As our program grows, we hope to create a true center of excellence to foster development of novel therapies for patients in need and have formed an exciting collaboration with Dr. David Rowley's laboratory at University of Rhode Island. In addition, we seek to create meaningful educational and employment opportunities for Rhode Islanders," Katz added.
"The health care industry is in the midst of the most far-reaching change it has ever seen," according to Scott W. Goodspeed, program director of the executive master of health care leadership at Brown University's School of Professional Studies. "There is a high degree of uncertainty over the future and new payment models are upending health system business models. There are some significant trends leading to technological innovations and disruption in the health care space."
Among the technological innovations include telemedicine and virtual medicine, such as with Anthem Blue Cross Blue Shield, which allows patients to see doctors via computer or a mobile device, he said. Individualized medicine and analytics using genomics – charting people's specific genetic makeup – is generating individualized treatments and tools such as IBM Watson and cognitive computing used for minimizing clinical variation.
There are also trends moving health care away from traditional hospital settings, he said. Many innovative health care systems are developing a distributed network of primary care, health centers and ambulatory facilities, as patients shift from inpatient to outpatient settings, Goodspeed said.
Competitive pressure for patients has been increasing, for instance, he said.
Innovation also aids progress toward what Goodspeed termed the "triple aim" – lower cost, improved outcomes and improved patient satisfaction – all elements driving the accountable care organizations inspired by the Affordable Care Act.
Health care reform is happening both inside and outside hospitals, Goodspeed said.
"To be financially viable, you've got to have a solid outpatient service and practice," he said.
'HALO EFFECT'
Innovation is a daily concern for Dr. Jim Fanale, chief clinical integration officer for Care New England.
"You build it into your daily planning, because it is what you are," Fanale said.
Innovation is part of the day-to-day work at Care New England, he said. When a grant opportunity develops, he said, "We go after that grant, and you build that into your business planning."
As a hospital system innovates, he said, it opens new sets of revenue, with streams coming from innovative technology and grants, as well as from the patients who desire the new service.
Innovation also reflects well on the hospital as a whole, Fanale said. Hospital physicians not directly related to the new specialty or service are often more popular by association.
At Women & Infants Hospital's Breast Health Center, for instance, people who are aware of the center's work seek care from the Providence hospital's other physicians.
"There's no question about it. It sort of produces a halo effect," Fanale said, and enhances the hospital's brand. But, as for how much that halo effect creates in extra revenue, "I don't really know," Fanale said.
Peter Snyder, senior vice president and chief research officer at Lifespan Corp., parent company for four Rhode Island hospitals, said the organization's research investments have resulted in many patents, although they don't all show the recent commercial potential of lubricin, recently licensed to Novartis as a dry-eye treatment.
Lubricin is a mucinous glycoprotein found in the secretions of mucous membranes. It helps make mucus slippery. The natural substance is also found in joint fluid.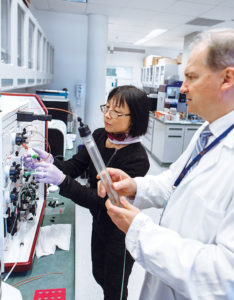 Dr. Gregory D. Jay had been investigating lubricin for decades before the discovery turned, Snyder said. So, the payoff from ideas into an innovative treatment often takes a long time.
"I have to always remind them. You have to be very patient," Snyder said. "This is an act that we engage in because it's the right thing to do."
Innovation isn't all about technology or where care is provided. Our Lady of Fatima Hospital's spine-surgery program received a two-year certification from Joint Commission surveyors in August for its efforts preparing patients before and after surgery.
Joint Commission accreditation and certification of health care organizations and programs is recognized nationwide as a symbol of quality that reflects an organization's commitment to meeting performance standards. Fatima is one of 76 hospitals nationally to earn this certification and the only one in Rhode Island.
"It makes us a center of excellence," said Shannon Silva, nurse leader for perioperative and endoscopy services at the North Providence hospital. The program takes special care to prepare patients for hip, knee and spine surgery, giving patients realistic expectations and accurate information on their recovery.
"They're much more well-informed prior to coming in [for surgery]," Silva said. The extra information has a positive effect on recovery time and on the success of the operations, including fewer infections following surgery, Silva said.
Catherine Rodrigues, clinical quality coordinator for CharterCARE Health Partners, the parent of Fatima hospital, said the program is also bolstered by the relative technological literacy of its average patient.
"Our patients that are going into our facility are a lot more tech savvy," she said.
The commission notes on its website that the certification enhances staff recruitment and development, and demonstrates commitment to a higher standard of service.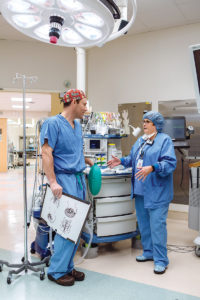 Silva credits Dr. John Czerwin, a neuro-spine orthopedist, with Fatima's pursuit of the certification.
"He really was the driving force behind the whole program," Silva said.
Czerwein approached the hospital administration with the idea, and they met with the surgery group, anesthesiology, nursing and peri­operative staff to weigh the benefits and agreed to pursue the certification.
The education program doesn't get 100 percent attendance from patients, due to individual schedules and challenges that prevent some from the preoperation lessons, but it has reached 80 percent attendance, Silva said.
One further benefit to the program, Silva said, is the word-of-mouth among potential patients and the hospital's appeal to patients who might otherwise decide to seek care at a competing hospital.
"Well, we certainly hope so," said Rodrigues.
On Nov. 9, Providence's Butler Hospital was designated as a center of excellence for treating opioid abuse, qualifying the institution for $242,224 in federal grant money.
The program will provide 24/7 access to opioid-addiction treatment and six months or more of interdisciplinary outpatient services for recovery stabilization.
"We, more than ever before, start to engage the patient in a system of care," said Dr. Jim Sullivan, senior vice president and chief medical officer of Butler Hospital.
Previously, Sullivan said, substance-abuse patients who had overdosed were medically stabilized, then offered treatment for their immediate problem.
Now, he said, the approach has evolved to begin with evaluation and stabilization, followed by emergency room doctors prescribing Suboxone (also known as Naloxone) to treat the overdose, and then the patient is referred to a five-day ambulatory detox program.
"Then the individual is able to go to the next level of treatment," Sullivan said, which involves six months or more of interdisciplinary outpatient services for recovery stabilization.
The new program will certainly put the psychiatric hospital on the minds of potential patients, and has already attracted some grant funding, but Sullivan is focused on the immediate benefit.
"These are life-threatening conditions if people don't get treatment," he said.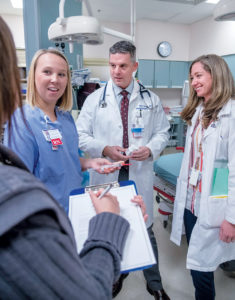 Opioid-addiction treatment with buprenorphine, which treats withdrawal symptoms, is an area of innovation that Dr. Mike Dacey, president and chief operating officer of Warwick's Kent Hospital, says is saving lives and money at the institution.
The number of opioid-overdose patients has dramatically increased in recent years. And treating someone to help them survive an overdose doesn't solve the addiction that set them up for the overdose, Dacey said.
"If the patients leave the emergency department, they go into withdrawal very quickly," Dacey said. Many of the overdose patients they see are recurring patients, he said.
But receiving licensing from the federal government to prescribe buprenorphine changes that for those patients, he said. The drug reduces withdrawal symptoms and gives doctors time to refer overdose patients to behavioral therapists.
Getting that licensing required special training for Kent's emergency department medical director, so he could train an opioid-addiction team in administering the drug.
"It's quite effective," Dacey said. The hospital just started prescribing the drug in the emergency room, so there isn't much data on how it's working, but long term, repeat overdoses are costing the hospital $5 million to $8 million per year, Dacey said.
"We can use the money for something else," he said.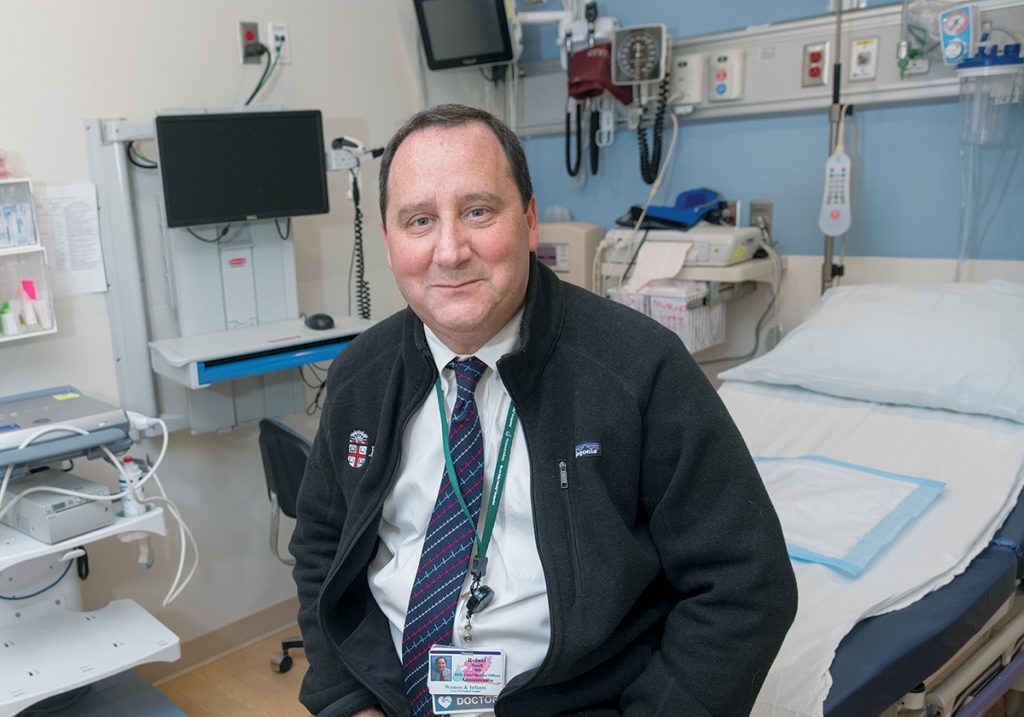 At Women & Infants, the 2014 West Africa Ebola outbreak inspired innovative medical techniques, said Dr. Robert Insoft, a neonatal-perinatal doctor and doctor of pediatrics.
"The CDC [Centers for Disease Control and Prevention] figured out pretty quickly that women who contracted Ebola, they became very sick and their children died," Insoft said.
Faced with the prospect that one or more of the mothers of the 8,500 babies delivered per year at the hospital might be infected with Ebola or another special pathogen, the staff at Women & Infants worked to create a special delivery ward for pregnant women fighting unusual infections.
"Working together, we became designated to become a special pathogen hospital," Insoft said, the only one of its kind in Rhode Island.
The team developed mock codes, screenings and drills to prepare for such cases, which required many hours of work, but it was work that improved the quality of care Women & Infants doctors and nurses provide long term, he said.
"It makes the cream rise," Insoft said of the effort.
The specialized care was also an intuitive step in keeping with the hospital's reputation as specialists in prenatal care.
"We tend to think of ourselves as the leader in prenatal care," Insoft said.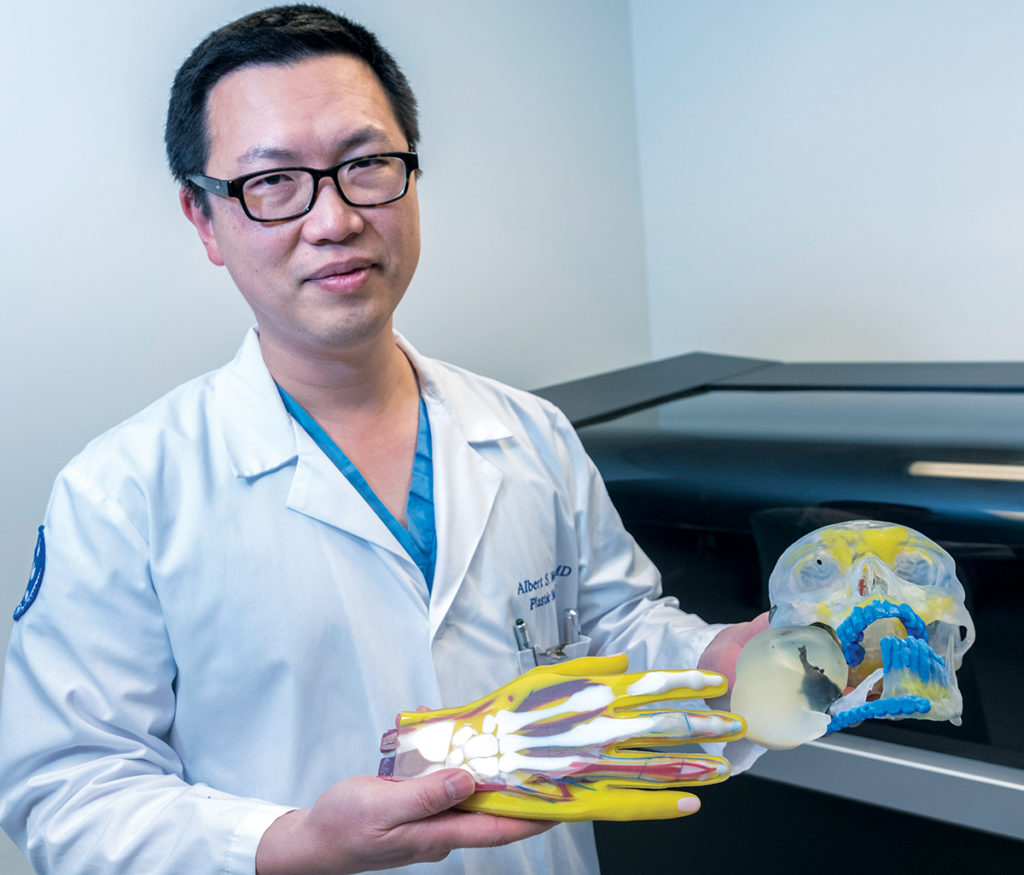 RECRUITING TOOL
Innovation also helps hospitals compete in recruiting, as when Lifespan recruited Dr. Albert Woo, chief of pediatric plastic surgery and director of the Cleft and Craniofacial Center at Hasbro Children's Hospital and director of the craniofacial program at Rhode Island Hospital, from Washington University School of Medicine in St. Louis.
Woo, who earned his medical degree at the Warren Alpert Medical School of Brown University, said he'd been working with an advanced 3-D printer to accurately model his work in craniofacial abnormalities, and cleft deformities. Using the printer to produce models of the surgeries he performed dramatically increased the accuracy of his work.
The modeling is very useful, for instance, Woo said, when a patient's face has been fractured into pieces "and we have to put Humpty-Dumpty back together again."
Until recently, Woo said, 3-D printing was not available in-house at hospitals. If he wanted a model made to guide his surgery, he had to send an order and wait weeks or months. But, with the advances in commercial 3-D printing, hospitals can now afford their own. While personal 3-D printers cost a few hundred dollars, medical-modeling printers cost hundreds of thousands of dollars. Even so, the cost is now within reach of many hospitals.
With a 3-D printer on-site, Woo said, he can have a model to start working with the next morning if he starts early enough in the day. The technology was a negotiating point when he accepted his position at Hasbro in the spring of 2016. Lifespan agreed, purchasing a Stratasys J750 full-color printer with 360,000 shades of color – a more than $360,000 investment. The equipment is a step up from what he was using in St. Louis.
"It puts us at the top of the list," of hospitals using the technology, Woo said. Hasbro is one of a handful of hospitals in the nation with the printer. Without such modeling, Woo said, plastic surgery's success depends largely on the artistry, skill and luck of the surgeon.
"This takes chance out of the equation," Woo said.