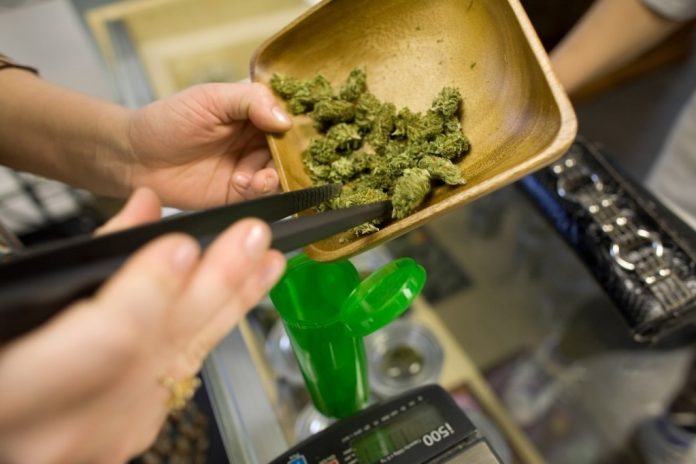 PROVIDENCE – The Rhode Island League of Cities and Towns says it opposes Gov. Gina M. Raimondo's proposal to legalize recreational marijuana because it doesn't give municipalities enough control over new marijuana businesses and doesn't provide enough money to cover the costs for local governments. 
"What our mayors, town managers and council members have heard from their counterparts in other states is that, if Rhode Island legalizes marijuana, our cities and towns will bear most of the direct burden," Brian Daniels, league executive director, said in a news release Wednesday afternoon. "While the governor's proposal envisions regulation and licensing at the state level, our communities will need to deal with most of the problems and public concerns. A top-down model will not work when local officials are bearing the burden and the cost."
The league said it appears Raimondo's proposal – which includes $6.5 million in anticipated new revenue from marijuana sales in fiscal 2020 – would only allow municipalities to prohibit marijuana-related businesses temporarily. For a longer-term ban, a city or town would need to hold a local referendum in November 2020, according to the league. 
Instead, the group said, municipalities should be allowed to regulate recreational marijuana businesses through ordinances or "opt-in" referendums in which startups would have to be approved by local voters. 
The league also lamented the lack of provisions for local sales taxes or community host agreements between new marijuana businesses and the communities in which they would be located. 
"We urge the administration and the General Assembly to heed the concerns of municipal officials on marijuana legalization," Daniels said. "The decision about where to locate facilities and retail stores is a local one – requiring possible zoning changes to protect public health and safety. Our 39 members may differ on whether they want marijuana facilities and sales in their individual communities, but they are united in their belief that it should be a local decision." 
One of Massachusetts' top cannabis officials had warned Rhode Island leaders about this issue at a Greater Providence Chamber of Commerce meeting Tuesday. 
Steven Hoffman, chairman of the Massachusetts Cannabis Control Commission, urged that Rhode Island start collaborating with municipalities on enforcement and tax revenue "as early as possible." 
Hoffman said it's been a problem in Massachusetts, which authorized its first retail marijuana stores last November and has 13 open now. 
In Massachusetts, Hoffman said, cities and towns are allowed to ban recreational marijuana businesses if local voters had rejected Massachusetts' November 2016 marijuana referendum. About 40 communities have followed through with a ban. Dozens of other municipalities had filed for a moratorium, which ended on Dec. 31, Hoffman said.
Now there are no clear-cut guidelines and enforcement on how municipalities can regulate cannabis businesses. Massachusetts communities are prohibited from banning them through zoning ordinances, but Hoffman said many have done so anyway.
"There are 351 cities and towns in Massachusetts, and I would say there are 351 different strategies that the cities and towns have employed," Hoffman said. "It's messy. It's got to be collaborative and you've got to engage with the cities and towns."