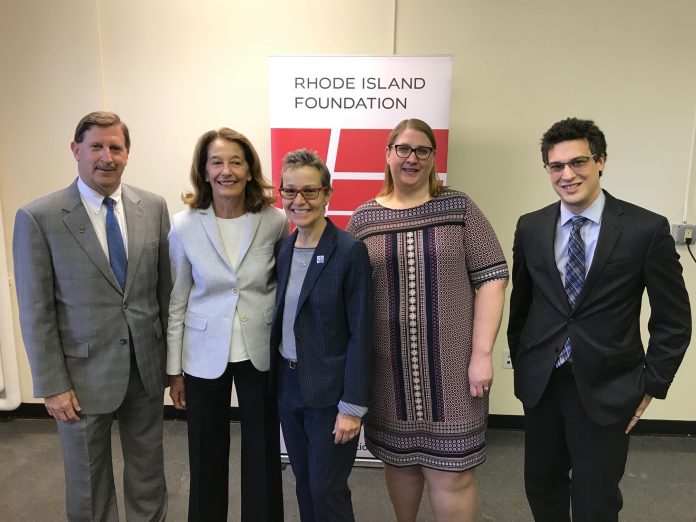 PROVIDENCE – The Rhode Island Foundation has awarded almost $280,000 in grants to five local organizations to help improve the primary health care system in the state.
The money will be used to launch an urgent care pediatric psychiatric clinic and train nurses to deliver home health care to the elderly, among other things.
The grants, awarded through a fund created in partnership with Harvard Pilgrim Health Care in 2010, were distributed to the Comprehensive Community Action Program, Hasbro Children's Hospital, the Rhode Island Center for Justice, Thundermist Health Center and the VNA of Care New England.
"Developing an inclusive primary care system that promotes healthy lives is one of our core strategic initiatives. These grants will advance our continuing efforts to make quality health care more accessible and affordable," said Neil D. Steinberg, the foundation's president and CEO.
In addition, the Harvard Pilgrim Health Care Foundation announced a final $1.6 million contribution to the Rhode Island Foundation for future grants.
"Philanthropic support can provide the seed funding necessary to take innovative programs [such as] these to the next level," said Karen Voci, president of the Harvard Pilgrim Health Care Foundation. "The contribution caps a long partnership that has generated nearly $2.3 million in grants for health and health care across Rhode Island."
That $1.6 million contribution will increase the Rhode Island Foundation's capacity to invest in projects, programs and organizations that support health and health care in Rhode Island. Applications will be accepted on a rolling basis throughout the year as part of the foundation's general health-related grant-making.
In the latest round of grants, CCAP received $75,000 to provide health services to people who spend nights at Harrington Hall, the state's homeless shelter. They will be assessed for needs and connected to services with an emphasis on housing aid, job training and placement.
"By providing a social worker and health care providers on-site, we will be able to engage and educate residents, as well as collaborate with shelter staff. We are confident that with transportation and opportunities for a 'warm handoff,' we can link residents to needed health care services," said Joanne McGunagle, CCAP's president and CEO.
Hasbro Children's Hospital received $55,000 to launch PediBridge, an urgent care pediatric psychiatric clinic, to address the growing pediatric mental health needs of patients arriving through the hospital's emergency department. Hasbro Children's Hospital is the only Level 1 Pediatric Trauma Center in Rhode Island and has one of the busiest EDs in the region. In the last two years, the number of behavioral health patients at the hospital's ED has increased 48%.
"As the population of children dealing with behavioral health diagnoses continues to rise, we face a sharply increasing number of patients needing urgent mental health care," said Tracey Wallace, vice president of pediatric services. "More parents than ever before are seeking care for their children in hospital EDs to treat acute emergencies, request guidance for at-home child management, and gain access to health care resources."
The clinic will offer urgent behavioral health appointments for nonemergency patients, connect patients with community mental health services, and reduce barriers to care through follow-up. It will also support patients and families waiting for availability in appropriate programs.
"PediBridge is designed not only to make mental health care in the ED more efficient, but also to ensure that behavioral health patients receive the ongoing care they need after leaving the ED," said Wallace.
The Rhode Island Center for Justice received $55,000 to add legal services to the Providence Community Health Centers. The work will include training PCHC staff on the services and integrating on-site legal teams at the community health centers to provide legal advice and representation to patients.
"The partnership seeks to improve patient health by addressing the social determinants of health. This will be accomplished by providing legal help to patients experiencing health-harming legal problems [such as] evictions, utility terminations, wage theft, denial of public benefits, consumer fraud and other exploitive practices that target people with low incomes," said Jennifer Wood, executive director.
The goal of the Advocates for Health program is to improve the health outcomes of patients seeking care at PCHC, while making it easier and more effective to screen for and address social determinants of health.
"Our hope is that this project will better harness two community social service programs to create a coordinated response to health and well-being," Wood said.
Thundermist Health Center received $50,000 to support "trauma-informed care" in Woonsocket. Two behavioral health clinicians will receive training and a certification in providing trauma-informed care. The training will provide the clinicians with an understanding of the vulnerabilities or triggers of trauma survivors, so they can better provide services and programs that can be supportive and avoid re-traumatization. Grant funding will also support the addition of a case manager to help patients who have experienced trauma.
"A patient's experience with trauma impacts every area of their life," said Jeanne LaChance, Thundermist president and CEO. "Trauma impacts families across generations. We are hopeful that a behavioral health workforce that is more prepared to care for people who have experienced trauma will help to improve the health of our community."
The VNA of Care New England received $44,705 to support its Nurse Residency Program, which provides recently graduated nurses with training in the specific skills that home health care requires and improves the retention of first-year nurses.
"As Rhode Islanders age and live longer, increasing numbers will live with multiple chronic conditions and functional impairments, such as difficulty with mobility and managing one's household," said Kathleen Peirce, vice president of operations.
Six nurses will receive mentorship, peer support and hands-on training in working with the primary care providers and organizations that focus on meeting the social service needs of patients.
"By 2040, Rhode Island's population over the age of 65 is expected to grow by 75% over 2010 census levels. Meeting their needs will require transformational change to our health care system and a different kind of workforce," said Peirce.