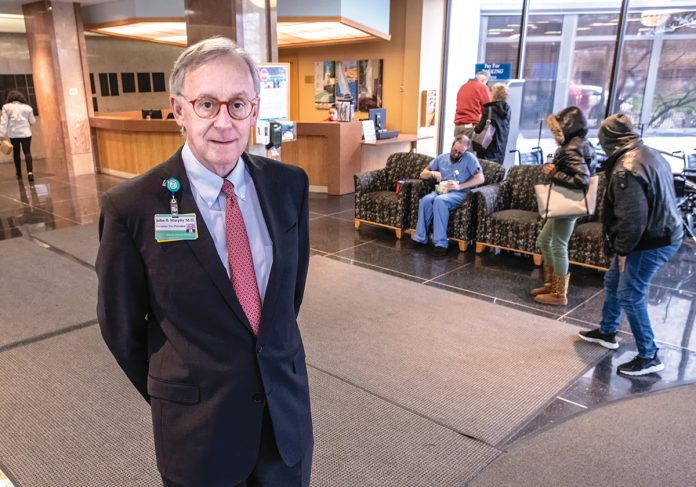 Nearly a decade after Rhode Island adopted price controls for health care that appear to be working, the state is doing more to contain health care costs through an initiative by Democratic Gov. Gina M. Raimondo.
In 2010, under former Republican Gov. Donald L. Carcieri, Rhode Island set up affordability standards that imposed price controls in the form of inflation caps and diagnosis-based payments on contracts between commercial insurers and hospitals and clinics. It also required those commercial insurers to increase their own spending on primary care coordination services to help ensure a patient's caregivers are working together efficiently.
This time, some of the state's largest health care providers and insurers have signed an agreement aimed at capping overall health care spending increases at 3.2% a year, beginning this year through 2022. The four-year initiative is more expansive than the previous one in that it attempts to limit across-the-board health care spending, right down to individual medical practices and all other aspects of the system.
Although there are no penalties for those that don't meet the annual goal, it does hold them accountable in terms of public scrutiny and criticism.
"The teeth [of the proposal] is that we worked for two years to get all of the providers and insurers at the table to sign on to a contract," the governor explained. "The teeth are, for lack of a better term, transparency and peer pressure."
Limiting spending increases to no more than 3.2% a year will be a challenge, considering oft-rising costs for treatment, equipment and payroll, said Dr. John Murphy, executive vice president of physician affairs for Providence-based Lifespan Corp., Rhode Island's largest health care provider and one of 17 entities to sign the agreement.
"It has to do with providing services in a less-expensive manner. Our job is to make sure it doesn't hurt" the quality of care, Murphy said.
'We definitely view the [3.2%] target as a great development in the market.'
MARC SPOONER, Tufts Health Plan executive vice president of commercial and government products
Care New England Health System, the state's second-largest health care provider, also was among the signees.
"Having providers, payers and public health officials all at the table discussing payment reform, cost transparency and quality is the only way this effort can be successful," said Dr. James E. Fanale, Care New England president and CEO.
Some declined to sign, including CharterCare Health Partners, Rhode Island's third-largest health care provider, owned by Los Angeles-based Prospect Medical Holdings Inc.
"We certainly support the idea in concept, but in reality we couldn't sign on to it while we are advocating for fair rates, given that CharterCare hospitals remain among the lowest-reimbursed hospitals in the state," said R. Otis Brown, CharterCare's vice president of marketing and external affairs.
Rhode Island's four largest health care insurers signed the agreement.
"As the largest health insurer and a leading employer in Rhode Island, Blue Cross & Blue Shield of Rhode Island was happy to be a leader in these efforts, which position Rhode Island at the forefront of a critical national issue," said Kim A. Keck, the company's president and CEO who served as chairwoman of the governor's steering committee on the issue.
"We definitely view the [3.2%] target as a great development in the market," said Marc Spooner, executive vice president of commercial and government products for Tufts Health Plan.
Other prominent health care entities to sign were the Rhode Island Medical Society and the Hospital Association of Rhode Island.
Saying she was addressing concerns of local families and businesses about rising health care costs, Raimondo formed the steering committee last year composed of major stakeholders in the state's health care industry to develop the proposal. The annual 3.2% increase is based on Rhode Island's potential gross state product, or the total value of goods and services at a constant inflation rate. The agreement was signed in December.
Rhode Island already has had some success in capping health care costs. A study by researchers at Stanford and Harvard universities and Brigham and Women's Hospital looked for results of the state's 2010 initiative, comparing spending among 38,000 commercially insured adults in Rhode Island to the spending of 38,000 matched adults in other states from 2007 to 2016.
Their findings, published recently in Health Affairs, a journal covering research and policy on health care reform, show that fee-for-service spending among the Rhode Island group, compared with the out-of-state enrollees, decreased by $76 per enrollee after the 2010 policy was implemented, for an 8.1% decline from 2009 spending. In comparison, primary care coordination increased by $21 per enrollee, which researchers noted is good because those services are designed to prevent more-costly medical needs.
"The Rhode Island experience indicates that states can slow total commercial health care spending growth through price controls while maintaining quality," wrote Sanjay Basu, an assistant professor of medicine at Stanford.
Scott Blake is a PBN staff writer. Contact him at Blake@PBN.com.