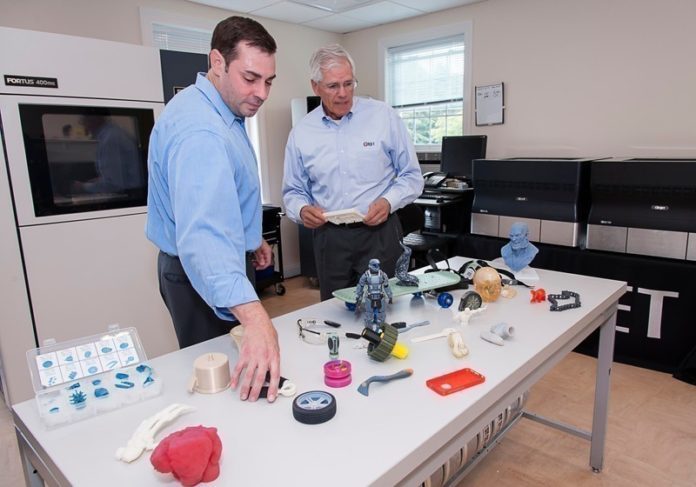 NORTH KINGSTOWN – R&D Technologies will celebrate the grand opening of its additive manufacturing center on Oct. 20 with an open house and ribbon-cutting ceremony hosted by the North Kingstown Chamber of Commerce.
Launched in 2000 as a SolidWorks reseller, R&D Technologies has since shifted gears to become a reseller of Stratasys Ltd. 3-D printers as well as the only 3-D printing-service factory in New England.
Jason Coutu, son of founder Andrew Coutu, came on board the company in 2008 to develop the 3-D printing side of the business. Today, Jason Coutu serves as president of R&D Technologies, which provides professional 3-D printing consulting throughout New England and full-service 3-D printing for clients across the U.S.
The company's in-house 3-D printing services include polyjet, fused-deposition modeling and solidscape technology, allowing R&D Technologies to print and produce durable, stable and versatile objects. Some of the products R&D Technologies has printed for its clients include conceptual models, functional prototypes, manufacturing tools and end-use parts of various designs.
R&D Technologies has been recognized twice as one of PBN's Fastest-Growing Companies in Rhode Island.
The open house will take place Friday, Oct. 20 at 60 Romano Vineyard Way in North Kingstown. Facility tours with 3-D demonstrations are scheduled throughout the day between 11:30 a.m. and 5 p.m., with the ribbon-cutting ceremony scheduled for 1 p.m.
For more information or to register, visit www.rnd-tech.com.
Galen Auer is a PBN contributing writer. Email galen.auer@gmail.com or follow on Twitter at @PBNAuer.