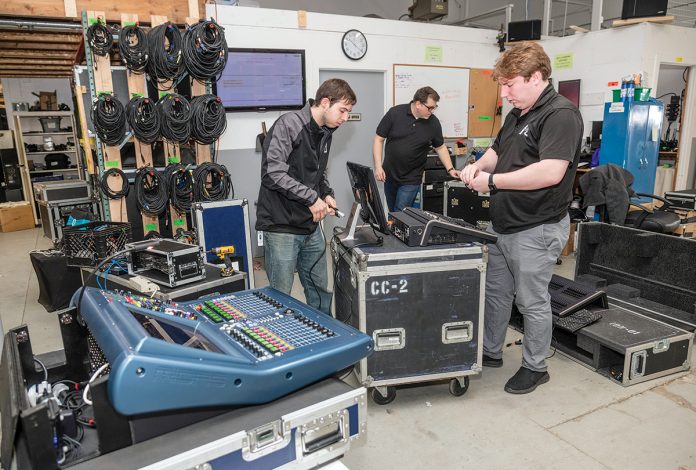 Sometimes overheard around the office water cooler: "Damn it, I have another meeting."
You can bet Issa Jouaneh doesn't see it that way. He's the senior vice president and general manager of meetings and events for financial-services giant American Express Co. He remembers how, just 10 years ago, the meetings industry experienced a dramatic slowdown. Not anymore.
"What we see today is an environment where meetings are thriving, and incentives have not just come back, but continue to grow. More importantly, meetings are playing a central role in the revenue and brand equations for corporations and associations," Jouaneh wrote in the 2019 Global Meetings & Events Forecast.
"The meetings industry has bounced back from the recession a decade ago," he added, "experiencing years of consistent growth and settling into a new normal."
With that resurgence have come greater opportunities for businesses that support business meetings, such as event production companies and catering services. They sometimes come from humble beginnings.
Adam Ramsey and Evan Perry, two buddies from Cranston High School, started Advanced Production and Design, or APAD, in Warwick in 2012. Ramsey, 26, has a bachelor's degree from Rhode Island College's technical theater program and Perry, 25, has a bachelor's degree in digital recording arts from the New England Institute of Technology.
Today, their company is among Rhode Island's busiest event-production companies and they get most of their business from corporate events and business meetings.
"They went from a garage to a storefront to two warehouses," said Doreen Collins Vanacore, who handles marketing and public relations for the two young entrepreneurs. "We did 1,300 events last year."
APAD provides audio, video and lighting systems, as well as staging and decor. In addition to equipment rentals, the company offers event-planning services, from conception and design to venue and vendor coordination to staffing and ­execution.
"We provide everything but food," Collins Vanacore said.
'We're seeing an increase in business meetings and corporate events.'
LIZZY DESIBIA, Russell Morin Catering chief sales and marketing officer
That's where companies such as Pranzi Catering and Events in Providence come in. Lisa Marie Mattiello, the company's co-owner and president, started the business in 1997 with two employees and an old van.
Today, Pranzi is one of Rhode Island's busiest catering services, with 22 delivery trucks and about $7 million in annual sales, Mattiello said. She estimates the company gets at least half its business from corporate events and business meetings.
Internal team and training meetings account for the largest single portion of business-meetings volume in North America at 30%. That is followed by senior leadership/board meetings (16%); conferences and tradeshows (15%); client/customer advisory board meetings (15%); product launch events (13%); and special events (11%), according to the Global Meetings & Events Forecast.
"Speculation during the past two economic downturns that virtual events would replace a considerable proportion of the face-to-face meetings activity – and thus reduce the cost of meeting – has never manifested," the report states. "Virtual-meeting capabilities remain an important component of a well-rounded meetings strategy, but continued growth of the industry supports that North Americans prefer to meet in person when possible."
Known as the region's largest caterer, Russell Morin Catering Service Inc. in Attleboro has been in business for more than 100 years. The company's core business remains weddings, but business events are on the rise. The company has contracts with venues in Rhode Island and elsewhere to provide catering for their events. That includes the WaterFire Arts Center in Providence, the Providence Public Library, Mount Hope Farm in Bristol, and the Newport Car Museum in Portsmouth.
"We're seeing an increase in business meetings and corporate events," said Lizzy Desibia, Russell Morin's chief sales and marketing officer. "With companies having more money in their budgets for meetings and as Providence has become more of a destination, we're getting more of that business."
According to data from the federal Bureau of Labor Statistics, job growth for event planners nationwide is expected to grow by 11% from 2016 to 2026, compared with overall job growth of 7% during that time.
Meanwhile, 42% of corporate meeting planners expect to have bigger budgets this year. And every dollar spent on meeting planning and products generates an additional $1.60 spent "downstream" in the general economy, according to convene.com, a website that tracks the meetings industry.
Ramsey, the young CEO of Advanced Production and Design in Warwick, said his staff of 10 full-timers and part-timers can balloon to several times that number in the company's busy season, from March through October. At times, he said, there's too much work for one company to handle.
"There's more business going around," Ramsey added. "And we can't take on every customer in the area."
Scott Blake is a PBN staff writer. Contact him at Blake@PBN.com.