Re-imagining the workforce of today & identifying solutions for tomorrow.
This new PBN annual publication, focusing on workforce development and career opportunities in our region, will serve as a resource for employers and job seekers, targeting Rhode Island's emerging workforce.
---
PUBLICATION DATE: September 29, 2023   |   SPACE RESERVATION: August 25, 2023
---
Rhode to Work should be a part of your marketing plan if: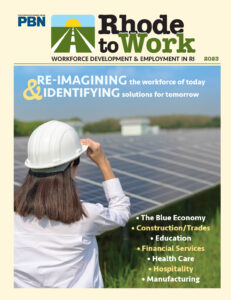 • You want to increase your brand exposure and be part of workforce development in Rhode Island.
• You are hiring or plan to hire.
• You have internship opportunities at your company.
• You are targeting tomorrow's workforce with classes, programs and/or seminars for a degree, certification or special skills training.
• You offer human resource services to help RI companies recruit, train, and retain their future workforce.
• You offer services and products for members of the workforce.
Rhode to Work will feature information and stories about the jobs and careers in these essential industries:
• The Blue Economy • Construction/Trades • Education • Financial Services • Health Care  • Hospitality • Manufacturing
It will include jobs-related stories in each industry, including their importance to Rhode Island's economy, where the jobs and employer-needs are greatest, training and education needed to get a career started, plus interviews with people working, training and hiring in these industries in Rhode Island today.
DISTRIBUTION:
PRINT: Total press run of 15,000
7,000 copies in the September 29, 2023 issue of PBN
8,000 additional copies to:
• Key business and industry events throughout the year
• Trade and vocational high schools
• Guidance counselor offices in local high schools
• CCRI, NEIT and other career offices in Rhode Island colleges and universities
• Regional workforce organizations and employment offices, including Commerce RI, Polaris MEP, and the RIDLT
• Local companies represented in the book
DIGITAL:
• Rhode to Work is available in a digital edition on PBN.com, where company profiles link directly to company websites.
• The editorial content of Rhode to Work is featured on our website, PBN.com, assuring continued engagement throughout the year. (PBN.com averages over 50,000 unique visitors per month.)
• PBN daily and weekly e-newsletters will regularly include a link to the digital edition of Rhode to Work, providing additional exposure to tens of thousands of readers.
---
Sponsorships and

advertising options available. For more information,


contact your Account Manager or Advertising@PBN.com  |  401•680•4800