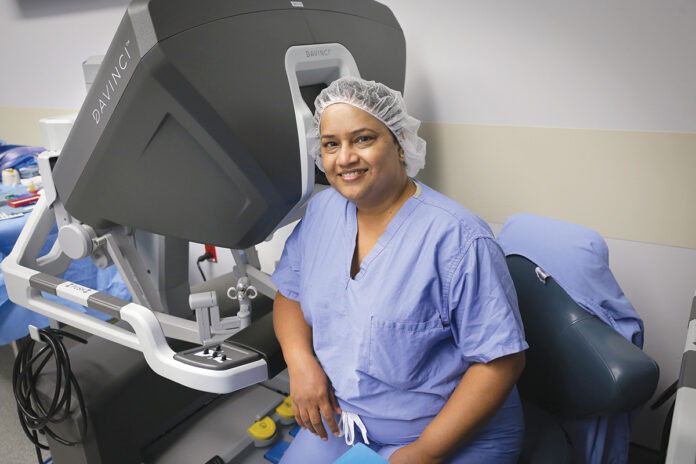 With the precision of slender robotic tools, Dr. Subhashini Ayloo can look inside someone's abdomen with three-dimensional accuracy.
A small incision can be all she needs for major surgery. A specialist in liver transplantation and resection – the cutting and removal of diseased or damaged liver tissue – she joined Brown Surgical Associates in February and reached a milestone soon after.
For the first time in Rhode Island, Ayloo performed a robotic-platform hepatectomy, completing a liver resection using four tiny incisions. The procedure allows for a shorter hospital stay and faster recovery. For cancer patients, it means they can move to lifesaving chemotherapy and other treatments faster.
Unlike conventional "open" surgeries that involve the opening of the abdomen through larger incisions, minimally invasive surgery with robotics allows patients to recover quickly. After several hours in a recovery room, many patients go home and begin chemotherapy treatment the following week.
"In my line of work, you're not dealing with basic surgeries. You're bringing in new skill sets and new technologies … working with multiple teams," she said.
For Rhode Islanders, the precision surgery on the liver, a critical organ, sends a clear message that major and complex surgeries are not necessarily an out-of-state endeavor.
Following that first robotic procedure, performed on April 21, the patient has recovered nicely, Ayloo said.
"Looking excellent," she said.
Ayloo has a master's degree in public health from the University of Illinois at Chicago and earned her medical degree and completed her surgical residency at Rosalind Franklin University Health System in North Chicago.
She completed a fellowship in minimally invasive surgery at the State University of New York's Upstate Medical University. She had a second fellowship in liver transplantation at Dalhousie University in Nova Scotia, Canada.
'In my line of work, you're not dealing with basic surgeries.'
DR. SUBHASHINI AYLOO, Brown Surgical Associates surgeon
She was recruited by Dr. William G. Cioffi, surgeon-in-chief of Rhode Island Hospital and The Miriam Hospital who was building a team specializing in liver, pancreatic and biliary procedures.
While transplants of hearts and lungs are available in Boston, procedures for the liver and kidneys are available locally, and that program is growing and successful, he said. "I would put our outcomes above anyone's," he said.
Ayloo, who is board-certified in surgery, said she knew she wanted to be a surgeon and a specialist when she received her medical degree. Her interests led her to specialize in robotics and liver resection.
Ayloo uses the robotic-assist da Vinci surgery system, which allows surgeons to perform complex procedures with a precision and accuracy that might not be possible with human hands alone. The versatility of the technology allows her to see within a patient's abdomen through small incisions using magnification and lighting. The liver can be moved around and elevated to allow her to reach a tumor. Multiple cameras allow the use of what is effectively three-dimensional viewing of the organ. Magnification can bring her 10 times the viewing power.
A nursing team to support her work is being created among professionals interested in the technology.
For patients, the benefits of minimally invasive surgery are plentiful. The incision during a traditional surgery has to be large enough to allow a surgeon's hands to enter the body. That incision itself carries the danger of infection. "Most of the morbidity from the procedures comes from that incision itself. If you have a big incision, it means that afterward you have pain. You are not going to be breathing well," Ayloo said
Recovery is longer and, if the patient has cancer, that treatment can be delayed as a result.
In April, Timothy Webb became her second patient for the robotic-assisted surgery.
Webb, a Warwick resident, had a small spot on his liver that his oncologist discovered after he was being diagnosed with colorectal cancer. Webb's doctor thought he would be a good candidate for robotic-assisted surgery, and Ayloo agreed.
After meeting with Ayloo and reviewing her credentials, Webb said he agreed that minimally invasive surgery was the way to go.
"The location of the spot wasn't great, the way Dr. Ayloo described it," he said. "With the assistance of the robotics, she had to sort of lift up the liver in order to get underneath it, which is where the spot was."
Webb, who went home the night of his operation, has since moved on to treatment for his cancer and is doing well. He's back at work at Citibank, and he credited the minimally invasive robotic surgery with the speed with which he was able to recover.
"Their confidence inspired confidence in me," he said. During the procedure, Ayloo examined all around the abdomen with the robotic tools, looking for additional signs of cancer and found nothing.
Webb said Ayloo gave him a copy of her surgical notes following the surgery. He was impressed with the thoroughness of the document.
"A lot of it was over my head. I had to use Google a dozen times. But at the end of the day, she looked all over the place and found nothing," he said.