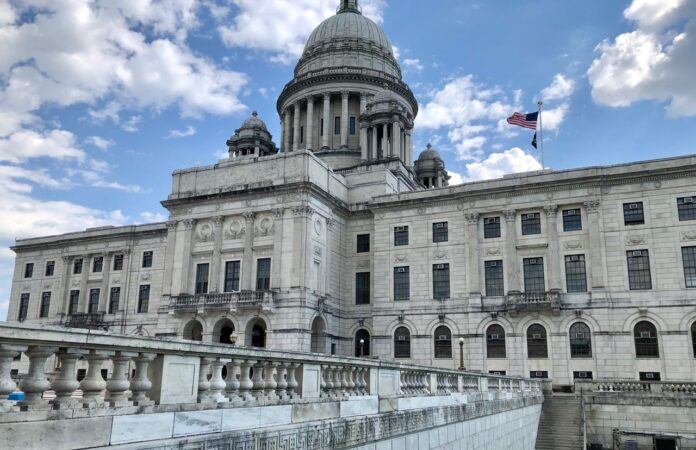 The projected $610 million budget surplus awaiting the General Assembly and the administration of Gov. Daniel J. McKee has been the subject of speculation in the run-up to the upcoming legislative session beginning on Jan. 3.
But some elected officials familiar with the state's budget formulation and eventual adoption point out that a chunk of the surplus is not due to exceptional financial planning or an unexpected surge in revenue, but to the more than 1,000 job vacancies throughout state government.
Another driver of the projected surplus is the millions of dollars in federal matches for Medicaid set to expire when McKee ends the state of emergency, which had led some elected officials to argue the Rhode Island tax and spending regime should not be characterized as a financial windfall.
Either way, the surplus is being eyed by understaffed state departments and agencies, most notably the R.I. Department of Human Services, which has been the subject of increased oversight after reports of excessively long waiting times to secure social safety-net benefits and an agency lacking the staffing numbers to carry out its mandates.
In the most recent update to the oversight committee, DHS says it has filled 174 positions since last January "through a combination of promotional opportunities, lateral transfers, and new hires," leaving the department with 117 vacancies, 56 of which "are in the process of being filled."
State departments and agencies recently issued their annual budget requests for staffing to the Senate, encompassed in the 33-page Senate Fiscal Office report. It's a list of personnel and budgetary needs that, when added up, cut deeply into the projected surplus.
The requests include the R.I. Department of Corrections, which is asking to hire an additional 150 workers. The R.I. Office of Veterans Services says it could use an additional 29 full-time employees.
The list goes on.
Estimates put the job vacancies in state government at about 1,300.
New Majority Leader Ryan Pearson, D-Cumberland, who is also Senate Finance Committee chairman, says many of these positions are desperately needed for the agencies to fulfill their duties, the most prominent examples being DHS, the Department of Corrections and the R.I. Department of Children, Youth and Families.
"Part of what is driving the surplus is we've got a lot of state job vacancies," he said. "As we fill those vacancies, you can expect a lot of that money is going to get eaten up and not be available"
"These are important jobs," Pearson said. "You can't not have guards in a prison. That's a problem. And those are the kind of things we are running into."
Pearson estimates the cost of filling these vacancies could exceed $72 million.
The annual budget analysis released by the Rhode Island Public Expenditure Council found that the number of vacant positions in state government has climbed significantly, averaging 1,827 by 2022, its highest level in 17 years, representing a 12% vacancy rate.
Sen. Louis P. DiPalma, D-Middletown, vice chairman of the Finance Committee, agrees that the "significant number of vacancies in the [current] state budget [resulted] in money that was allocated and is not being spent."
"There are certain positions that should have been filled that haven't been filled," he said.
DiPalma says the average state worker costs $100,000 when factoring in benefits. He feels the state should concentrate on filling crucial positions and place the remainder of the surplus in "abeyance" until the next revenue estimating conference in May "to determine what the best investment is."
DiPalma says officials should also take seriously the lapsing of various increased federal reimbursements, which will require a greater contribution from Rhode Island taxpayers. "We are talking tens of millions of dollars," he said.
As the number of residents no longer qualifying for Medicaid rises, "that's where DHS must hire a whole bunch of folks [to process applications]. And they haven't hired them yet," he said.
J. Michael Downey, president of Rhode Island Council 94 of the American Federation of State, County and Municipal Employees, AFL-CIO – which represents workers in two dozen agencies – says some departments have been increasingly reliant on outside contractors and temporary workers.
"Many front-line workers have not been replaced," he said. "Using state employees is a savings to taxpayers versus outside contractors and temporary employees."
The state worker portion of Council 94 membership has dropped from 4,000 to 3,500 in recent years, says Downey. Close to 70 vacancies coming from the R.I. Department of Health, which he characterized as "decimated."
"It's like a shadow government of temporary employees," he said, adding that morale in both DHS and DOH has plummeted.

Want to share this story? Click Here to purchase a link that allows anyone to read it on any device whether or not they are a subscriber.