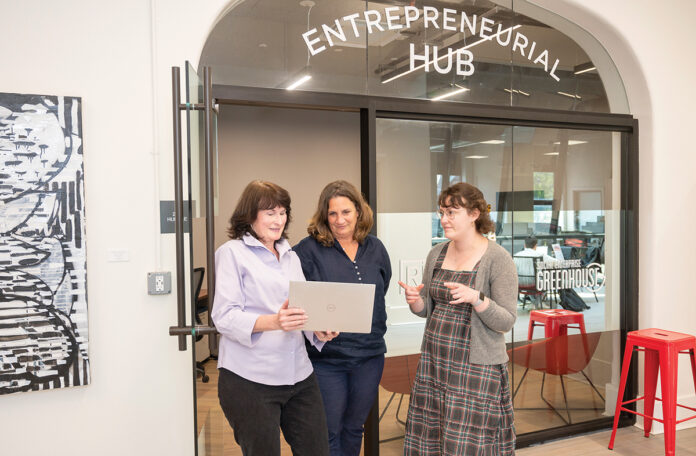 PROVIDENCE – Around 60 startups plan to take part in the state's third Startup Week, which will this year feature more than 40 events throughout Rhode Island from Sept. 29 through Oct. 6.
The week will kick off with an "Innovation Crawl," a tour spanning from Innovate Newport, the Herreshoff Museum and BlueTech Innovation Center, Hope & Main, the CIC and Venture Cafe Providence to Regent Craft before concluding with a boat tour.
The week will continue with regular programming, such as The Calamari Tank, a "Shark Tank" style pitch competition, as well as new events, including networking opportunities at Brown with the Founds & Friends Group, a workshop and pitch competition at Innovate Newport and an end-of-week party with a blue tech focus.
After getting its start during an era of heavy COVID-19 protocols, this year's programming will feature more in-person programming than in previous weeks, said Annette Tonti, managing director of RIHub.
"Every year, Startup Week has gotten bigger and more comprehensive," Tonti said. "The goal is to get everyone convening for one week around entrepreneurship … and ultimately, making sure that the average citizen of Rhode Island knows we have this community of entrepreneurs." 
New to this year's programming is an increased presence from Canada's entrepreneurship sphere, made possible through a partnership with the Canadian Embassy.
As part of this collaboration, Moya Cahill, CEO of Canadian wind and ocean company Pangeo Subsea, will feature as a special guest speaker during the weeklong series.
It's part of the consulate's broader goal of forging deeper connections with the Ocean State, said Dina Santos, acting consul general and senior trade commissioner at the Consulate General of Canada in Boston.
"We really want to raise awareness in Rhode Island of the Canadian ecosystem and how access to Canada can push their growth," Santos said. "Canada offers Rhode Island companies significant advantages as we have free trade agreements with Europe, Japan, Korea and most importantly the USMCA, as well as a highly skilled workforce.
"We also want to highlight Rhode Island to Canadian companies," she continued. "Too often, for Canadian entrepreneurs, 'New England equals Boston,' but there are great things happening elsewhere, particularly with the blue economy and defense sectors."
The week-long series of events traces back to R.I. Startup Day, which Tonti and a small team launched prior to RIHub's establishment in 2019. They followed up with a Startup Weekend before expanding the celebration of Ocean State entrepreneurship into its current form in 2021. 
The events growth hasn't come without extensive efforts: Each year, RIHub, which currently has a team of three full-time employees and three interns, has to fundraise beyond its base financial resources in order to make the week possible.
While the organization's goal is for Startup Week to become an annual fixture in Rhode Island, it hasn't reached that point yet, Tonti said.
"A regular source of funding would be important," in securing the week's continuation, she noted. "It could become its own entity. You could see if spinning out and becoming an entity, or it could continue to be inside of RIHub." 
But either way, "I think having people dedicated to it year-round" would help to assure the week's longevity, Tonti said. "RIHub is a very lean team. We're doing Startup Week along with our regular day jobs, so it's really hard, but we love doing it." 
For its regular budget, RIHUB receives funding from IBM, Brown University, the University of Rhode Island, and R.I. Commerce Corp., as well as "soft" support from startup accelerator MassChallenge.
A full schedule of this year's programming can be accessed at https://ristartupweek.com/find-event/.
Jacquelyn Voghel is a PBN staff writer. You may reach her at Voghel@PBN.com.

Want to share this story? Click Here to purchase a link that allows anyone to read it on any device whether or not they are a subscriber.