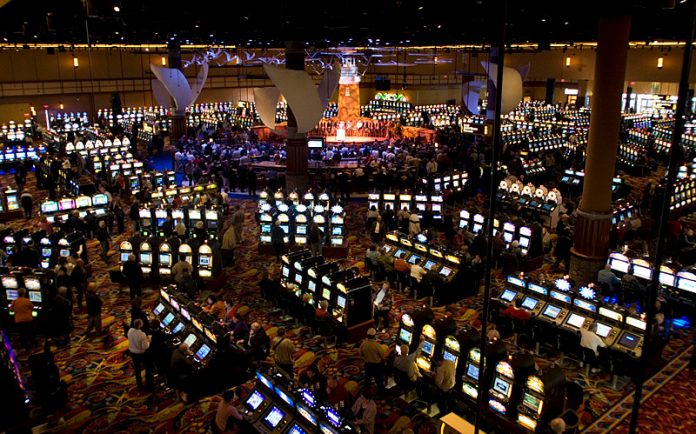 LINCOLN – Twin River Holdings Inc. reported net income of $71.4 million in 2018, a 14.8 percent year-over-year increase, according to a company filing this week. Earnings per diluted share were $1.95 in 2018, compared with $1.64 one year prior.
Revenue for the year was $437.5 million, a 3.9 percent increase over the year, with the primary source for the public casino company was gaming at $327.7 million, an increase from $314.8 million in 2017.
The company also reported that in 2018, Rhode Island's share of net terminal income, table games revenue and other gaming revenue totaled $389.2 million, compared with $370.6 million in 2017.
The company owns and manages two casinos in Rhode Island, the Tiverton Casino Hotel and the Twin River Casino Hotel, one in Mississippi and a horse race track in Colorado. The company announced plans to go public following its agreement to acquire Dover Downs Gaming & Entertainment Inc., a public company, which Twin River said it expects to close later in March. Twin River's registration with the U.S. Securities and Exchange Commission was approved effective Feb., 4, 2019. The report this week was the first public quarterly and yearly financial report submitted to the SEC by Twin River.
Food and beverage accounted for $48.4 million in revenue in 2018, an increase from $47 million in 2017. Yearly hotel revenue for the company was $21.3 million over the year, an increase from $19.4 million in 2017. Racing accounted for $13.2 million on the year, a decline from $14 million in 2017.
The company reported that it incurred $6.5 million in losses related to the disposal of Newport Grand in 2018. However, the company noted that it received $7.1 million from the sale of the land and building of Newport Grand.
Twin River reported expenditures of $94.6 million at Tiverton Casino Hotel in 2018, following $34.4 million of related expenses the year prior. The new gaming facility opened Sept. 1.
The company said that it experienced $6.6 million in expenses related to its merger with Dover Downs and the company's going public. The Dover Downs meeting of stockholders to vote on the acquisition is scheduled for March 26.
Twin River profit for the fourth quarter was $22.1 million, a 15.5 percent increase from the fourth quarter of 2017, on revenue of $111.4 million, an 11.9 percent year-over-year increase.
Chris Bergenheim is the PBN web editor. Email him at Bergenheim@PBN.com.