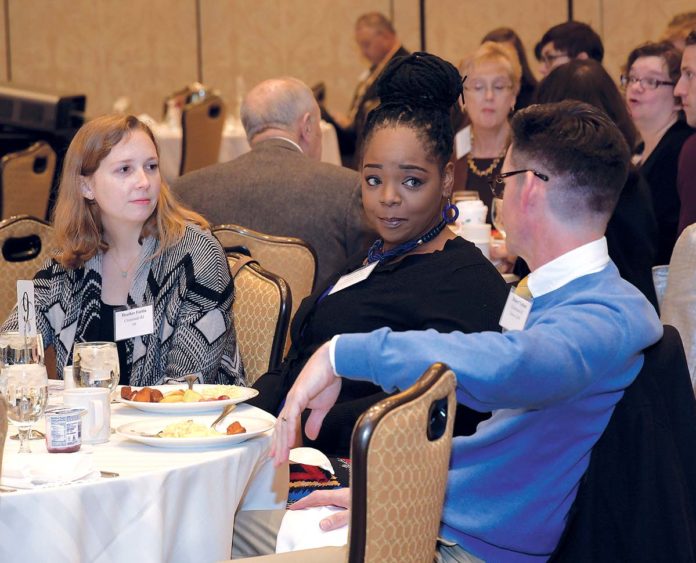 "If we tolerate intolerance, then tolerance will become extinct," warned Stephanie Huckel, manager of culture and diversity and inclusion at Blue Cross & Blue Shield of Rhode Island, during a Dec. 7 panel discussion on workplace diversity. "At the end of the day we need to have a threshold for behavior and stick to it."
Huckel was part of a four-person panel that discussed how Rhode Island businesses can better address diversity and inclusion in their workplaces, at the first-ever Providence Business News Workplace Excellence, Diversity and Inclusion Summit.
Topics discussed before approximately 100 attendees at the Crowne Plaza Providence-Warwick ranged from the root of efforts to increase diversity and inclusion in the workplace to the importance of top-down acceptance and leadership of these efforts and eventual implementation.
To start, Huckel comically established the difference between diversity and inclusion as: "Diversity is being invited to the party and inclusion is being asked to dance."
Panelist Naomi Ruth Thompson, University of Rhode Island's chief diversity officer, said diversity is about embracing all demographics during the everyday marketing, hiring and firing processes, but also in how employees and leadership interact with one another.
Staffing a team that represents all walks of society does not satisfy inclusion, but analysis of their "experience of the workplace – do they feel valued and have opportunities for professional development or are they just a number?" is what's necessary, she said.
Limited workplace diversity and inclusivity can often be traced to unconscious bias – "things we act on without thinking, shortcuts our brain has developed to help us," said Huckel.
The panel agreed unconscious bias can play a role in job applicants getting callbacks, perceptions of new hires, how the company portrays itself to the community and to whom it markets.
"Even though we've been using practices that may have been well-intentioned," said attendee John Sinnott, Gilbane Building Co. vice president and business unit leader of Rhode Island, change is necessary. He advocated for positive training models that identify a workforce's shared strengths rather than weaknesses, while improving its diversity and inclusion.
It won't be a "quick fix," he said, but it must be "woven" into a company's ethos.
Representing the Rhode Island education sector, Thompson said unconscious bias traces all the way back to the types of toys given to daughters versus sons and vice versa.
Clara Schwager, an attendee and Brown University School of Professional Studies marketing manager, said higher education will play a large role in shaping how Rhode Island schools and firms adapt to diversity and inclusion. She said Brown, the state's sole Ivy League college, has a responsibility to use its "soapbox" to "project the future" of diversity and inclusion in its hiring and recruitment practices.
"How we train these future leaders impacts not just our local economy, but [the] international and global levels too," she said.
There are ways to counteract unconscious bias both as corporations and individuals, said Huckel.
"As organizations, we can't strip unconscious bias from all employees to the nth degree," she said, suggesting a review of policies that may, unknowingly, discriminate against certain groups. For example, referring to the time after a birth or adoption as maternity leave rather than family leave.
"Moms aren't the only ones with new babies in their families," she said.
While the panelists admitted the subjects of diversity and inclusion are more complicated – and occasionally a more uncomfortable conversation – than they appear, their responses outlined the need to create an all-encompassing diversity and inclusion initiative.
"Naturally, sometimes we refer to race and gender when you have all of these other dynamics going on. You have to look at this from a very broad spectrum, diversity isn't just what you see," said panelist Lisa Whiting, chief human resource officer and vice president of human resources and administration at Neighborhood Health Plan of Rhode Island.
She explained Neighborhood hosts an annual diversity week that includes lunch-and-learn sessions and training on transgender health, diversity and inclusion terminology and other topics. As a recent example, she said, after one of these sessions a Muslim employee came to her department and asked for space to be allocated as a prayer room.
"You can't do everything well, you have to pick some things to do well, but that doesn't mean you can't do smaller things over the course of time," she said.
The progress made by Neighborhood, however, would not have occurred without its leadership team embarking on what some consider uncomfortable subject matter.
"This is uncomfortable work and you have to approach it [as such]," said Thompson, but it is "a process of learning" and everyone is moving forward together.
When implementing a diversity and inclusion campaign, said panelist Juan Lopera, Tufts Health Plan vice president of business diversity, corporations must be "focused and intentional" in their implementation and goals.
The best way to start, added Huckel, is with a broad definition, so the majority of employees see themselves in the plan.
However, said Lopera, "having your leadership team be the person to take the first step is crucial."
Each of the panelists agreed with the necessity of top-down integration.
When you have it, "you overcome not only unconscious bias but the overt and conscious bias that is becoming more and more prevalent in this country's society," Thompson said.
When top-down implementation isn't the case, said Lopera, employees should start small with a grassroots diversity and inclusion awareness-building conversation.
For some firms, diversification and inclusion efforts may seem insurmountable. People who feel overwhelmed, said Whiting, should set a goal and measure progress.
"Statistics pave the way to proving to your organization that there is a need for [diversity and inclusion]," said Brown's Schwager. "If you can measure it, you can raise the red flag."
While speaking openly about diversity and inclusion and educating employees about demographic differences are beneficial to the excellence of a company's workforce, many firms want to see results.
"It is possible [to determine results] and you need to measure it," said Lopera, "but at the same time you cannot be fixated on the metric."
Whiting agreed: "Data doesn't tell you everything … when your staff feels comfortable to show up as their authentic self, it's [important]."