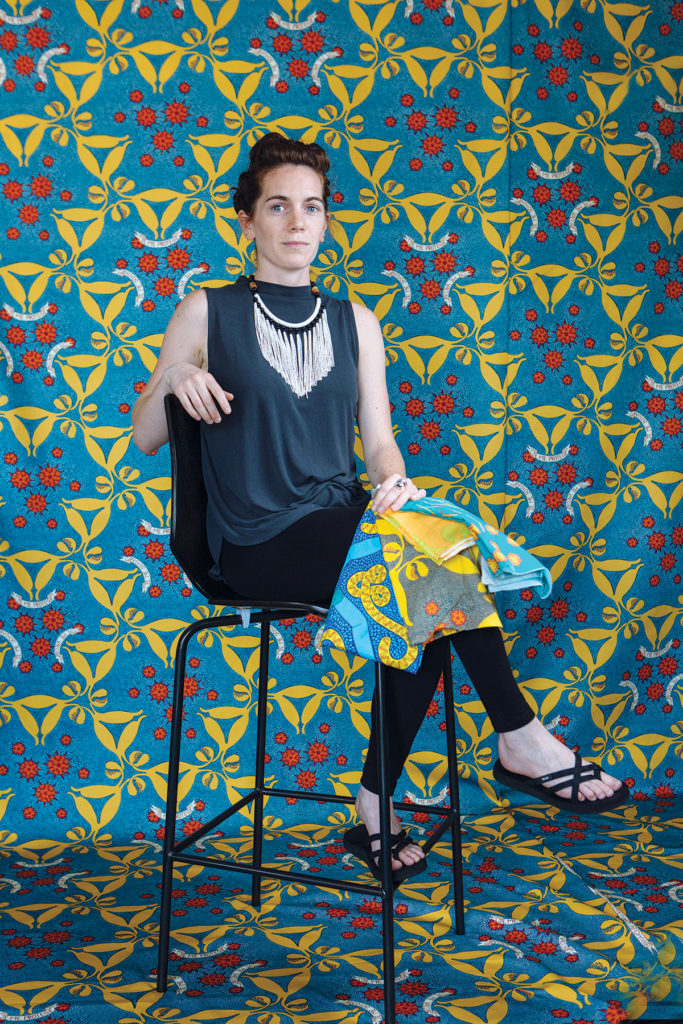 Eliza Squibb | GAIA Vaccine Foundation executive director
You might wonder how a textile designer ended up running a health-focused nonprofit.
It all started in 2012, while I was still a student at the Rhode Island School of Design. Dr. Anne S. De Groot, vaccine researcher and GAIA's founder, reached out to the textile department to find someone interested in creating a textile pattern for health communication. I was just such a student, ready to breach the walls of the classroom and develop an experimental form of visual communication.
We browsed scientific-image libraries online, and I researched everything I could find about the history of West African wax print textiles.
Throughout a six-month campaign in 2015, community health-center personnel in Mali wore "the storytelling cloth" we created and used it as an educational tool to explain cervical cancer during outreach events. The network of interlocking uterus and fallopian tubes is embedded in a background of healthy cells that transform to cancerous cells where they touch the HPV virus. A Malian proverb, similar to "an ounce of prevention is worth a pound of cure," creates a border pattern.
Health care personnel promoted free cervical cancer screening, and their efforts succeeded in increasing screening rates five-fold, an important step for a country with one of the highest rates of cervical cancer in the world.
To this day in Bamako, I catch glimpses of our storytelling cloth, worn by people all over the city, proof that textile designs for education can take on a life of their own and an unconventional idea might just catch on.