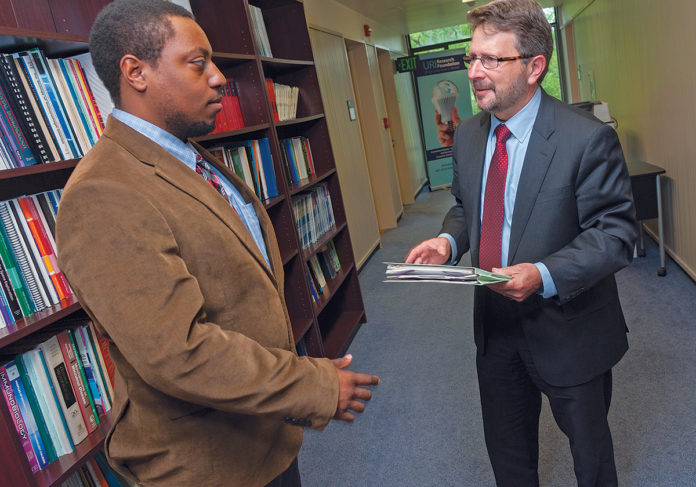 In almost two years as associate vice president of intellectual property and economic development at the University of Rhode Island, Michael E. Katz said "facilitating and fostering more university-industry research collaborations" has been a top priority.
Which is why, he said, he "wasn't completely surprised" URI was ranked No. 190 in "Concept to Commercialization: The Best Universities for Technology Transfer," published in April by the Milken Institute, a Santa Monica, Calif.-based economic think tank.
"While industry energizes innovation through research and development initiatives, the main catalyst that fuels knowledge-based growth once again lies where it started: the American research university," read the report. It ranked 230 U.S. academic institutions' ability to translate intellectual property into commercially viable ideas.
Findings were based on four-year averages, 2012-2015, of four indicators: patents issued, licenses issued, licensing income and startups formed. The two Rhode Island schools listed were URI, the state's flagship research institute, and Brown University, an Ivy League school, at No. 151.
Why are these schools ranked so low and how did local tech investors react?
Katz said in the last two years URI addressed each of Milken's four indicators measured in the report, notably the number of patents and licenses issued and associated income. Previously, he explained, URI was restricted by the R.I. Department of Education to one patent attorney.
"I've seen a number of older patent applications where we spent a lot of money and never got a patent issued. That comes from being required to use an attorney who doesn't have expertise" in the latest fields, he said.
Now, there are five attorneys with broader technology-transfer knowledge from which URI can choose, said Katz, who believes this will lead to more successful applications and increased income.
In addition, a new URI position, licensing officer, that will [work] with faculty and potential industry partners, "will bear fruit for those two measures," he said.
Much of the school's progress is linked to partnerships with engineering, computer science and chemistry companies through R.I. Commerce Corp.'s Innovation Voucher program. Since January 2016, according to URI, the school has been awarded 13 vouchers totaling $645,180.
Yet, Katz knows schools such as Massachusetts Institute of Technology and Stanford University – which were ranked in the report's top 10 – benefit from "geographic advantages."
Citing Polaris data, Katz said Rhode Island is home to 1,600 manufacturers – 95 percent of which employ fewer than 100 people – "these are not the kinds of companies that can afford to fund hundreds of thousands of dollars for a research project."
Consequently, comparing URI to institutions with deeper pockets, more faculty, local industry and medical schools, said Katz "is like comparing apples to oranges."
Brown University, home to the Warren Alpert Medical School, ranked slightly higher but below the top 150 schools. In a statement, a spokesperson said Brown is committed to "propelling the development of commercial products based on university research." He said Brown spends upwards of $164 million annually supporting scientific research and development, namely via the Biomedical Innovation Fund.
Providence-based Slater Technology Fund has invested $34.5 million in more than 100 companies, with $9.3 million going to Brown-affiliated companies and $3.6 million invested in URI-affiliated companies, since its inception in 1997.
Calling academic research institutes "wellsprings of technological innovation," Thorne Sparkman, Slater's managing director, said typical academic investments range from $100,000 to $300,000.
Sparkman said Brown and URI are low on the list because there is less of a "push-pull dynamic" between Rhode Island's economy and top schools compared to that churned out by competing schools.
Their ranking "is not encouraging," echoed Slater's senior managing director, Richard Horan. Agreeing with Katz, he said "age and size matter" in academic rankings – especially for Brown and URI's life sciences departments.
Horan, who sits on Brown's BIF review panel, said their medical school was founded in 1975 and research enterprise investment in URI began in the late 2000s – "by comparison, Columbia Medical School goes back to the 1700s."
The "Achilles heel" of Rhode Island schools, he said, is "a limited pool of experienced people [who can] … identify the technologies worth backing, form the companies, negotiate the license and transport those technologies out of the academic lab and into the commercial economy."
One idea Horan recommended to develop that pool is launching a Rhode Island version of New York City's LifeSci NYC – a 10-year, $500 million industry jump-start campaign estimated to create 16,000 jobs.
He said the task was begun with URI's Center for Biotechnology and Life Sciences … but more is needed.