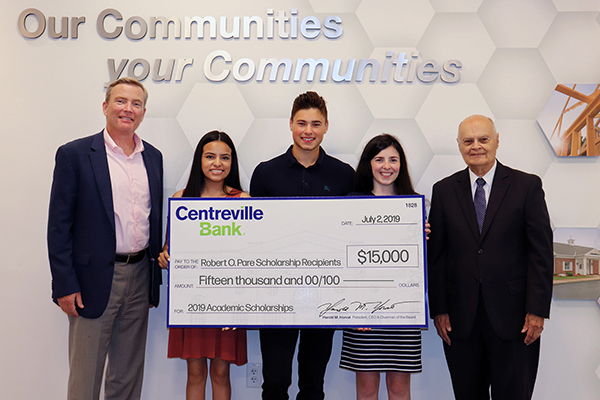 WEST WARWICK – Centreville Bank has awarded three Rhode Island students with $5,000 each from the new scholarship fund named after a longtime Centreville Bank executive.
Jeyki Cabrejos of West Warwick, Alex Goldberg of Pawtucket and Quinn Jones of Narragansett are the inaugural recipients of the Robert Pare Scholarship. The money will go toward their college education.
Pare worked at Centreville Bank for 55 years in various roles, including president, trustee and corporator. The bank's foundation said the scholarship is intended to recognize students who show a commitment to their community, as Pare has.
The scholarship was established in 2018, when Pare retired. These are the first scholarships to be awarded.
Cabrejos graduated from West Warwick High School in the spring and plans to attend Simmons College in Boston, where she will be pursuing a degree in nursing. Goldberg, who graduated from Shea High School in Pawtucket in June, will be attending the University of Rhode Island in the fall. Jones graduated from Narragansett High School in the spring and is set to attend Dickinson College in Pennsylvania and wants to study environmental science.