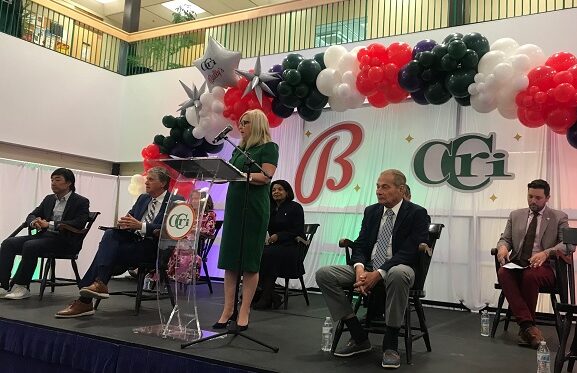 LINCOLN – A landmark partnership between the state's community college and a prominent gaming conglomerate looks to both enhance higher education and provide employment opportunities for Rhode Islanders.
Leaders from the Community College of Rhode Island and Bally's Corp., along with state elected officials, gathered Thursday at CCRI's Flanagan Campus in Lincoln to announce that Bally's has provided the community college with a $5 million donation to help CCRI create and launch new programming tailored to the gaming, hospitality and security industries.
With the donation – which is the largest such monetary gift CCRI has ever received – CCRI and Bally's officials said the community college is set to become the state's only higher education institution to offer certificate and associate degrees rooted in a gaming-focused curriculum.
The program, CCRI said, will encompass learning in a variety of forms, such as traditional classroom learning, online courses, on-campus learning labs and learning on-site at Bally's properties, including at Bally's Twin River Lincoln Casino Resort and Bally's Tiverton Casino & Hotel. Specific subjects the program will cover include dealer training, casino operations, cybersecurity, iGaming operations, culinary arts, hotel management and slot technology, the college said.
CCRI Interim President Rosemary Costigan said the soon-to-be-developed classrooms will have "simulated areas" that would replicate the entertainment and hospitality industries. Where those classrooms will be located among the four CCRI campuses around the state is unknown, Costigan said, but it is a "high probability" that those classrooms will be on the Flanagan Campus, which is close to Bally's Twin River Lincoln.
Costigan said she believes the college will have a "high demand for this type of education." She also said the gift is going to enable the education of a workforce that will be going out and entering high-paying jobs.
Soohyung Kim, Bally's chairman, said Bally's felt CCRI was the best local institution to support and launch new programming because there is an overlap between the community college and the gaming company. One example is Kim Barker, the president and chair for development and campaign for the CCRI Foundation, is Bally's executive vice president and chief legal officer. Plus, that connection can help both CCRI and Bally's "meet each other's needs," Kim said.
"We're a growing company. We can't find enough good people to help work the hospitality, gaming and leisure jobs," Kim said. "[CCRI] is an institution that is all about developing the future workforce, so why not work together on this."
Kim said the $5 million gift will be spread over multiple years, and there could also be additional financial investment from Bally's to further CCRI's programming. There will also be continuous workforce training at Bally's to advance within the company, he said.
Kim did not have an exact number of how many people Bally's hopes to hire from the new program at CCRI to work for the company. He did say Bally's helping to train the next generation of team associates is "good business, not just goodwill."
"I believe the investments will continue in multiple ways," Kim said.
Additionally, CCRI said Bally's investment will provide scholarships to "qualifying Rhode Islanders" who are seeking careers in hospitality and the gambling industries. CCRI Foundation Executive Director Bobby Gondola told Providence Business News the criteria to qualify for those scholarships is still being sketched out with Bally's, but announcements about scholarships "will be forthcoming."
Those attending CCRI via the Rhode Island Promise free-tuition program who want to take the new Bally's-CCRI gaming and hospitality curricula can do so. However, they won't be eligible for additional scholarships since the Promise students are already attending CCRI for free, both Gondola and CCRI spokesperson Amy Kempe said.
CCRI says it hopes to have programming developed and available for students by next fall. Simultaneously, the college will have its Division of Workforce Partnerships launch short-term credentials to upskill Bally's existing workforce and create a "robust talent pipeline" of new employees.
Gov. Daniel J. McKee said the new partnership is "a win for Rhode Island."
The administration's goal is to raise academic outcomes and individual incomes. To do that, he said, students need to get a "top-notch education" and strong workforce opportunities to "set them up for the future.
"When that happens, we become stronger as a state, one person at a time," McKee said. "We know it's going to have a resounding benefit to the people living in the state of Rhode Island."
(UPDATED throughout to include press event highlights and comments from Gov. Daniel J. McKee, Soohyung Kim, Rosemary Costigan and Bobby Gondola.)
James Bessette is the PBN special projects editor, and also covers the nonprofit and education sectors. You may reach him at Bessette@PBN.com. You may also follow him on Twitter at @James_Bessette.

Want to share this story? Click Here to purchase a link that allows anyone to read it on any device whether or not they are a subscriber.