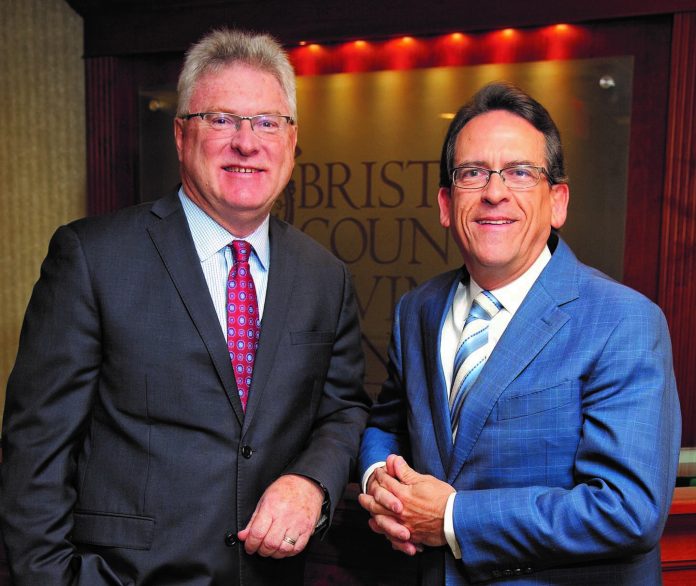 TAUNTON – Bristol County Savings Bank has merged its wealth services division with Ricciardi Financial Group to create a new venture called Bristol Wealth Group.
Terms of the deal were not immediately disclosed, but the bank and Ricciardi will hold equal ownership in the new firm, according to a press release. The venture has affiliated with the brokerage company Raymond James Financial Services and will be based in Taunton.
Bristol Wealth Group starts with nearly $700 million in assets under management combined from the two groups, according to a press release.
"After many months of planning and due diligence, we are confident that our joint venture with Ricciardi Financial Group will provide all our clients the exceptional products and services required to satisfy all of their investment needs from a local owned and controlled independent wealth management adviser," said Patrick J. Murray Jr., BCSB president and CEO, in a statement.
Ricciardi, which started in 1981, enters the merger with more than 600 clients and about $400 million of assets under management. The BCSB wealth management division brings to the table another 400 clients and about $290 million of assets under management.
Lou Ricciardi, owner and president of Ricciardi Financial Group, will manage the new venture.
"The personalized approach to wealth management, which has been a hallmark of both entities since their founding, will continue to be our guiding principle," Ricciardi said.
BCSB, based in Taunton, has more than $2 billion in assets and employs more than 400 people in southeastern Massachusetts and Rhode Island.
Eli Sherman is a PBN staff writer. Email him at Sherman@PBN.com, or follow him on Twitter @Eli_Sherman.