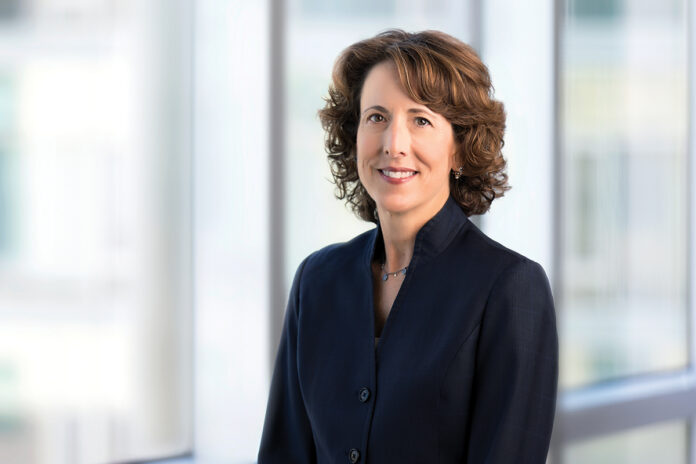 PBN Business Excellence Awards 2020
Corporate Citizenship: Kim A. Keck | CEO and president, Blue Cross & Blue Shield of Rhode Island
---
AS KIM A. KECK prepares to start her new national role as CEO and president of the Blue Cross Blue Shield Association early next year – the first woman to hold the position – she can look back knowing she accomplished a lot in four and a half years in Rhode Island.
As CEO and president of Blue Cross & Blue Shield of Rhode Island in Providence, Keck put health-equity initiatives at the top of her agenda.
"Kim brought with her to Blue Cross a clear vision that marries health care to health for all Rhode Islanders, no matter where they live, no matter what their socio-economic status," Blue Cross & Blue Shield of Rhode Island board Chair John Langenus said.
Among Keck's accomplishments was partnering with the Brown University School of Public Health to conduct a first-of-its-kind survey asking Rhode Islanders' how they feel about the social determinants of health and well-being in the state. Respondents were asked about access to safe and affordable health care, housing, transportation, nutrition and quality education.
The collected data was used to create the Rhode Island Life Index, a new annual data resource that will help achieve better outcomes through eliminating health disparities. Also, as a result of the survey findings, Blue Cross invested about $800,000 to create access to affordable housing, the greatest barrier survey respondents said they face.
Under Keck's leadership, Blue Cross also opened three Oak Street Health Centers in 2019. The centers serve Medicare and dual-eligible Rhode Islanders living in historically underserved communities. Two are in Providence, one is in Warwick and a fourth is set to open in Woonsocket.
Keck also doubled the number of Blue Cross & Blue Shield Safe Zones. The logo identifies health care providers that offer safe and inclusive care to the LGBTQ community. Additionally, Blue Cross invested $5 million in the Rhode Island Foundation's Behavioral Health Fund.
In 2019, the fund issued $2.7 million in grants to six organizations focused on youths, children and underserved populations. This year, Blue Cross' funds helped provide $5.3 million in grants to 65 organizations via the foundation's newly established COVID-19 Behavioral Health Fund.
"Even before the COVID-19 pandemic created a heightened sense of anxiety, Rhode Islanders faced devastating behavioral health care challenges, often associated with substance use disorders," Keck said.
Keck, a native Rhode Islander who lived and worked in Connecticut for 28 years before returning to the state in 2016, donates her personal time and money to various nonprofit organizations. She serves on several boards, including with the Rhode Island Community Food Bank, the Community College of Rhode Island and the Rhode Island Foundation's Long Term Health Planning Committee.
Keck also encourages her staff to donate their time to charitable causes, including on her favorite day – Blue Across Rhode Island. The projects may include building playgrounds, planting gardens and packing shoes for children in homeless shelters. This year, the company continued with the program despite the pandemic and even built a house with Habitat for Humanity.
"Almost all of our employees fan out across the state to work on major projects our community partners simply would not be able to execute without our help," Keck said.
Keck said she believes it's important for all leaders, not just health care leaders, to be engaged with the communities where their employees live and work. The perspective she gained through her community-engagement work helped shape and drive her decisions in the boardroom.
"As I see it, we have three crises dominating our landscape today – the COVID-19 pandemic, the perpetuation of institutional racism and a severe economic downturn – and all three have disproportionately affected the most vulnerable Rhode Islanders, people of color, those with low incomes and people with disabilities," Keck said. "We have to do everything we can to address these inequities to improve the health of all."
Keck will broaden her mission in January, when she becomes Blue Cross Blue Shield Association's next leader.
"I see an extraordinary opportunity to influence health policy at the national level and accelerate the change that must happen in order to address health inequities across the country," she said.

Want to share this story? Click Here to purchase a link that allows anyone to read it on any device whether or not they are a subscriber.