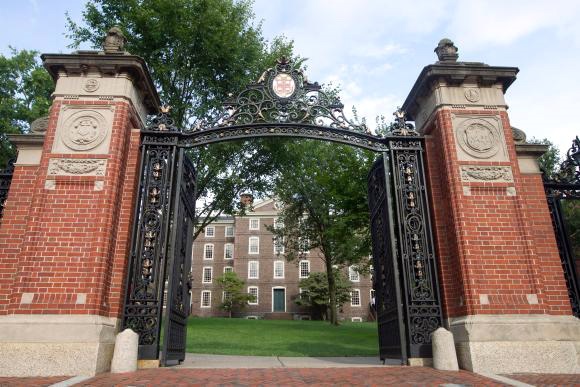 PROVIDENCE – Brown University on Friday granted a total of $1.25 million from the school's Fund for the Education of the Children of Providence to strengthen libraries at nine Providence Public School District high schools and enable 250 local middle schoolers to decide how to spend $100,000 to support students throughout the district. 
"These two projects are impactful because, while they are led in part by scholars at the university, they place student and educator voices front and center," Brown University President Christina H. Paxson said. "These projects enable people in Providence schools – students and educators – to choose how to spend money on books, library revitalization and other improvements." 
A bulk of the funding will support a $1.15 million, three-year collaboration between the Brown University Library and librarians and teachers at Providence Public School District high schools. The project will enhance libraries' existing collections and facilities, increase high school teachers' curricular engagement with the libraries and create programs that bring high school students into community and university libraries for unique learning opportunities. 
In the first year, Nora Dimmock, Brown University deputy librarian, and fellow library colleagues will continue to gather details about the needs and challenges of each public high school library in Providence. Steering committees at all nine of the schools, ideally composed of administrators, teachers and students, will help to guide that work.  
In the project's second year, Dimmock and colleagues will work with the high schools to explore opportunities to amplify classroom curricula through library programming and resources.   
"During this phase, I can imagine a group of librarians, teachers and students coming together to create an interactive curriculum unit on Rhode Island history, for example," Dimmock said. "The curriculum could incorporate library resources, visits to local museums or monuments, interactive classroom activities and maybe a visit from a local historian. We're interested in getting teachers, librarians and students to talk to each other in a way that ends up enriching the learning experience." 
In the project's third year, Dimmock and colleagues will find ways to further enrich high school teaching and learning through partnerships with community public libraries and the university's own library facilities. They'll establish a workshop series on research tools and methods, teaching students how to work with primary sources, how to participate in collaborative research projects, and how to use university and community library facilities for individual and class study. 
"We are deeply appreciative of Brown's unwavering commitment to our students and to turning around Providence public schools," said Angélica Infante-Green, Rhode Island's commissioner of elementary and secondary education. "Through our close partnership with Brown and state and city leaders, we will continue to make progress in the district and improve student outcomes." 
A second grant will support an upcoming collaboration between scholars at Brown University and Nathanael Greene Middle School. In June, close to 250 students from the middle school will visit the university to take part in a participatory budgeting project,  in which they will work together to decide how the Providence Public School District should spend $100,000 from the Fund for the Education of the Children of Providence to support students across the district. 
Jonathan Collins, an assistant professor of political science, public policy and education at Brown, with assistance from his research team and Brown's Swearer Center and Annenberg Institute for School Reform, will hold a full day of student-led idea generation and voting at Brown in June. In the morning, students will be asked to generate about 10 districtwide issue areas they would like to focus on, then break into groups and rank the issues in order of importance. In the afternoon, they'll deliberate on which of their top three or four issues is most important. 
Later, Collins and his colleagues will visit the middle school, working with about 30 student delegates to find ways to confront the main issue their peers identified. The students will generate a proposal based on their deliberation, even creating a line-item budget for the $100,000 to send to the university. 
"My previous work has shown me that a viable  pathway to creating a school system kids deserve is to ask the kids what that looks like," Collins said. "These middle school students have the maturity and intellectual ability to give us that kind of information. It's not our job to impose all the ideas on them – it's our job to augment the kids' ability to solve problems." 
A Public Education Committee composed of Providence and Brown community members, including state and district educators, voted unanimously to support the two projects with payouts from the fund. 
Providence Public School District Superintendent Javier Montañez, who serves as an ex-officio member of the Public Education Committee, said the projects will advance districtwide goals to boost students' literacy, numeracy and sense of belonging.  
"We are thrilled with this collaboration with Brown University," Montañez said. "Literacy is one of the foundations to student success. By expanding access to books and choosing libraries that meet students' interests, we are growing the building blocks to success for Providence children." 

Want to share this story? Click Here to purchase a link that allows anyone to read it on any device whether or not they are a subscriber.