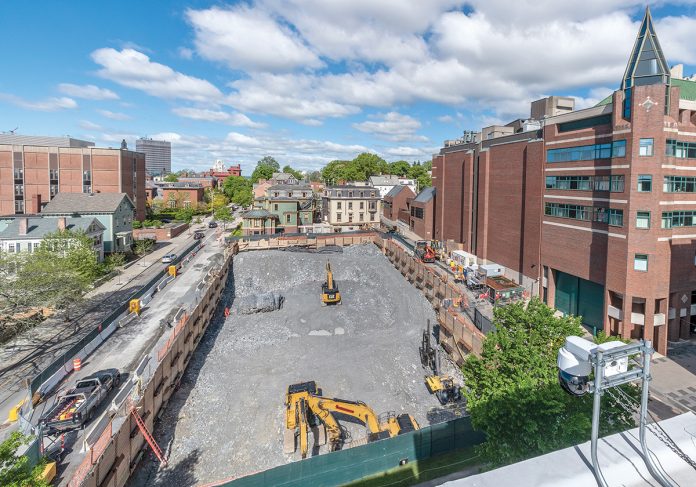 Brown University has been on a building spree in recent years. Its latest creation-in-the-making is a performing arts center. It may surprise some that the project will give the storied Ivy League school something it hasn't had before – a state-of-the-art, centralized venue for the performing arts.
Brown University has been using a variety of smaller spaces around its campus for student performances in theater, music, dance and other disciplines. But that will change when the 94,000-square-foot performing arts center opens, slated for spring 2022.
Brown doesn't publicly disclose details about the costs of its building construction. In recent years, Brown has built the 134,000-square-foot Warren Alpert Medical School, completed in summer 2011; the 94,000-square-foot Jonathan M. Nelson Fitness & Katherine Moran Coleman Aquatics Center, completed in spring 2012; the 80,000-square-foot engineering research center, completed in October 2017; and the 31,000-square-foot Stephen Robert Hall, an expansion of Brown's Watson Institute for International and Public Affairs, completed last December.
Funding for the performing arts center has been primarily "donor-driven," said Brown spokesman Brian Clark. That included a $31.6 million gift from John Atwater and his wife, Diana Nelson. Atwater, a 1983 Brown graduate, is the founder and CEO of Prime Group, a real estate equity and investment firm. He also has been a Brown trustee since 2015.
Currently, the site where the performing arts center will be built is a big hole in the ground along Angell Street, just west of Thayer Street, along a stretch known at Brown as "the walk" – a series of linked green spaces through the heart of its College Hill campus. The excavation is expected to continue into the fall, then transition into the construction phase, Clark said.
Two floors of the new center will be built below ground level, where there will be classrooms, smaller performance and rehearsal spaces, and more. The reason for submerging the structure: building-height restrictions there, Clark said. To make room, the university picked up and moved its historic Sharpe House, a 446-ton, Victorian-style manor used as offices for Brown's history department.
'Our students have managed to do some incredible work … in limited circumstances.'
BUTCH ROVAN, Brown music professor
With New York City-based architectural firm REX chosen to design the performing arts center, the façade will be covered in "shrink-wrapped aluminum rainscreen, composed of fractal-like, fluted geometry. The appearance of color and pattern on the façade will shift with seasonal changes and time of day," according to Brown. The main floor will have glass walls, allowing passersby to see into the lobby and the main performance hall.
The most impressive aspect of the project may be its morphable main performance hall – to be equipped with moving walls, balconies, seats, and adjustable floors, ceiling and lights. The hall will be capable of five configurations, suited for different types of performances, stage settings and acoustics. The space will transform into "vastly different" stage and audience configurations, Brown said, from a 625-seat symphony orchestra hall to a 250-seat theater, to a surround-sound cube for experimental media.
It will be able to host "a Brown University Orchestra concert, a dance recital, an interactive digital media installation, a proscenium theater performance and a formal banquet – all in the same space and all in a matter of a week or two," Brown said.
And there'll be much more below ground.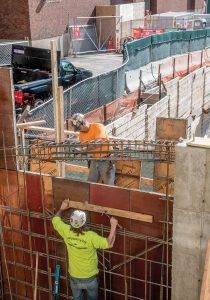 "The largest of the lower-level spaces was [designed] with an orchestra in mind. …When not used for rehearsals, the space will double as an intimate, 165-seat performance venue for small ensembles. The medium space, a dance studio … can seat 110. The smallest space can be used as an acting studio and black-box theater with 50 seats," Brown said.
It's been Brown's policy to provide free admission to the public for student performances, though sometimes there is a charge of up to $20 per person. And that will continue once the new center opens, according to the Brown Arts Initiative, a university group that formed in recent years to advance performing arts there.
Butch Rovan, a Brown music professor and the initiative's faculty director, said the new center will allow the school to expand its performing-arts programming. "It's going to have a dramatic impact," Rovan said. "Our students have managed to do some incredible work, though in limited circumstances" with facilities.
Ann Bergeron, the initiative's managing director, said the new center will help attract more-accomplished artists to mentor students and occasionally perform.
"We'll be able to bring in some visiting artists," Bergeron said, adding, "We don't want to compete with the cultural organizations in town. We want to complement them."
Scott Blake is a PBN staff writer. Contact him at Blake@PBN.com.