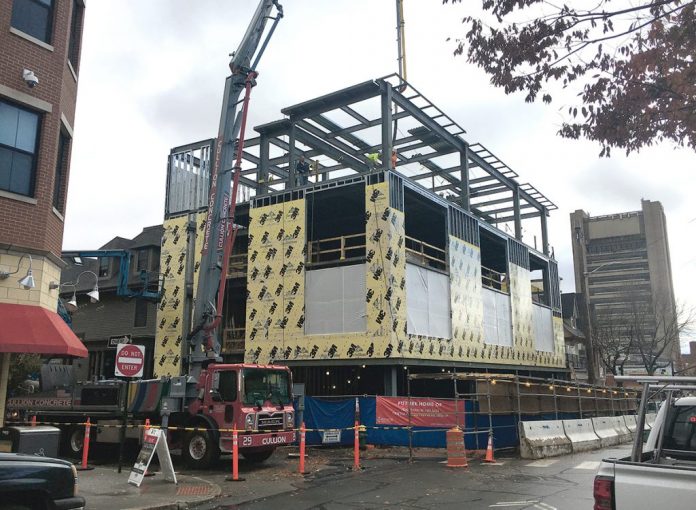 PROVIDENCE – Brown University reports its entrepreneurial-minded students are "bursting with excitement" over the recent opening of the school's new Jonathan M. Nelson Center for Entrepreneurship.
Brown said hundreds of students packed study breaks there to mark the opening, situated just steps from campus in a "built-from-scratch" building at 249 Thayer St. on College Hill. The university is leasing three floors of the building from Capstone Properties and the Discovery Group, which developed the four-story structure, including retail space on the ground level.
Since its launch in 2016, the Nelson Center has operated temporarily from a third-floor suite in the Brown RISD, or Rhode Island School of Design, Hillel building at 80 Brown St. The center has been supported by a $25 million gift from Jonathan M. Nelson, a Class of 1977 Brown alumnus, and founder and CEO of Providence Equity Partners.
"Having a decided, centralized location for the Nelson Center will transform Brown's entrepreneurial landscape," said Nelson Center Executive Director Danny Warshay. "It will encourage the accidental interdisciplinary collisions that lead to breakthrough insights and provide the student coworking space that helps to translate these insights into successful ventures."
Brown said the new center has quickly become "a nexus for entrepreneurship." It has "centralized" funding opportunities for students engaged in startup ventures; launched new courses on entrepreneurship; created a Peer Entrepreneurs-in-Residence program; facilitated a "Breakthrough Lab"; and hosted Brown's intensive summer student venture program, as well as a diverse range of entrepreneurs and innovators as speakers.
Brown described the new facility: "Three floors of light-filled space are designed to be multipurpose, user-friendly and flexible in configuration. Tables, spaces for work, couches, chairs – even the walls – can be moved as needed to create intimate meeting areas, coworking areas for student ventures, or large lecture and event venues. Corkboards and glass whiteboards throughout the building are already crowded with student brainstorms, equations and questions."
"I am in love with this space," said Brown junior Samantha Noonan, co-president of Brown EP, a student-run entrepreneurship initiative based out of the center. "I think it will help foster a really tight-knit entrepreneurship community, and its visibility will encourage other people to get involved."
Staff and students linked to the center were preparing for a Startup Synapse trip to San Francisco from May 18-22, where they were to explore "the entrepreneurial ecosystem" in the Bay Area. The center has been planning to host a Commencement Forum and reception, which it will do on May 25. In June, 14 teams of students will "take over" the building for the fifth annual Breakthrough Lab, Brown said.
Scott Blake is a PBN staff writer. Email him at Blake@PBN.com.