SMITHFIELD, R.I. – Bryant University's Finance Department of will host the 14th annual Financial Services Forum on Friday, March 22, in The Heidi and Walter Stepan Grand Hall of the George E. Bello Center for Information and Technology. The daylong event showcases an impressive line-up of panel discussions and conversations about trends and best practices in banking, finance, and financial services.
Finance industry leader and investing expert Debby Kuenstner, Chief Investment Officer (CIO) of Wellesley College, is the featured keynote speaker. Kuenstner was previously CIO of Brandeis University and has also served as Managing Director of Research for Fidelity Management & Research; and CIO of Putnam Investment's Value group. Her other leadership roles include Senior Portfolio Manager at DuPont Pension Fund Investment, International Investment Strategist at Merrill Lynch, and Economist at the Federal Reserve Bank of New York.
Kuenstner received a Bachelor of Arts degree in Economics summa cum laude from Wellesley College. She did graduate studies in statistics at the Columbia University Graduate School of Arts and Sciences in New York before earning her M.B.A. with Distinction from New York University. She was recently named to Trusted Insight's 2018 Top 30 Endowment Chief Investment Officers.
A featured program of Bryant's annual Alumni Engagement Day, the Financial Services Forum gives students the opportunity to expand their networks and present recent work to alumni and other distinguished professionals. At the luncheon session, students in the Archway Investment Fund Program, a student-managed fund with a $1.3 million equity portfolio and a $500,000 fixed income portfolio, will discuss investment performance and the portfolio's positioning.
This year's event is sponsored by Envestnet, the SPARK Institute and the CFA Society of Providence. Each of these organizations have been actively engaged on campus providing career advice, industry expertise, and networking opportunities for Bryant students.
"Debby Kuenstner's investment insights and decades of experience will help students understand the real-world application of what they learn in class," says Executive in Residence Kevin J. Maloney, Ph.D., an accomplished finance industry leader and scholar with more than 35 years of teaching and corporate leadership experience. "Our students will find her comments about impact investing and the use of ESG (Environment, Social, and Governance) factors to be particularly relevant."
"Through events like the Financial Services Forum, we hope to encourage and empower students, especially women, to pursue a career in finance and offer them the opportunity to begin to expand their network," adds Mara Derderian, CFP and Director of Bryant University's Financial Planning Program.
Bryant's Archway Investment Fund provides students with the opportunity to manage an investment portfolio following the principles used by financial professionals around the world. With faculty guidance, students develop the skills and investment protocols to manage a multi-asset program with separate equity and fixed income portfolios. The Fund's combined value was $1,813,990 as of February 28, 2019.
Schedule of Events
8:30 a.m. Registration and Continental Breakfast
9:00 a.m. "Financial Services Industry Pathways" panel
10 a.m. "Market Trends" panel
11 a.m. Keynote presentation by Debby Kuenstner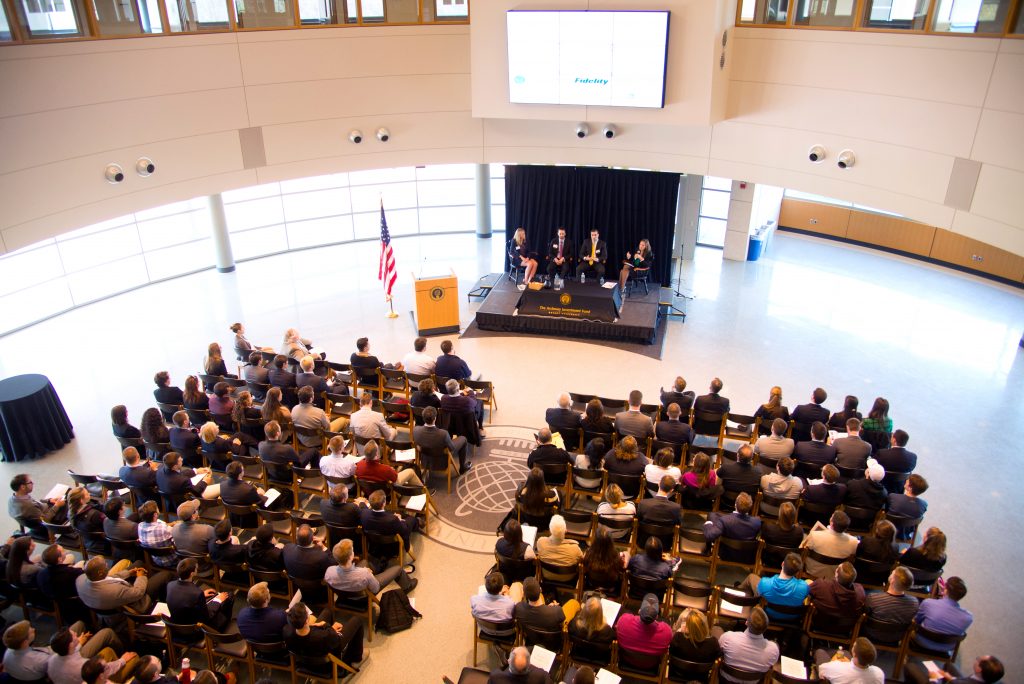 The Financial Services Forum will conclude with a luncheon in the Papitto Dining Room of the Michael E. '67 and Karen L. Fisher Student Center at 12:30 p.m., where Archway Investment Fund student presentations and a Bryant University update from President Ronald K. Machtley will take place.
Bryant University in Smithfield, R.I., is a leading private university offering an innovative and uniquely integrated business and liberal arts education. The University's 3,700 undergraduate and postgraduate students study in an intensive and immersive learning environment that has been purpose-built for high achievement. Bryant's groundbreaking academic programs have been nationally recognized by organizations including the Davis Educational Foundation and Hanover Research. Founded in 1863, Bryant is recognized as a leader in international education and regularly receives top rankings from U.S. News and World Report, College Factual/U.S.A. Today, Bloomberg Businessweek, Forbes, and Barron's.