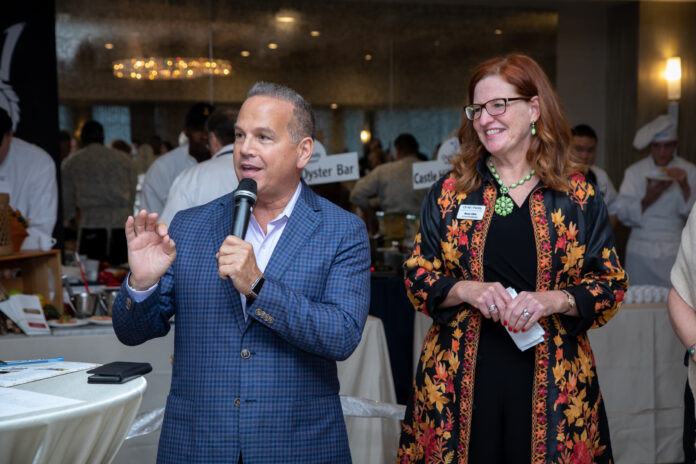 PROVIDENCE – The Rhode Island Foundation has found its successor to Neil D. Steinberg, and it is a familiar face to the Ocean State – and its capital city.
David N. Cicilline, who was just reelected to another term in Congress representing the state's 1st Congressional District, has been named the foundation's new CEO and president, the foundation announced Tuesday. Cicilline's appointment to the position both marked a leadership change for the state's largest nonprofit funder and also a major shakeup in Rhode Island politics.
Cicilline, who has been in elective office since the mid-1990s dating back to when he was a member of the R.I. General Assembly, will resign from elective office later this spring and begin his new role June 1. A special election will be held in the near future to fill the seat through 2024.
"I'm honored for the opportunity to continue serving the Ocean State as president and CEO of the Rhode Island Foundation," Cicilline said in a statement. "It's thrilling to join the foundation after 15 years of growth and philanthropic excellence during Neil Steinberg's leadership. I'm excited to apply my experience and passion to this nonpartisan role."
Cicilline also said in a statement that serving in Congress representing the Ocean State has been "the honor of [his] lifetime." He also said the chance to lead the Rhode Island Foundation was "unexpected" but is an "extraordinary opportunity" to have a more direct impact on the state."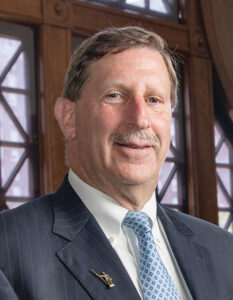 Steinberg back in May announced that he would retire from the foundation after 14 years of leading the state's largest nonprofit funder. During his tenure, the foundation's total assets grew from $433.2 million at the end of 2008 to $1.4 billion at the end of 2021, according to Providence Business News data.
Cicilline told PBN Tuesday that he did not initially apply for the job, nor did he seek out. Cicilline said he was approached by a search firm hired by the foundation to seek Steinberg's replacement a month he was re-elected to another term in Congress this past November. This past November, Cicilline, who has also been a senior member of the U.S. House Foreign Affairs Committee and the U.S. House Committee on the Judiciary, defeated Republican challenger Allen R. Waters by nearly a 2-to-1 margin – 64% to 35.8% – to maintain his seat in the U.S. Capitol. He said he met with foundation officials "out of respect" for the organization and its work within the state.
"That began a series of conversations that ultimately resulted in the board voting [Tuesday] unanimously to offer this position to me, and I accepted it," Cicilline said. "It was not something I expected to do."
The foundation says Cicilline was selected by its board of directors after a national search. That search, the foundation said, included community impute that generated an "impressive pool of diverse candidates." However, the foundation has not yet answered as to how many candidates were considered to be Steinberg's successor.
Dr. G. Alan Kurose, the foundation's board chairperson, said in a statement that Cicilline's skills and values "fit perfectly with those of the Rhode Island Foundation—he is committed to meeting the needs of all Rhode Islanders and has been throughout his public-service career."
Cicilline, a Democrat, has served in U.S. Congress since 2012. Prior to that, he was Providence's mayor from 2003 until 2011, being the first openly gay elected mayor of a major U.S. capital city. In Congress, among other roles, Cicilline is a co-chair of the Congressional LGBTQ+ Equality Caucus and has led efforts to promote equality for all, regardless of sexual orientation or gender identity, the foundation said.
"I'm confident that [Cicilline] will very successfully engage with our donors, nonprofit grantees and community stakeholders," Steinberg said in a statement. "I applaud, and thank, our board of directors for making this excellent selection and know that he will build on our success and take the Foundation to the next level, on behalf of all Rhode Islanders."
Foundation officials tell PBN Cicilline's salary as CEO and president will be $650,000. According to the foundation's 2021 990 form, Steinberg's total compensation that year was $731,216, which included a $486,708 base salary and $78,990 in bonuses and other compensation. He also received $142,500 in retirement and other deferred compensation that year, as well.
United Way of Rhode Island CEO and President Cortney Nicolato weighed in Tuesday on the foundation's leadership change, saying in a statement to PBN that Cicilline becoming the foundation's next leader is "good news for all who call the Ocean State home." Nicolato said the United Way has enjoyed a strong, longtime relationship with Cicilline, describing him as a "ferocious advocate for the critical issues our state faces."
"If we are truly to move forward as a state, a continued strong partnership between the Rhode Island Foundation and United Way is pivotal," Nicolato said. "There is undeniable intersectionality in our work, in the goals we share, and in our combined ability to address what are very complex issues. I am excited for all David will bring to his role leading the Rhode Island Foundation, and value and appreciate that he understands the status quo is not working for our neighbors when they need us most."
Moving forward, Cicilline says he first plans to carefully study the Rhode Island Foundation and its work, as well as meet with staff to understand all of the organization's functions to serve the community, such as access to health care, creating economic opportunities for all Rhode Islanders and improving the quality of education in the state. He said he plans to bring his three decades of experience in elective office between Rhode Island and Washington, D.C., as well as leverage connections to further impact the foundation's in a "more prominent way."
"It's an opportunity to really take the Rhode Island Foundation to the next level and build upon the work that I've done for 30 years [in office] and the work on these particular issues," he said. "I have no doubt I'm going to be able to do that and continue the great tradition of the Rhode Island Foundation."
(Updates: Cicilline's salary with Rhode Island Foundation added in 13th paragraph)
James Bessette is the PBN special projects editor, and also covers the nonprofit and education sectors. You may reach him at Bessette@PBN.com. You may also follow him on Twitter at @James_Bessette.

Want to share this story? Click Here to purchase a link that allows anyone to read it on any device whether or not they are a subscriber.