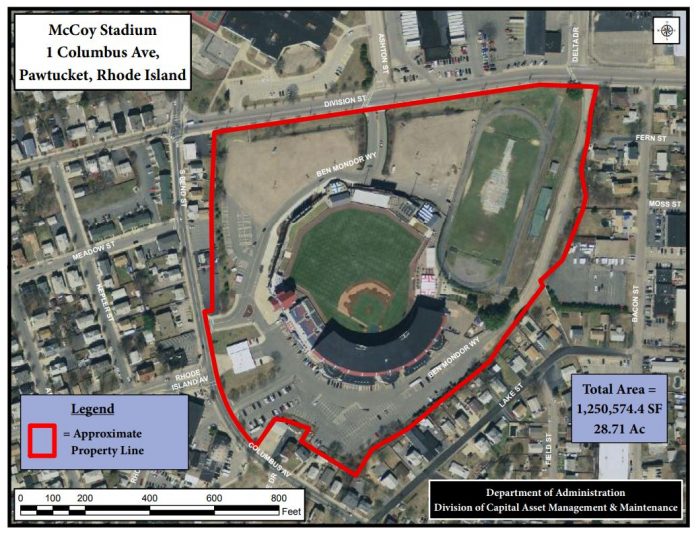 PAWTUCKET – The R.I. Commerce Corp. received six proposals for the reuse of McCoy Stadium and the redevelopment of downtown Pawtucket, Commerce RI announced Friday morning.
The proposals include creating soccer stadiums, bringing in a new baseball franchise, a music industry hub, and an entertainment center and riverfront park.
"We are very pleased with the number and apparent quality of the proposals we've received," stated R.I. Commerce Secretary Stefan Pryor. "We look forward to working with Mayor [Donald R.] Grebien and his team to review these proposals, narrow them down, and pursue next steps."
Pryor told PBN Friday that the review process will take months, aiming to advance to the next step by the end of the calendar year.
Pryor said that part of the process will be to identify potential issues that may have to be addressed by the General Assembly, including incentives, tax structures or statutes related to Pawtucket or investments.
He also noted that Commerce RI was very encouraged by both the quality and quantity of the proposals, saying that the yield of responses exceeded expectation.
The contents of the responses to the RFP won't be immediately available, but more information on specific projects that are considered finalists will be provided in the future, following dialogue and potential negotiation with the companies behind the proposals, Pryor said.
Pryor also noted that McCoy is not included in a federally designated Opportunity Zone, but that parts of the Pawtucket downtown area were.
Proposals were due Thursday. In the Request For Proposals, Commerce RI expressed a strong preference for a sports franchise and/or entertainment tenant that would renovate McCoy Stadium and develop surrounding properties to replace the exiting Pawtucket Red Sox, which will relocate to Worcester, Mass., in the 2021 baseball season.
The Minor League Baseball team had originally proposed building a new stadium in downtown Pawtucket, as McCoy was in need of costly renovations. But the team was lured away from Rhode Island by Worcester and Massachusetts officials (and financing and incentive deals) following a drawn-out negotiation with Rhode Island officials.
The RFP was not limited to the McCoy Stadium property and also called for proposals in the nearby downtown district.
The six proposal were (alphabetized by applicant):
Ajax Advisors LLC: Proposed to bring a professional soccer to a new soccer stadium downtown while converting McCoy Stadium into a light industrial use property.
Brett Johnson, Fortuitous Partners: Proposed bringing a United Soccer League franchise to downtown Pawtucket as part of a multi-sport stadium and ancillary development. The proposal includes redeveloping the McCoy site to a recreational park with six multipurpose fields for soccer, lacrosse or football.
Frank Boulton: Proposed to bring Atlantic League professional baseball (an independent professional baseball league) to McCoy.
Level Exchange: Proposed the creation of a music industry hub, including infrastructure to support the music industry and "aspects needed to sustain such a live-work-play area."
Minor League Baseball for Pawtucket: Proposed the city and the state try to engage Minor League Baseball to keep a team in Pawtucket following the departure of the PawSox.
Native Waters Investment LLC: Proposed a family entertainment and riverfront park on 25 acres along Interstate 95 in Pawtucket that includes an indoor mega coaster, rock climbing wall, a zip-line course, bowling alleys, a "7D theater," restaurants, retail and a riverboat hotel, as well as a children's play park.
"The city appreciates the initiative and leadership role Commerce RI has taken with the Request for Proposal process," said Grebien. "The number of responses continue to show that Pawtucket is a desirable location for development and that there is a clear interest for investors to come to the city. We look forward to working with Commerce to review and evaluate the six proposals."
Chris Bergenheim is the PBN web editor. You may reach him at Bergenheim@PBN.com.