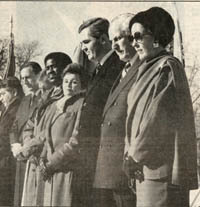 Throngs of angry depositors gathered in the parking lot outside of Woonsocket's Marquette Credit Union in the summer of 1991. Like thousands of Rhode Islanders, they wanted access to their frozen accounts, and one woman began yelling at David Preston.
"I said I didn't understand what she wanted, and she said she wanted her money," recalled Preston, who was then-Gov. Bruce Sundlun's spokesman. "I told her, 'It isn't there.'"
Preston, who now operates Providence public relations firm New Harbor Group, was telling the truth. Years of bad loans and investments had crippled most state-chartered financial institutions by the early 1990s, setting the stage for a major crisis.
Yet it was the actions of one banker, Joseph Mollicone Jr., that set the crisis in full swing.
In November 1990, Mollicone disappeared with some $13 million from Heritage Loan and Investment Co., the state-chartered lender that he ran on Federal Hill. With Heritage's collapse, the Rhode Island Share and Deposit Indemnity Corp. (RISDIC) paid out $16 million to keep up with depositors' immediate withdrawals.
When Sundlun took office on Jan. 1, 1991, he ordered all 45 financial institutions insured by RISDIC to close, blocking access to more than $1 billion for about 300,000 depositors. The order came after RISDIC, of which Mollicone had been vice president, asked the governor to be placed in receivership, knowing that more withdrawals would quickly deplete its inadequate reserves to insure deposits.
Many of the closed institutions quickly secured federal deposit insurance and reopened within a week. Still, thousands of depositors, unable to access their accounts, were outraged. In response, the state formed the Depositors Economic Protection Corporation (DEPCO) to sell off credit union assets and repay depositors.
Nevertheless, irate customers gathered in the thousands, at venues such as the State House and political events, to demand their money back.
"There was a sense that [the credit unions] took the people's money and put in a shoebox with their name on it," said Preston. "When, as we now know, they took it and invested it in movie companies and swamplands in Florida and all manner of bad investments."
The crisis had a chilling effect on a state economy already suffering due to a nationwide recession. And the impact on some small businesses in the state was twofold.
Affected depositors delayed their home improvements and cut back on spending, taking a toll on local businesses such as restaurants and hardware stores. Also, some of these small businesses had frozen accounts with shuttered credit unions.
The crisis hit particularly hard in Woonsocket, where the Marquette Credit Union closed.
The city began offering local businesses $25,000 loans with a 5-percent interest rate. Cumberland, North Providence, West Warwick and North Smithfield offered similar programs.
Peppered with the intrigue of Mollicone's disappearance, the banking disaster became a story that sullied the state's reputation around the country.
"It certainly gave the state a black eye, which we experienced a lot of during those days," said former Attorney General James E. O'Neil. "It caused the public, and justifiably so, to lose confidence in the credit unions and the government agencies."
Knowing it would take DEPCO years to raise enough money to repay depositors, Preston said, the state floated bonds with the intent of ending the crisis sooner. In the end, it took the state 18 months to make amends with angry depositors.
The big payout came on June 30, 1992, when DEPCO returned $454 million to 38,000 depositors from five affected financial institutions, effectively ending the crisis. The state had raised the sales tax in 1990 to 7 percent, and instead of reducing it, as originally planned, officials kept it at that level and used 0.6 percentage points of the tax to help pay down the debt.
To this day, the sales tax remains at 7 percent, and the state continues to seek damages from debtors involved in the banking disaster. In fact, before The Procaccianti Group could buy the Westin Providence hotel from the R.I. Convention Center Authority last year, it had to settle a lawsuit from the state to recoup funds from a failed loan during the crisis.
After hiding out in Salt Lake City under the alias John Fazioli for 17 months, Mollicone turned himself in to Rhode Island authorities. Law enforcement officials took him into custody at his lawyer's house in Johnston.
The pickup was done in secret, O'Neil said, to prevent an angry depositor or former associate from harming the fugitive banker. A year later, Mollicone was convicted on 26 counts of embezzlement, making false bank entries and conspiracy, sentenced to 40 years in prison, and ordered to pay restitution of $12 million and a $420,000 fine. He was released on parole in 2002, after serving 10 years in prison.
Despite the grief, the banking crisis fueled big changes in Rhode Island.
The state adopted enhanced ethics laws for state officials. Also, the makeup of the General Assembly changed as many members were unseated or didn't run in the 1992 election.
Only a fraction of credit unions survived the crisis. Since December 1990, the number of state-chartered credit unions has fallen from 58 to 11 (another six have federal charters). All have to have federal deposit insurance through the National Credit Union Administration.
"I would say that from the terrible conflicts of interest came real and lasting reform," said H. Philip West Jr., executive director of Common Cause of Rhode Island. "We were able to harness the rage that came out of the banking crisis."