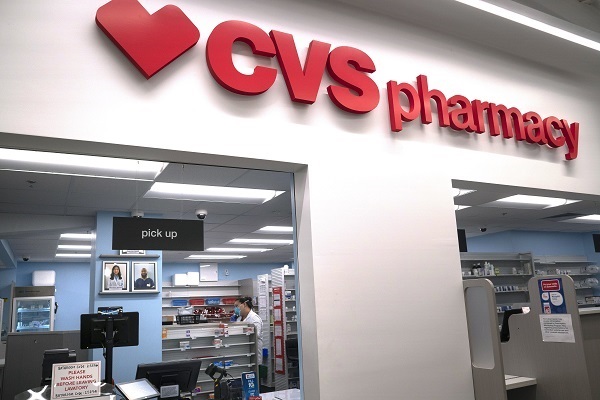 WOONSOCKET – CVS Health Corp. says the updated COVID-19 vaccine recently authorized by the U.S. Food and Drug Administration is now available at its CVS locations.
Pharmacies started receiving the new vaccine on Sept. 13. The mRNA vaccine is recommended by the Centers for Disease Control and Prevention.
CVS said appointments for individuals age 5 and above can be made at CVS.com and via the CVS Pharmacy app, and walk-ins will be accepted as individual locations receive the vaccines.
MinuteClinic, a CVS subsidiary, will also begin offering the new COVID-19 vaccine for patients aged 18 months and above in the coming weeks, with appointments available at MinuteClinic.com, CVS said.
"COVID-19 continues to impact communities across the country, so it's important that we use the tools we have to stay healthy," said Dr. Sree Chaguturu, CVS Health executive vice president and chief medical officer. "Vaccination is the most effective way to do this. It's vital that we keep up with vaccines to help control the continued spread of COVID-19. Through a simple vaccination, we can all help protect ourselves, our families and our communities."
The new mRNA vaccines are formulated to more closely target variants and to provide better protection against the serious consequences of COVID-19, according to the FDA. The updated mRNA vaccines are each approved for individuals 12 and older and are authorized under emergency use for individuals 6 months through 11 years old. For individuals 5 and above, the new vaccines are authorized regardless of previous vaccinations but must be administered two months following the last dose of any COVID-19 vaccine.
The drug store chain said it's also prepared to meet patients' vaccination and other preventive health care needs as flu season approaches as CVS pharmacies and MinuteClinics offer the annual flu vaccine at locations nationwide.
CVS is also offering the new respiratory syncytial virus vaccine – or RSV – which has been approved for adults ages 60 and older. In addition, CVS and its subsidiary MinuteClinic are preparing to offer a new COVID-19 vaccine recommended by the Centers for Disease Control and Prevention once it is approved and available.
To help patients plan, appointments can be scheduled in advance using the digital scheduler at CVS.com or in the CVS Pharmacy app, the company said. MinuteClinic offers flu vaccinations and routine wellness visits with appointments available at MinuteClinic.com.
"Receiving vaccinations for common illnesses like flu and RSV is a cornerstone of preventive care, and helps patients protect not only themselves but also the health of their broader community," Chaguturu said. "Access is key, and with our national footprint of pharmacies and retail medical clinics, we're making it easier than ever to get vaccinated in a timely, safe and convenient way."
According to a survey of U.S. consumers commissioned by CVS Health, timing, convenience and scheduling were cited as important factors when choosing when and where to get a flu vaccine. CVS said other findings of the survey include:
75% of people who plan to receive their flu shot plan to do so before November.
Seniors are the demographic most likely to get vaccinated (74%), but two-thirds of those over age 18 expect to get a shot.
42% of patients are likely to visit a retail pharmacy for their flu shot, followed by a doctor's office (33%).
78% of patients said convenient hours that work with their schedule is an important factor when choosing a pharmacy for their flu shot.
Of those planning to get a flu shot, 62% plan to schedule their appointment online, up 43% over the last two years.
The drug store giant said digital scheduling at CVS.com and in the CVS Pharmacy app allow for the scheduling of multiple patients at once. Patients can also schedule multiple vaccinations in one appointment, such as flu and RSV, as recommended by the CDC.
In addition, patients can choose to walk into their local CVS Pharmacy and request a vaccination any day, including during evening and weekend hours. MinuteClinic flu vaccination and sick symptom visits (during which patients can get tested for flu, COVID-19, strep throat, etc.) are available by appointment at MinuteClinic.com.
"Pharmacists are trusted community health providers, thanks to their frequent and meaningful interactions with patients," said Prem Shah, executive vice president and chief pharmacy officer at CVS Health and co-president of pharmacy and consumer wellness. "As a result of their long-standing relationships with patients, our pharmacy teams can help identify vaccination gaps and recommend other care interventions on the spot, ensuring that patients always have access to advice and support."
In addition to flu and RSV, CVS Pharmacy and MinuteClinic offer more than 15 of the most common recommended vaccinations, including shingles, pneumonia (pneumococcal) and hepatitis B.
According to the CDC, patients should get their flu vaccination early in the fall, before flu season begins, and ideally no later than the end of October.

Want to share this story? Click Here to purchase a link that allows anyone to read it on any device whether or not they are a subscriber.