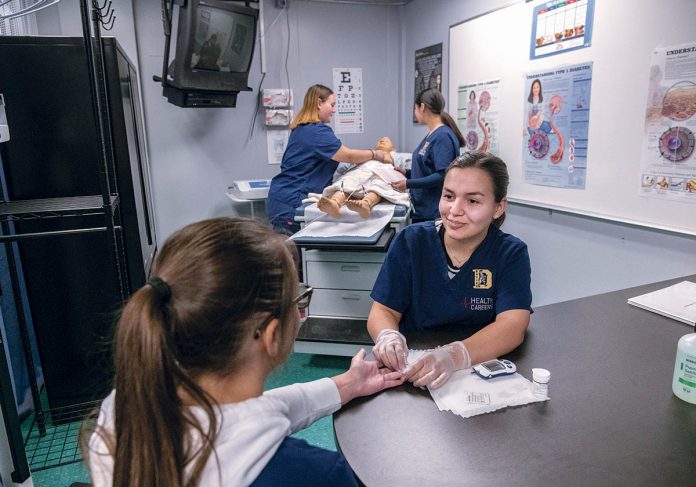 Business Excellence Awards 2018
Excellence in workforce development : William M. Davies Jr. Career and Technical High School
---
Students attending William M. Davies Jr. Career & Technical High School receive more than a comprehensive high school education. They get a head start on a career.
Located in Lincoln, Davies opened in 1971 and serves approximately 906 students, grades 9-12, and is open to high schoolers from across the state, although most of its students are from Central Falls, Lincoln, North Providence, Pawtucket and Smithfield. It is state-operated but governed by an independent, business-led board of ­trustees.
When finished, Davies graduates have received training in one of nine technical areas – automotive, biomanufacturing, cosmetology, electrical and renewable energy, graphics and interactive media, health careers, hospitality careers, machine technology, and pre-engineering technology. The comprehensive, work-based learning program caters its design to the needs of the state's economy.
The school has its own Office of Workforce Development, which focuses entirely on partnering with businesses throughout Rhode Island, many of which hire students after graduation. Those partners include Amica Mutual Insurance Co., AstroNova Inc., Brown University's Warren Alpert Medical School, CVS Pharmacy, General Dynamics Electric Boat, Tiffany & Co., Rhode Island Hospital and WaterFire Providence.
"Davies has benefited in working with and building solid industry partners," said Jax Adele, marketing and communications specialist at the school. "Many of our partners have been extremely impressed with the technical skills and 21st-century workforce readiness skills that are being taught in our programs. Davies understands the needs of the workforce and aligns our instruction to meet those needs."
Davies offers many hands-on opportunities within its programs. The Patriots Dining Room in the school serves lunch on Thursdays and Fridays made by hospitality-careers students. Automotive-careers students receive cars from a police station to work on. The school's partnership with CVS allows students firsthand experience in pharmacies.
"We have a mock pharmacy in health careers where they are able to actually learn the skills that any CVS technician would have to know. It looks just like a real pharmacy," Adele said.
As interest in career technical education increases, the need for experts qualified to help ensure students gain the real-world experiences they need for success increases as well. Individuals with industry expertise provide a perspective to students and can also help students explore and connect with career opportunities, said Susan Votto, supervisor of career and technical education.
At Davies, all career and technical programs have advisory boards that consist of industry partners contributing to and supporting curriculum development, equipment and resources, industry trends and developments, community engagement, administrative support, program advocacy, and showcase venues such as career fairs, she said.
And due to the practice of partnering with industry advisory boards, the school's programs have built-in partners and mentors, who serve not only as advisers but also contest judges, presentation audience members and work-based learning opportunities, Votto said.
"By collaborating with our industry partners, we are able to address, train and provide the necessary technical skills that align to meet the needs of our industry partners. Technical skills are applied, practiced and even perfected at times in real-world, industry-related situations through our work-based learning program," she said.
Future goals for Davies include the increased growth of its workforce-development curriculum, which has already grown from 50 to 80 instructional hours. The school also looks forward to continuing to make the Rhode Island community aware of the benefits of a technical education and make sure that it continues to keep its business partnerships strong, Adele said.
"We'd like to continue to add to [partnerships] so we have the ability to send our students out into a workforce training in not only any possible program our student is interested in but also where there is a need for that in Rhode Island," Adele added.