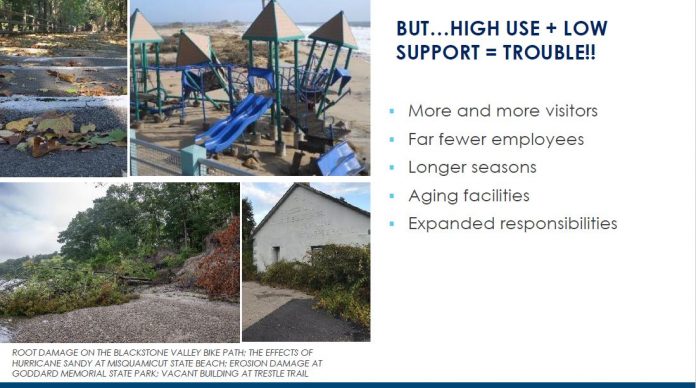 PROVIDENCE – The proposed price hikes for state beaches and camping fees was released Wednesday by the R.I. Department of Environmental Management, coinciding with the department's first listening session on its plan to modernize and increase its budget.
The funds will be used to support an expansion of staff in the department's Division of Parks and Recreation: two in business development, five in maintenance and one administrative position. The department also plans to reduce contractual services and generate business-development revenue.
The move to increase staff came after DEM commissioned a report on the state of state parks and beaches, which concluded the department had been underfunded and needed to modernize parks and increase maintenance to meet visitors' expectations.
The proposed beach parking fees would raise resident rates:
Weekday: from $6 to $8
Weekend: from $7 to $9
Season: from $30 to $40
Nonresident rates would rise $4 each on weekdays and weekends to $16 and $18, respectively, and raise a season pass from $60 to $80.
Camping fees would increase between $4 and $16 for residents, with proposed rates of $30 for tier 1 camping, $25 for tier 2 camping and $18 for tier 3 camping.
Tier 1 camping features prime spots on the waterfront and/or full hook-ups, tier 2 features water and electricity only, and tier 3 features rustic camps with no utilities.
Nonresident camping fees would increase between $16 and $40, to $60 for tier 1 camping, $50 for tier 2 camping and $36 for tier 3 camping sites.
In its presentation DEM cited the potential for proposed bond projects for new bathrooms at Haines, Pulaksi and Colt state parks, and major renovations at the Goddard, Roger Wheeler, Brenton Point and Fort Adams sites, as well as campsite and cabin expansion.
"Rhode Islanders are fortunate to have access to an outstanding array of state parks and beaches. However, these places are being loved to death, and we must do more to support and maintain them," stated DEM Director Janet Coit. "The study that DEM commissioned makes clear that our fee structure is one of several aspects of our state parks system that is outdated, and the governor's parks initiative pairs fee increases with service improvements. The increase to beach parking fees that we're proposing is small – $2 more for Rhode Islanders on weekdays and weekends, and $10 more for a season pass. Reinvesting this new revenue back into the state parks system will pay great dividends for our parks and beaches, which add $315 million to the economy, generate nearly $40 million in state and local taxes, and support nearly 4,000 jobs a year. Of course, they also are beloved places that delight families, attract visitors and create fond memories for a lifetime."