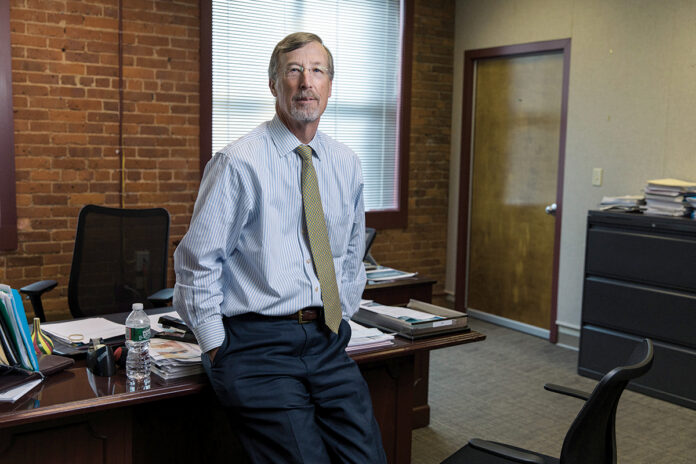 PBN Business Excellence Awards 2020
Business Leadership: Dr. James E. Fanale | CEO and president, Care New England Health System
---
CARE NEW ENGLAND Health System CEO and President Dr. James E. Fanale has moved his organization forward significantly this year despite facing major challenges, including the COVID-19 pandemic.
One of his most prominent accomplishments was successfully leading Care New England – which operates Women & Infants Hospital, Kent County Memorial Hospital and Butler Hospital – to sign a letter of intent to merge with Lifespan Corp., Rhode Island's largest health care provider, in September after years of failed discussions.
The combined system would include seven hospitals offering a wide range of health services and create a Rhode Island-based nonprofit academic medical center with Brown University.
"There are no integrated academic health systems in Rhode Island and there are four in Massachusetts, so it's time that this state had that done and that's why we're strongly in support of the vision," Fanale said. "I think we can do great things in terms of improving our care, improving the academic environment, expanding research opportunities and increasing the innovation in Rhode Island."
The proposed merger announcement came during a pandemic that has challenged both hospital systems. Earlier this year, Fanale worked with Gov. Gina M. Raimondo and the R.I. Department of Health to set up a COVID-19 field hospital in Cranston. It currently remains equipped but not open, Fanale said.
"It would be our responsibility to run and staff it in case it's needed, and we're still preparing as if we might need it," Fanale said. "This safety valve of a field hospital is very important for the entire state."
Care New England is just starting to recover from the financial losses it incurred due to canceling elective surgeries and procedures at the beginning of the pandemic, he said.
Fanale, who has led Care New England since January 2018, has also helped Butler Hospital navigate an increase in demand for mental-health services and substance-use treatment programs resulting from the pandemic. The hospital's inpatient programs are currently operating above capacity and the hospital has significantly increased its telehealth services, he said.
Pandemic-related challenges have hit his staff hard, Fanale said. Even before the pandemic, he prioritized open communication with his employees, and held regular town hall discussions at several Care New England facilities.
"The town halls have been really important in making sure that our staff knows we're committed to the patients we serve, the communities we serve and that we listen to them," Fanale said. "Generally, we start with discussing what's going on in the world, then what's going on with discussions with Lifespan. They can ask me any questions they want."
Several recent town halls, held virtually, focused on diversity and inclusion. One such event was held right after the death of George Floyd, who was killed by police in Minnesota while being arrested. That town hall attracted more than 2,000 of Care New England's 7,500 employees, Fanale said.
"They wanted to know our commitment to social justice," he said.
In December 2019, Fanale created a chief diversity officer position to address issues related to diversity, equity and inclusion, hiring Dionne Poulton for the role. Poulton is working on a range of initiatives, including training and development for the staff to ensure equitable care and outcomes for all patients.
Fanale describes his management style as data-driven. "We measure everything we do and we implement action plans," he said. "We've always thought that quality service and access drives financial performance."
He also describes himself as a "people person."
"No matter how busy he is, Dr. Fanale will also always take the time to ask you how you're doing, and let you know he appreciates your hard work," said Raina C. Smith, Care New England's director of public relations, media relations, communications and government affairs.
"I just like the people I work with, which is important," Fanale said. "I always say there are two important ingredients to a job. You've got to make a difference and you've got to have fun doing it. Not all of them, but most days I do have fun."

Want to share this story? Click Here to purchase a link that allows anyone to read it on any device whether or not they are a subscriber.