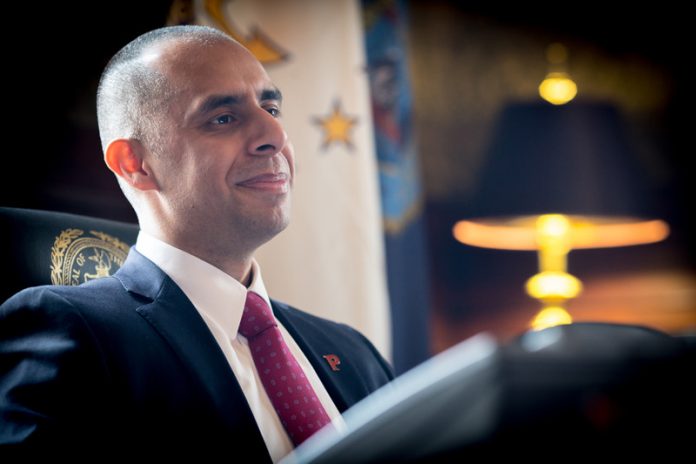 PROVIDENCE – Mayor Jorge O. Elorza on Monday finalized a $748.7 million fiscal year 2019 city budget that he said again has no tax increases and prepares Providence for "continued growth and success."
The mayor's action came after the City Council approved the budget Friday night.
"For four straight years, we have passed a budget with no tax increases," Elorza said. "In addition, I'm excited about our continued, robust investments in youth and education, including our expanded internship and summer learning programs. This budget is built for the long term and it provides even more opportunities for our youth today."
The city budget includes $128.5 million for public schools to help fund the Providence School Board's $384 million annual budget, according to the mayor's office.
The mayor said the new city budget reflects his administration's commitment to improving operations at City Hall with the streamlining of municipal government services and processes. The spending package, he said, is the result of "responsible and transparent budget practices and better management, rather than placing added burden on taxpayers."
The budget includes a reduction of the motor vehicle tax and sets aside $3.6 million for the city's "rainy day" fund, he noted.
Other highlights include:
Proposes $20 million for a Providence Public Building Authority bond for school infrastructure over two years.
The fourth consecutive year the city will make 100 percent pension payments.
The elimination of $7 million in old judgments and liabilities predating the current administration.
Friday, the City Council approved a $748.7 million budget, slightly higher than the $744.9 million budget previously proposed by the mayor. Monday, the mayor signed off on the budget as passed by the council.
The new budget is nearly $12 million higher than the city's $736.8 million fiscal 2018 budget, the mayor's office said.
The new spending package includes $1 million for the One Providence for Youth: Summer Jobs program, and sets aside nearly $1.2 million for citywide summer learning programs. It also includes $75,000 to launch the Menstrual Hygiene Products program for middle school and high school students.
The budget maintains $225,000 in additional funding for the Providence Community Library for a second straight year and provides $200,000 to support the Amos House's A Hand Up Program to provide the homeless and impoverished with employment opportunities.
In addition, the budget includes funding for some new city administrative positions: a deputy director of the Office of Economic Opportunity; a deputy license administrator for the Department of Licensing; and a purchasing strategy manager charged with analyzing market trends and streamlining purchasing.
Scott Blake is a PBN staff writer. Email him at Blake@PBN.com.