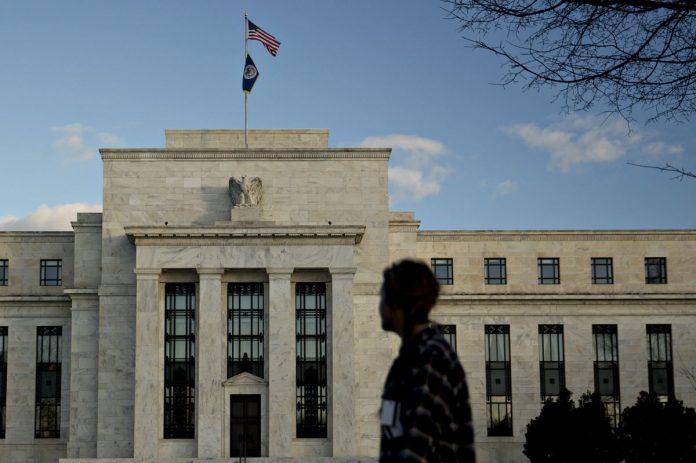 NEW YORK – Optimism over prospects for growth at U.S. firms has begun to fade even as a majority of Federal Reserve districts continued to report modest to moderate economic expansion in recent weeks.
"Most districts reported that firms remained positive," according to a Federal Reserve report released Wednesday. "However, optimism has waned in some as contacts cited increased uncertainty from impacts of tariffs, rising interest rates and labor market constraints."
The central bank's Beige Book economic report, based on anecdotal information collected by the 12 regional Fed banks through Nov. 26, pointed to modest to moderate growth in most regions. Two districts, Dallas and Philadelphia, said growth had slowed, while St. Louis and Kansas City reported "slight" increases.
The survey fits well with forecasts from most economists for slower gains in 2019 both in the U.S. and globally. Fed Chairman Jerome Powell hinted Nov. 28 that the central bank might slow the pace of rate hikes next year from the three projected by Fed officials in September. Those forecasts will be updated when officials meet later this month.
Investors have also displayed their falling confidence. Since the end of September, the S&P Index of U.S. stocks has dropped 7 percent, and in recent days the yield on 10-year U.S. Treasuries fell below 3 percent for the first time since September after rising as high as 3.24 percent.
The Beige Book continued to highlight anecdotes about a tightening labor market.
"Over half of the Districts cited firms for which employment, production and sometimes capacity expansion had been constrained by an inability to attract and retain qualified workers," the report said. "Partly as a consequence of labor shortages, most districts reported that employment growth leaned to the slower side of a modest to moderate pace."
Those conditions also continued to put pressure on wages, with most districts reporting "wage growth tended to the higher side of a modest to moderate pace."
Prepared by the Philadelphia Fed, policy makers will review the report as they prepare for their Dec. 18-19 meeting, when they are expected to raise interest rates by a quarter percentage point for the fourth time this year.
Overall prices rose modestly in most districts. House prices continued to increase in a majority of markets, the report said.
Tariffs featured prominently in the Beige Book, gathering about 40 mentions. Tariffs were blamed for higher input costs and higher prices across a broad range of industries.
"Reports of tariff-induced cost increases have spread more broadly from manufacturers and contractors to retailers and restaurants," the report said.
New England:
In the First District, which encompasses New England and is overseen by the Federal Reserve Bank of Boston, there was said to be moderate economic expansion in recent weeks.
The labor market in New England continues to be tight, but many firms said that they were able to hire as needed. Most manufacturing contacts in the area said that employment was flat, but one-third of respondents expect growth going forward.
Manufacturers were also said to report revenue growth but found that growth disappointing. Despite this, contacts remained optimistic about the future.
Retailers in the region were said to have moderate year-over-year sale increases.
Rhode Island commercial leasing activity was said to have picked up at a moderate pace, with respondents telling the Fed that Providence office vacancy rates were very low. Demand for industrial space in the Providence area was also said to have increased.
Single-family homes sales in the region declined, coinciding with a rise in median prices.
Condominium sales in Rhode Island also increased, while the median price declined.
Christopher Condon and Katia Dmitrieva are reporters for Bloomberg News. PBN contributed to this article.