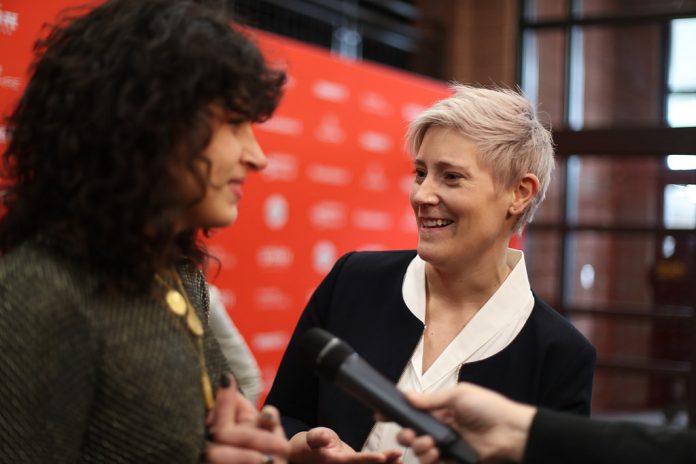 PROVIDENCE – The film adaptation of "The Miseducation of Cameron Post," a novel penned by Rhode Island College associate professor of English Emily Danforth, won the U.S. Grand Jury Prize: Dramatic at the 2018 Sundance Film Festival, according to a late January announcement by the college.
Danforth, in a statement, said the honor was "so completely unexpected and wonderful" and left her feeling "gobsmacked."
She added: "I couldn't be more thrilled and delighted for the film's incredible cast and crew who made this happen – especially director/co-writer Desiree Akhavan and producer/co-writer Cecilia Frugiuele.''
At the 10-day film festival in Park City, Utah, the film beat out 15 other feature-length films in its Dramatic category.
RIC President Frank D. Sánchez applauded "Danforth's brilliantly written piece of work and her vision in getting it on the big screen."
Published in 2012, Danforth said the novel took more than six years to write.
The film features Chloe Grace Moretz as Cameron – a teen girl forced into a gay conversion therapy center after she's caught having sex with the high school prom queen.
Moving forward, Danforth hopes the film brings added awareness to the movement against the use of gay conversion therapy. The RIC release cited a study from the Williams Institute, a sexual orientation and gender identity think tank at UCLA's School of Law, which found roughly 698,000 LGBTQIA individuals have received gay conversion therapy during their lives and that Rhode Island is one of nine states that bans the practice.
Emily Gowdey-Backus is a staff writer for PBN. You can follow her on Twitter @FlashGowdey or contact her via email, gowdey-backus@pbn.com.