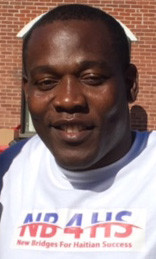 As a young man, Bernard Georges emigrated from Haiti to Rhode Island, where he graduated from Central High School in Providence. He later went on to receive a master's degree in public administration from Roger Williams University in 2014. In January, he successfully delivered 417 bags of supplies, which included rice, beans, clothes, shoes, soap, hand sanitizer and bottles of water to the members of the Belle-Anse, Haiti community who were impacted by a category 4 hurricane that hit Haiti in October of last year. In addition, he said he participated in a free clinic distributing basic medical supplies and community outreach, giving out school supplies and toys to children in need.
PBN: You decided to establish a nonprofit organization, New Bridges for Haitian Success, to improve the integration of Haitian immigrants into Rhode Island society. Why?
GEORGES: For such a small state, Rhode Island is a beautiful multicultural area. It is also a very welcoming place, and the state has done a good job in providing resources for Spanish-speaking immigrants via organizations like DORCAS International. Yet, French/Kreyol-speaking Haitians do not have equal access to services in their native languages, a barrier that can prove overwhelming for many Haitian immigrants. Experience has demonstrated to me that Haitians, due to language barriers, are left out of the decision-making processes critical in their lives – issues such as education, health and mental health services, as well as employment and training opportunities. Currently, the Haitian citizenry in Rhode Island desires an organization, which is attuned to their needs in a culturally-sensitive manner. New Bridges for Haitian Success Inc. is interested in filling this existing gap so that the state's Haitian community can have easy access to a French- and Kreyol-speaking support system. The organization will provide an important service for migrants in transition and will provide continued support as they plant roots and build community.
Beyond the immediacy of aiding in transition, the Haitian community is in dire need of becoming more integrated into mainstream Rhode Island (American) life. Moreover, just as much as Haitians should be assimilated into American life, the Rhode Island community needs to become aware that it has a Haitian community living within it. With that, New Bridges provides public forums to educate the Providence community in order to build understanding and to dispel misinformation about the Haitian community.
PBN: What is the mission of your nonprofit organization?
GEORGES: New Bridges for Haitian Success is an emerging organization targeting the unique challenges of the Haitian community of Rhode Island. Its mission is to provide services through community-level assistance and cultural orientation by bridging the gap between the Haitian community and the greater Rhode Island community. It provides referrals to services with partnering agencies and institutions in the areas of skills development, health care education, after-school programs, role modeling, tutoring and mentoring for youth as well as adult English-language courses.
PBN: What types of aid are you providing to Haitians in need here in Rhode Island?
GEORGES: Stateside, data from the Boston-based Haitian consulate indicates at least 8,000 Haitian immigrants reside in Rhode Island, most of whom are recent arrivals confronted with a number of challenges, including employment, housing, language and issues relating to community organizing and connectedness in their quest to integrate into the larger American society. In a span of one year, we have been able to offer workshops on immigration-status improvement, state government and employment opportunities, tenants' legal rights, anti-discrimination training, social bridging between the Haitian and Dominican communities in Rhode Island and have successfully referred dozens of community members to social services such as English-language classes at various centers across the city.
Part of our efforts also includes collaborating and partnering with other organizations such as the Global Affairs Council of Rhode Island, the Refugee Dream Center, the African Alliance of Rhode Island and the Rhode Island Coalition Against Gun Violence. We have also represented the Haitian community at three annual United Nations events in New York and the Boston Haitian Festival.
PBN: After a category 4 hurricane hit Haiti in October, you decided to help residents there. Can you describe the devastation you saw there?
GEORGES: The Republic of Haiti was devastated by Hurricane Matthew, the largest to ever hit the Western Hemisphere. This disaster cost thousands of lives and displaced many more until today. The United Nations estimates that 1.4 million Haitians (1/10th of the country's population) is in humanitarian need such as clean water, food and medicine. NB4HS was able to send a full shipping container of supplies to Belle-Anse, Haiti. I interviewed some of the people. They lost their farms, animals and houses. Photos show a catastrophic situation, the water comes in tremendous forces, trees falling, roofs and ceilings fell off, the houses were filling with water. People are still homeless, hungry, vulnerable to the elements and highly traumatized. With no homes, children and families sleep in the waterlogged streets and thus are confronted with health risks due to illnesses such as cholera, hunger, exposure to elements and they are bitten by insects.
PBN: How can Rhode Islanders aid Haitians in need?
GEORGES: Rhode Islanders joined New Bridges for Haitian Success in gathering supplies to send to Haiti and I encourage residents to continue to support the organization. I would like to generate more donations for school-related items and I'd like to open a professional school in Belle-Anse. We are looking for school printers, copiers and desktop computers. I also would like to help 100 or 150 students yearly with tuition payments, which would cost $10,000. I know some schools change school printers, copiers and desktop computers regularly, so please donate them to New Bridges for Haitian Success so we can send them to Belle-Anse. Together we are stronger, and I am humbled in the knowledge that we can make a difference around the world.