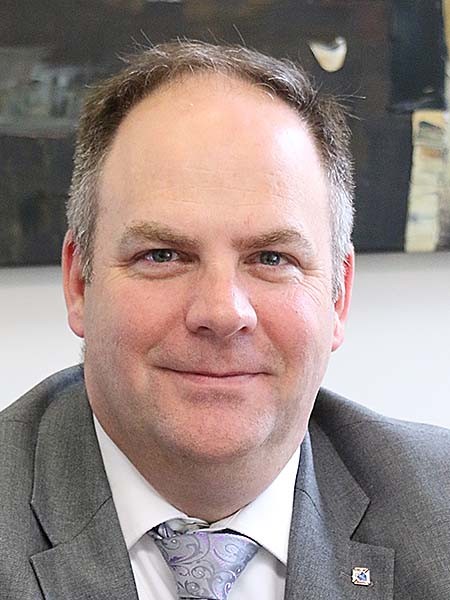 Lawrence T. Saulnier is director of nursing at Visiting Nurse of HopeHealth, a new position at the agency. He came to HopeHealth, a nonprofit community-based home health provider in Lincoln in November 2016, with many years of clinical expertise and leadership experience. He had served as a clinical nurse manager at the Visiting Nurse Association of Care New England and, earlier, at South County Hospital as a registered nurse.
Saulnier, who holds undergraduate degrees in nursing and in health and human services-police science from Dominican College and Empire State College, respectively, talked with Providence Business News recently about his role at Visiting Nurse of HopeHealth, how home health nursing care is different and why so few men enter the profession.
PBN: Talk briefly about what nurses at Visiting Nurse of HopeHealth do, and the scope of your responsibilities in your new position?
SAULNIER: Visiting Nurse of HopeHealth provides nursing, therapy, home health aide and social work services to patients in their homes. We care for adult patients in northern and central Rhode Island and the surrounding Massachusetts communities. Home care patients typically require our services for several weeks to months to help them regain their health, often after an illness or a hospital stay. In my role, I am responsible for all nursing care provided by the agency.
PBN: Yours is a new position with the organization; did the organization expand services or make other changes that triggered the need for a new management position?
SAULNIER: Health care is changing. Changes in payment models and the impact of aging baby boomers are bringing growth in the home care industry. Increasing numbers of patients require services provided by home care agencies. Our organization is growing and my position was added to support that growth.
PBN: Is there a certain type of nurse who's drawn to home health work; what skills and demeanor does a good home health nurse need?
SAULNIER: There is not a typical type. However, we do seem to attract a lot of nurses from the critical care areas. I find most of our recent hires are coming from the acute care environment. Due to the shortening of the average hospital stay, many nurses are looking to enter home health so they can spend more time with patients. One of the benefits of home health is that we are able to spend more time during each visit, and during the course of our time with the patients, we are often able to have great success helping them meet their goals.
A home health nurse needs to have very solid clinical and assessment skills. Unlike in acute care nursing, you cannot ask a colleague to walk down the corridor and help you. We practice independently in the home and have to be comfortable with troubleshooting problems and making recommendations to doctors.
You also have to be comfortable being a guest in other peoples' homes and providing care in that environment. Before I became a nurse, I was a New York City police officer and retired as a lieutenant. During my time as a police officer, I was consistently entering strangers' homes; I learned how to read the room and adapt to the environment. Those experiences were invaluable in understanding and respecting boundaries and how to reach people more effectively.
PBN: According to Census data, 2.7 percent of registered nurses were men in 1970 (at a time when some nursing schools refused to accept men), compared with 9.6 percent in 2011. Do men working in nursing face unique challenges or discrimination, and do you anticipate seeing a continued growth of male nurses?
SAULNIER: While I certainly am outnumbered, I have not noticed any significant discrimination as a male nurse. As traditional roles change, I can imagine that more males will enter the nursing field in the future. Once I retired as a police lieutenant, I considered going to medical school. After reviewing the cost/benefit, I realized that nursing was a better fit. I have found that many of the men I meet in nursing are career changers like me.
PBN: What are your highest priorities for your new position; what do you hope to accomplish within the first year there?
SAULNIER: My first priority was to connect with and engage the nursing staff. In the past year, I have been both a field nurse and a clinical manager in home health. I understand the challenges nurses face and I hope to bring that respect to my staff and earn their respect in return. I want to build on the agency's current progress. Visiting Nurse of HopeHealth is a recipient of Medicare's Home Health Consumer Assessment of Healthcare Providers and Systems 5-star designation for patient satisfaction and sustaining that 5-star rating is a top priority.
We recently revamped our orientation process. My goal is to recruit and retain nurses to assist in the growth of the agency. Finally, using proven best practices, I'll be developing a plan to provide the highest quality patient care with a specific focus on decreasing the rate of our patients who are re-hospitalized.
It's been said that home health nursing is "the toughest job you'll ever love." It's not easy, but it's rewarding and I love it. I want our staff to have the same passion for what they do.