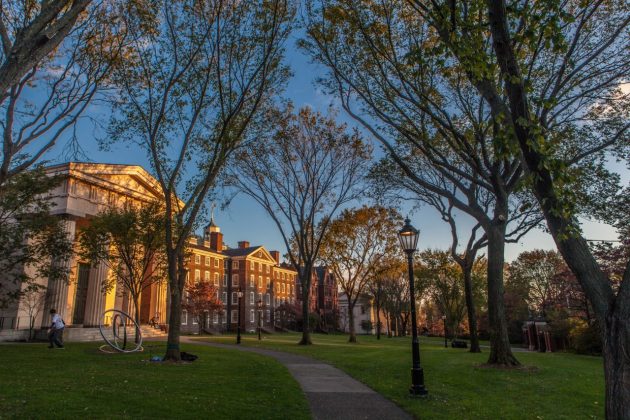 PROVIDENCE – Nine colleges and universities in Southeastern New England were listed in the latest Forbes' 2018 America's Top Colleges ranking published Tuesday.
Brown University, the sole Rhode Island-based Ivy League school, topped local listings. It holds the No. 8 position in the national top colleges, private schools and research institutions lists. Additionally, according to the Tuesday results, it is the No. 6 school in the Northeast.
The University of Rhode Island, the state's flagship research institute, was named No. 188 in Forbes list of top research universities.
Regional institutions listed in Forbes' top 650 colleges list were Rhode Island School of Design (No. 115), Providence College (No. 162), Bryant University (No. 218), Stonehill College in Easton (No. 232), Wheaton College in Norton (No. 251), Roger Williams University (No. 422), URI (No. 453) and Rhode Island College (No. 618).
URI was the highest-ranked local public college at No. 154 in the Forbes public colleges listing with RIC trailing at No. 228.
The University of Massachusetts Dartmouth was not ranked in the 2018 results.
Locals private colleges and universities included in the corresponding top private schools list published Tuesday were the Brown, RISD (No. 89), PC (No. 117), Bryant (No.150), Stonehill (No. 158), Wheaton (No. 171) and RWU (No. 281).
In addition, Stonehill and Wheaton were included in the top liberal arts universities at No. 78 and No. 83, respectively. Wheaton was also named No. 237 for Best Value College in the nation.
Breaking down its findings geographically, Forbes named the following Rhode Island- and Bristol County, Mass.-based colleges and universities among the top in the Northeast: Brown (No. 6), RISD (No. 55), PC (No. 76), Bryant (No. 94), Stonehill (No. 98), Wheaton (No. 103), RWU (No. 159), URI (No. 167) and RIC (No. 197).
At No. 1 in the nationwide ranking of top colleges is Harvard University followed by Yale  and Stanford universities at No. 2 and No. 3, respectively.
Now in its 11th year, the Forbes academic ranking does not includes SAT scores and acceptance rates. Instead, its methodology rests with schools classified by the Carnegie Classification of Institutions of Higher Education as offering doctoral programs, master's degrees and bachelor degrees. Also in the mix, according to the methodology were "business, engineering and art schools, such as Rhode Island School of Design or Rose-Hulman Institute of Technology."
Schools with fewer than 300 undergraduate students, retained fewer than 60 percent of their students over a three-year timeline or had a less than 25 percent six-year graduation rate were omitted from the list.
Emily Gowdey-Backus is a staff writer for PBN. You can follow her on Twitter @FlashGowdey or contact her via email, gowdey-backus@pbn.com.